Articles and Resources
Welcome to our new Floridata Mobile Article and Resources page. While the Master Plant List provides access to the Plant Encyclopedia Profiles, on this page are links to all of the other content pages on our site.
We are still in the process of converting all of our articles from our old web site to this new format. Links to recently re-posted articles will be found here in the coming weeks.
Several of Bruce's articles on the plants of Hawaii are now available (links below) and we working on restoring the remaining articles, including the Flowering Plants of Hawaii, to the site in the coming weeks. Thanks for your patience as I complete our move from old Floridata to new! Jack 2/6/16
Articles by Bruce Bohm
Flowering Plants of Hawaii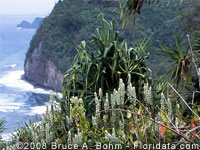 The Hawaiian Islands are home to an array of native plant species that has attracted the attention of botanists, naturalists, horticulturists and world travelers ever since Europeans first visited the islands near the end of the 18th century. Read more »
Floridata Resources
Articles by Ginny Stibolt
In 2004, Ginny moved from Maryland to the wilds of northeastern Florida where she discovered a whole new world of plants and gardening. Her articles cover topics from rain gardens to vegetable gardening. (You'll find them entertaining and useful even if you don't live in Florida.)
Jack Scheper - Gardener's Journal 2001
Dog poop compost, exploding figs, stinky owls, terror, turkeys, and sexual predators are just a few of the topics that occupied me in 2001 when I began writing monthly Gardener's Journal posts. I also included lots of pictures and words about plants and gardening too! Several years' worth of Gardener's Journals and other articles from our archive will be re-posted in this area over the next few weeks. Please visit often to see the latest. Jack
Gardener's Journal 2002
Gardener's Journal 2003
I'm working on re-formatting the remaining Journal articles and will be re-posting them throughout Spring 2016. I'm doing the spring Journals for all years first, then summer, etc. Jack
Gardener's Journal 2004
Gardener's Journal 2005