April 2003 - Gardener's Journal
What a great April I had! It was very busy but I accomplished much and had some fun while doing it. At the beginning of the month I traveled to Northern Kentucky to visit my mom. She got very sick last month but is now doing much better so I went to stay with her for her first few days out of the hospital. What a joyous relief to see her well again after thinking we had lost her! I was in a great mood and it proved to be a superb time of year to take a drive back to Kentucky. Heading north from Tallahassee was like running spring in "fast reverse" so I enjoyed a spring encore. When I left North Florida on March 31, the dogwoods (Cornus florida) were in bloom. On the way I made a pit stop in midtown Atlanta for some Starbucks. No dogwoods there yet but I saw beautiful beds of tulips in full bloom.
As I continued north on I-75 between Chattanooga and Knoxville, Tennessee I marveled at the huge beds of tulips that lay scattered the length of the route. Farther north in Kentucky it was too early for tulips but I was just in time to see expanses of naturalized daffodils sunny yellow against the rolling green Kentucky hills. I really enjoy it when highway departments add these beautiful touches to our highways and I hope they are able to continue to do so in these days of declining budgets.
While at Mom's I prowled around and took pictures of some spring flowering bulbs. Seeing many of my old favorites that I grew when I lived there was like running into old friends after many years. I hope to have profiles of at least a few of these next fall in time for bulb planting season. I posted photos of them in my Spring Flowering Bulbs 2003 Gallery. While I was in the Cincinnati/Northern Kentucky area, the flowering cherry trees and ornamental pears were also going full blast. In my home town of Fort Mitchell, Kentucky they have lined the highway with 'Aristocrat' pears (Pyrus calleryana) that look sensational this time of year and again later in the year when the foliage assumes it autumn color. [Update 2016: This species proved to be incredibly invasive. Strategies are being conceived to elimate this destructive species from the Ohio Valley and other regions it has invaded.]
The weather was bright and blue and crisp and cool for the first few days I was there and it was a total delight. Most striking was the grass. The turf grasses we grow in Florida are OK but the Kentucky blue and other varieties are just spectacular at this time of year - soft, dark green and lush - like something you could make a salad of... ... or at least take a nap upon...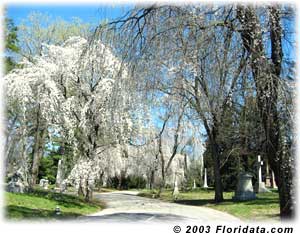 Too soon, it was time to kiss Mama goodbye and hit the road back to Tallahassee. A cold front came through on the morning that I left bringing gray blustery skies and freezing temps (in April! brrrr!). Because of all of the terrible construction delays on I-75 in Georgia I decided to return via Louisville and then down I-65. This route passes through some of the prettiest interstate miles in the country. I sped by exits for Mammoth Cave and Fort Knox wishing I could stop and sightsee. I cruised up and over rolling wooded hills freshly air-brushed with fuzzy yellow-green new growth. Against this chartreuse blurred backdrop were clouds of magenta floating above the crowds of redbud trees (Cercis canadensis) that grew in goofy angles from the gray limestone cliffs through which the expressway cut. It's gorgeous country and I have promised myself to spend a day on my next trip through.
This time I was just too much in a rush to get back home. There had been a freeze back home the day I left for Kentucky and I was eager to see the extent of the damage. I drove on to Nashville, Tennessee where they have a skyscraper that looks like it has devil horns on it but is kinda cool anyway. I was planning to stay overnight in Birmingham, Alabama and maybe check out their Botanical Garden the next day. Just south of Nashville though, I sniffed out a Starbucks and exited for refreshments. After a quad espresso and a triple shot mocha I was too wired to stop and decided to go on to Montgomery from where I'd have a shorter drive home the next day. Besides, the lady at the Alabama Welcome/Rocket Center said I would enjoy the Jasmine Hill Gardens just north of Montgomery.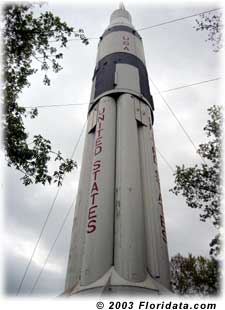 Now sufficiently caffeinated, I sped through northern Alabama where the azaleas (Rhododendron spp.) were still blooming heading south and eventually encountering dogwoods in the height of bloom in Montgomery. By this time the caffeine had worn off and I made it to a motel just minutes before my eyes slammed shut in exhaustion. The next morning I woke up to lightning and thunder and a flooded motel room. Water was coming in through a hole in the foundation (at least I wasn't the one who had to clean it up). Then a tornado touched down a mile away (at least it didn't hit me)! Then I found out that Jasmine Hill Garden had closed last October (I couldn't have gone anyway because of the tornados and hopefully they'll reopen sometime). Then another tornado touched down nearby. Sirens were blaring and thunder was booming but all was not tragic - the guy at McDonalds gave me 3 Egg McMuffins instead of just the two I paid for! Happily I hopped into my car and headed south down US 231 to Dothan, Alabama just as the tornado siren wailed again. Blessed with a semi-free breakfast and a dry and clear route, I contentedly gorge fed on McMuffins as lightening flashed and tornados crashed all around! By the time I arrived in Dothan the bad weather was far behind and it was past noon. I knew there was nothing to eat at home so I was forced to go to Sonny's Real Pit Barb-b-que and get some hot BBQ pork sandwiches which I know are bad for you but my blood sugar was really low...
From Dothan I decided to take a shortcut on back roads across the state line to Florida and then on south to I-10. It was such a pretty drive through the country and the barb-b-que was intoxicating so I didn't ever get very mad when I discovered I was lost. But I was quickly found when I got directions and a vanilla malt from the lady at Dairy Queen. In less than an hour I was back at home where I happily discovered that the freeze had done only minor damage. I spent the rest of the day planting the souvenir hostas I brought from Kentucky, relaxing with the dogs enjoying happy memories of my Mom and pretty springtime southern scenery.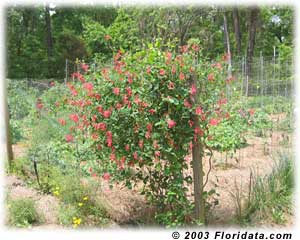 Field Trip to Steve's
I spent the week following my trip catching up with Floridata work and getting things back under control in the garden. Sick of working so much, I took a day off at mid-month for a field trip to Steve's house. He lives in the next county about 50 miles (80.5 km) away so we don't visit often. It's particularly fun this time of year because he has a beautiful place out on Lake Talquin (near Quincy, Florida). We hung out on the dock but spent most of the time in the garden looking at and tasting things. My favorite was the sugar snap pees (Pisum sativum) which were juicy and as sweet as any fruit. He pulled up some "new" (potatoesSolanum tuberosum) for me to take home which I had oven roasted in olive oil and they were superb as was the tender and sweet kale (Brassica oleracea var. acephala) and the succulently fresh cucumbers. I also mooched some really cool plants from him including some daturas (Datura inoxia var. quinquecuspida) and dwarf Mexican sunflowers (Tithonia rotundiflora). He built a greenhouse last year with a misting system for rooting cuttings. He has been propagating a bunch of stuff including gumi trees (Elaeagnus multiflora) and he kindly shared one with me. I plan to pamper my gumi into maturity so I (or the birds) can enjoy the tasty little fruits it produces. He also gave me some Maximilian sunflowers (Helianthus maximilianii) which I recall admiring in someone's yard late last summer and I'm really happy to get them.
The most unusual and the most exciting plant that I scored from Steve on this visit was a cassava (Manihot esculenta), a tropical plant from whose tubers tapioca is made. I got one from him several years ago and grew into a huge exotic looking plant with big bluish leaves. Since cassava is killed back to the ground when it freezes here, I overwintered some 18 in (45.7 cm) long pieces of stem under a bale of straw. Come spring the stems are planted with a few inches poking from the ground. In a week or two they sprout and grow rapidly from there. Unfortunately the stems must be flavorful and delicious because the puppies quickly found them, pushed the bale away and chewed them up causing me to be cassava-less until now. This fall I'm going to pot up some stems and keep them protected from frost - and from puppies.
Projects
When I returned from Steve's I had a lot of work to do planting all of my presents. Most of the things I planted up on The Hill near the compost pile where I'm making new gardens. The cassava is there along with the eggplant and most of the peppers he gave me (including Aji, Tabasco and one of his special Fred peppers that looks like an ultra hot habanero but is actually mild!)
Perennial R&R
Just a few days before visiting Steve I had noticed that several of my perennials appeared dead. Two Mexican sages (Salvia leucantha) had bitten the dust, a pineapple sage (Salvia elegans) was no more and several others were looking almost dead. Most had suffered deer assaults and the cold damp winter was tough on many of the plants. So I dug up all of the puny individuals and divided them whenever possible to get more plants and to make the job more fun. Each was potted up in the finest commercial potting mix and pampered with liquid fertilizer. They will all luxuriate in my attentive care for the next six weeks at which time they will go back into active duty in the garden.
Many of these are plants that I want to photograph and profile so hopefully my TLC will inspire them to at last bloom for me. Some of the plants I have in rehab are: cardinal flower (Lobelia cardinalis), Salvia nemorosa 'East Friesland', Veronica spicata 'Crater Lake Blue', balloon plant (Campanula 'Fuji Series', and gloriosa daisy (Rudbeckia hirta).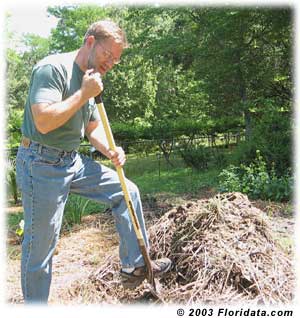 Spreading It Around
Woohoo! I got an income tax refund this year! Most of this windfall went to pay bills but I did treat myself to 5 50 lb (22.7 kg) bags of the most excellent slow release 13-6-6 fertilizer. It is wonderful stuff but I was disappointed to discover that it was only enough to feed about a third of the place. Even with the supplementary Great Dane compost I still need about another 300 lb (136 kg). It's both heartening and alarming to realize that my plantings have grown so much in size and space. I've obsessively planted about 3 acres and dabbled in another two. I wish I knew how to tell when my garden is finished so I'd stop working on it. I do know that I need more fertilizer and I'm pretty sure that MasterCard won't mind treating me to 6 more bags of the expensive stuff! Dane compost is nice but I know most of the plants would like a taste of the store bought stuff. 13-6-6 for everyone!
Toward the end of the month I mooched some plants from my neighbor JM. He gave me some things I have been wanting to try and some old standards that I haven't grown since I was a kid. I now have marigolds (Tagetes spp.), both the short and tall kinds, that are lush and green and have fat buds with golden petals already beginning to burst forth. I'm going to plant them in my new garden up on The Hill next to some bachelor buttons (Centauria cyanus) that he also gave me. Last month I planted sunflowers (Helianthus annuus), Plains coreopsis (Coreopsis tinctoria) and shrimp plant (Justicia spp.) there so I expect it to be colorful there this summer - provided I can keep hungry deer away!
Varmint Attacks
Thanks to all who wrote me with suggestions for keeping the deer from eating all of my stuff. The most mentioned was some form of egg: one in a gallon of water, one yolk in a gallon of water and dried egg powder. An ingredient called egg whiteputrescent egg is the primary ingredient (apparently this is rotten egg powder). It seems the egg emits a smelly sulfurous odor that the deer associated with predator species (grrrr - I guess they smell like dead meat). Another repellent spray can be made by dispersing dried hot pepper (Capsicum spp.) powder (like habanero) in water and spraying on the plants. I'm going to try alternating egg and pepper sprays on my stuff - rotten egg stench and overdoses of habanero, that should discourage even the most ravenous varmint.
These recipes should also work on rabbits, who like deer, must also be wary of predators and overseasoned greens. I've been blaming deer for all the damage around here lately but I walked out back one night with a flashlight only to encounter three bunnies casually eating my sunflower seedlings. They didn't run and weren't frightened so I let them continue eating since it was the night before Easter. Shortly thereafter the amount of varmint damage at my place slowed dramatically. One obvious reason was that they had already eaten all of the best stuff. The other was that a family of hawks were hanging around for several days apparently enjoying several rabbit dinner while they were here. I plan to experiment with several of these this summer. I really, really hope I can find something that works - there's no worse way to start a day than to see a favorite gone - a mere rootball of its former glory.
In Bloom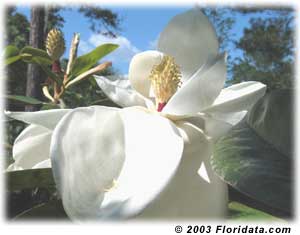 April began with the azaleas, dogwood still going strong but by the time I returned from my trip they were kaput. By tax day the fringetree (Chionanthus virginicus) still stood out bright white against all of the green and the sweet viburnum (Viburnum odoratissimum) and Japanese pittosporum (Pittosporum tobira ) both combined their respective scents into a floral medley I call Flori d'eau.
Around the 18th we had the full moon and it was incredible sitting by the pond with moonlight bouncing off the still surface, a bullfrog leading a choir of tenor frogs and this beautiful scent made for a transcendent experience. My reverie ended when I noticed those same bunnies had snuck up and were munching on my sunflower seedlings whereupon I yelled and cursed at them like a fishwife thus shattering the lovely mood.
By the third week of April my yesterday-today-and-tomorrow (Brunfelsia pauciflora) had covered itself with color-cycling flowers. This is actually a tropical shrub that I've grown here for years where it gets frostbitten every year and is only about 3 ft (0.9 m) tall. I think it's beginning to adapt to the cold because it held its leaves this year despite the freezes and even two consecutive nights when the temperature reached 17º F (-8º C)!
Around the same time my yellow iris bloomed - finally! I've had them since I moved here twelve years ago but I always grew them in dry shady places that apparently they hated. Two years ago I moved some to the shore of the Catfish Pond. After a bit of coaxing with fertilizer and mulch they're now busy pumping out flowers and hopefully by next year there will be a big patch of them.
Pondside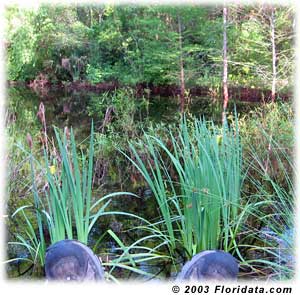 Well it's time to wrap this month up and get started on May's projects. I'll be working on a shade garden back by the Catfish Pond and doing a lot of weeding, watering and mulching. I hope that you're enjoying your spring and that the deer and rabbits are treating you kindly. I'm spending the rest of the spring updating more of our older Plant Profiles. Steve is working on some new edible plants and this summer I'll be focusing on palms and tropicals. I hope that you all will continue to visit Floridata throughout the summer months and watch as Floridata grows bigger and better! I hope that you can help us by supporting our advertisers and by spreading the word about our site to your friends and neighbors.
I hope all is growing well for you this spring and have an enjoyable and productive May! Be good and grow. - Jack Scheper April 2003