March 2004 - Gardener's Journal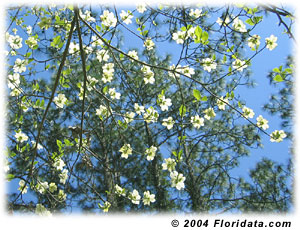 March was harsh despite the beautiful weather that it brought to North Florida. As usual for this time of year, the pine trees spewed pollen all over the place and I got weird from all of the new allergies I've developed since getting old and gnarly. The doctor said I had to take some drugs during allergy season so that I wouldn't have asthma attacks. So I did and that's the last I remember of about a week's worth of March. I vaguely remember being crabby and goofy and conducting obscenity peppered diatribes against the local squirrels who have been trashing my potted plants. Since I was too goofed to get much work done it seemed like a good time to get away so I drove to South Florida to take pictures of palms and tropical plants.
On the day I left I stopped taking one of the medicines because I didn't want to get drowsy on the long drive. By Orlando I noticed that I was way less goofy and not as grouchy and I realized that the allergy medicine had put me on a bad drug trip. By the time I arrived in Fort Lauderdale I had resolved to "just say no" to the other medicine too (I'd rather have allergies). Woohoo! I was back to nominal - but not for long.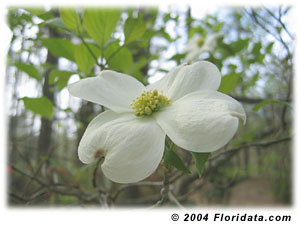 Sunday morning I phoned home to Tallahassee and learned that Petey, one of the boy Great Danes, had died during the night. When I heard the news I didn't get sad, just weirdly quiet and numb and limp. I couldn't pay enough attention to drive safely and I didn't have enough energy to walk so I sat under a palm tree beside a pretty lake. I sat for a long time not moving a muscle, nor thinking a thought and it could be that I didn't even blink.
After a while the sound of kids playing snapped me out of the trance. It seemed my brain had done a Cntl-Alt-Del reboot and my thought processes returned in the form of worry. I called home to tell my dogsitter friend that I'd be right home to bury old Petey. [Here's a handsome photo of him in my August 2001 Journal]
But he was Pete's good buddy too (actually his breeder). Despite aching arthritis he dug the sizable hole it takes to bury a Dane. Wrapping Pete in a sheet, he managed to get him into the grave and buried before I got home. I'm relieved that he didn't hurt himself and I'm very grateful for his help. I'm lucky to have such a good friend who would ignore crippling pain to bury my boy for me - it makes loosing Pete a little easier.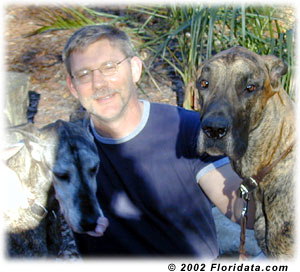 Most animals, including Great Danes, avert their gaze when you stare at them. Petey, like his mother Dixie, was different. Both were more than happy to return my gaze for as long as I was willing. Face to face, touching their muzzle to my chin both would peer ecstatically into my eyes. Usually after about 10 seconds of this I'd begin to feel uncomfortable and I was always the first to "chicken out" in these staring contests. Behind those beautiful dark brown eyes I saw intelligent and loving forces far beyond those of mere humans. Sharing these moments with Dixie and Pete was intense and emotional. Often throughout the day I'd give them hugs and look into their eyes for just a few seconds. In a way, these noble animals made me feel unworthy of the adoration they seemed to hold for me and I'd often say out loud to them "Stop staring! I'm not that cool". But I guess to them I was and they seemed to have insights and mysterious secrets that they longed to share with me. I'm certain that these kind and beautiful spirits can't just be "gone" so I believe in Dog Heaven and I'll learn their secrets there when the time comes.
Maybe because I wasn't there when he died, Pete seems like he's still around, lingering like a benevolent ghost dog protector. My project for April will be to plant for Pete a memorial tree or maybe a grove - it'll be pretty.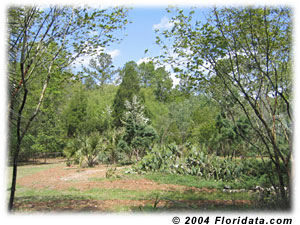 Projects
March was yet another month when I spent too much time on the stupid computer instead of being out in the beautiful weather. I did manage to rake my quota of leaf mulch (which wasn't nearly enough) and finally cut down a formerly beautiful, but now dead, blue cypress (Cupressus glabra). In its place is a picture view of The Hill, framed by two large 'Natchez' crape myrtles (Lagerstroemia indica).
Steve gave me some bananas (not sure of the variety) that I planted and I sowed some annual wildflowers. Last year I bought some New Zealand flax (Phormium tenax). It was a bit too shady where I planted it and was looking a little floppy so I divided it. Woohoo! Now I have three NZ flaxes that I planted up on The Hill where it's hot and sunny and should be to their liking.
Next month I intend to have way more interesting projects to tell you about (I hope!)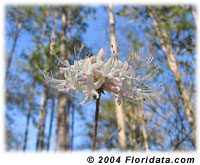 In Bloom
March is by far the most colorful time around here owing largely to the masses of southern azaleas (Rhododendron spp.) that explode into bloom at this time of year. Floating above these are clouds of dogwood (Cornus florida), the purest and whitest I have seen them since coming to Florida twenty years ago. In much of the southeastern United States the dogwood is under siege from disease and the showy white bracts are often discolored and disfigured. Last year we had a very rainy month and most of bracts did not form at all or were badly trashed (see the March 2003 Journal for photo). After virtually no dogwood show last year it's especially enjoyable to have such a beautiful display this year.
Although the tea olives (Osmanthus fragrans) are slowing down after a winter long run, a few of the camellias (Camellia japonica) are still blooming and the white Chinese loropetalum (Loropetalum chinense) has joined its red flowered cousin in covering itself in fragrant flowers. Most fragrant of all is the pinxter or Piedmont azalea (Rhododendron canescens). The woods around here are full of them and I have several bushes out front by the Cypress Pond. One of the best things about spring around here is enjoying their honeysuckle-like scent adrift on a cool evening breeze.
Contributing to the sweet scents of spring are survivor wisterias that are also blooming now even though I whack them back each year. They're difficult to totally eradicate so there's always enough of them left to lend their fine fragrance to the intoxicating spring mix. The also fragrant evergreen Armand's clematis (Clematis armandii) bloomed early in the month reminding of another reason why its one of my favorite vines. A couple weeks later the native cross vine (Bignonia capreolata) was in full flamboyant flower driving local hummingbirds into fits of joy and ecstasy. It's hard not to be happy and hyper when spring finally arrives!
Lawnchair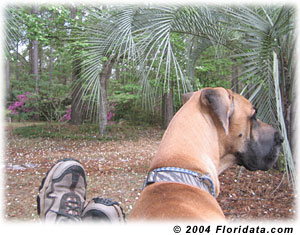 It's early April as I write this and I've come down off my antihistamine drug trip and switched to herbal allergy medicine (it works!) so I expect to have lots of new and updated Profiles for us to enjoy in April so I hope that you'll visit often. Don't forget to help Floridata top 1 million pageviews in April. I hope that you'll visit often this year when planning your spring projects or just come by to hang out. Don't forget to post Floridata links in the garden forums, tell your local garden club about us and share this page with a friend (YOU are our best advertising - thanks!)
Spring poem: Dig some dirt with shovel and hoe, plant some seeds and be good and grow! -
Jack
Jack Scheper 4/8/04; re-posted 2/23/2016