February 2003 Gardener's Journal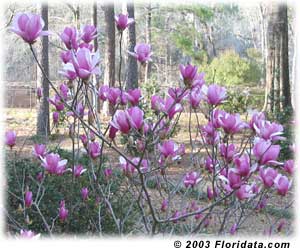 The first of February found Floridune frosted and frigid. Night after night of freezing temperatures kept many of our winter flowering plants dormant. I fussed and fretted because my deciduous magnolias were late to bloom. In mid February I did a "magnolia watch" sequence of pictures on our homepage that impatiently documents the emergence of the season's first blossom. For weeks I waited as they bided time as big fat buds. At last, the weather warmed and on February 20 my saucer mags finally appeared. It was worth the wait as this year's display was the best I've seen here! The cold weather provided sufficient chill so that all of the buds opened at once instead of sporadically over a several month period as is the usual case here in North Florida during more typical milder winters.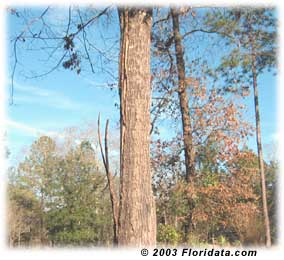 The change in our weather from winter to "pre-spring" was heralded at mid-month by a huge system of thunderstorms that slammed through. This coincided with the big "Blizzard of 2003" that hit much of the eastern half of the country. It didn't snow here in North Florida but we did get 5 in (12.7 cm) of rain - and lightning...
Last July, I posted a picture on our homepage of one of the big oaks out in the front pasture. A violent summer thunderstorm had blasted it, ripping away strips of bark and leaving the debris arranged in the shape of a "peace symbol" (pic). After February's storm I was amazed to see that it had been struck again! More wood was blown from the trunk and branches blasted out of its canopy littered the ground. The peace symbol arrangement, like peace itself, was nowhere to be seen. Such an unlucky oak tree - two lightning strikes in less than eight months! We'll see just how unlucky in a few weeks when it does (or doesn't) leaf out. I'll be happy and surprised if my thunder oak does revive and take it as a hopeful sign if still alive.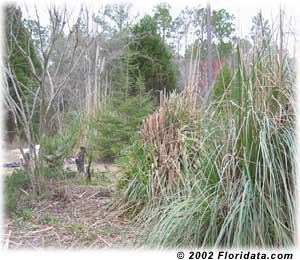 February Projects
I took advantage of the cool weather early in the month by trying to get all of my heavy lifting tasks out of the way. I cleared brush, pruned some huge tree branches and performed other low fun-factor jobs. I also began the zero fun-factor task of trimming the pampas grass (Cortaderia selloana). If I had a Weed Whacker, or some other advanced technology, I'd probably have more than one clump trimmed by now. Weed Wackerless, I shielded myself in protective clothing to engage these tough guys with nothing more than a hedge trimmer, determination and a dozen shots of expresso for motivation. Exhausted by the encounter, I retreated to recuperate with less strenuous, more enjoyable activities like planting seeds and transplanting bushes and even picking up dog poop - all are more fun then wrestling pampas grass.
Planting
A friend had the good luck to be at the local Ace Hardware store just as they were giving away old plant inventory. He scored for me 2 free flats of 'Majestic Giant' pansies (Viola x Wittrockiana) and 1 flat of dwarf snapdragons (Antirrhinum majus). I think this is my karmic reward for not shooting any varmints last fall when my newly planted pansies and other cool season annuals were eaten down to the ground. My freebie flowers were pretty messed up and badly root bound but I planted them all anyway. If I love and care for them and treat them with tenderness and liquid fertilizer I'll get to enjoy a few weeks of happy-faced flowers before they fry in Florida's hot summer sun.
Since I want the local wildlife to enjoy my place as much as I do (except deer, bunnies, armadillos and squirrels), I plant new food and shelter plants each year out in the front pasture. This year I added 5 wax myrtles (Myrica cerifera) to a group of young sabal palms (Sabal palmetto). They join three large wax myrtles planted years ago that are now providing a nice supply of berries. With the new ones in place, this pretty little grove should entice more bird families to move in. To ensure that they do, I also planted five junipers (Juniperus virginiana) nearby. These too produce berries beloved by many bird species and the dense foliage provides a safe and secure sites for nests.
Junipers are beautiful and very useful trees to have in the landscape. A dogwood tree in bloom is a pretty sight but one blooming against a background of fine textured, very dark green juniper foliage is truly spectacular. Another of my favorite North Florida natives is the wax myrtle. I like to trim this large shrubby plant to grow as a small multi-trunked tree. By removing lower limbs, the gnarly and twisted stems, covered in smooth light gray bark make a beautiful scene and a delicious dinner destination for birds.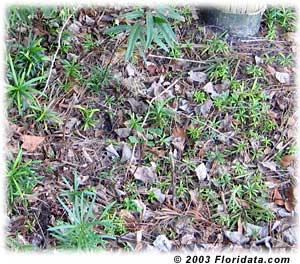 Potting Free Plants!
It is a rare treat to get something for nothing (woohoo! like my free pansies!). However, mooching plants from your local merchants is not the only way to get free stuff to grow. You can germinate, root or divide your way to free plants. It cost nothing but a greater or lesser amount of effort depending on the type of plant and method of propagation. Experiencing the satisfaction of planting and germinating (especially pilfered) seeds is always fulfilling and requires little effort. On the other hand, as I described in last month's column, dividing a clump of needle palms is a grueling all day task but for which I was rewarded with a dozen valuable new plants for my effort.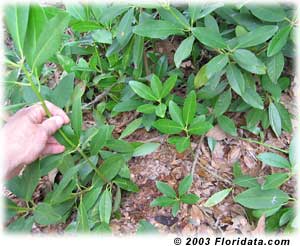 Encouraged by the needle palm project, I worked up the courage to dig and divide a clump of pampas grass. I choose a small clump for my first try, trimmed the leaves back and for 20 minutes I dug and hacked and chopped. I removed the clump in pieces rather than digging the whole thing out at once - a much more formidable task. I wrested three plants from the clump and suffered only a scratch on the face from the sharp edged leaves. My new pampas grass plants are enjoying The Hill where life will be easier and they'll have room to grow. These would have cost about $12.00 from the garden center but I got them for less than an hours labor and a flesh wound - what a deal!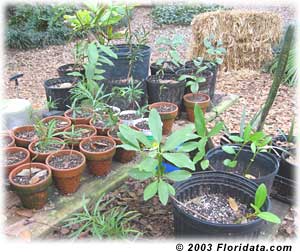 A less strenuous way to obtain free plants is to pot up seedlings dug from the wild or even from the landscaping around shopping malls (when no one is looking...). Each winter I scan the mulch beneath trees and bushes for volunteer seedlings. This is a great way to find native species, especially those that bear fruits that serve as food for the birds and other wildlife. Red bay (Persea borbonia) and wild olive (Osmanthus americanus) are two small evergreen trees that are native here in North Florida. Both are very beautiful and both bear berries beloved by birds. I searched beneath these trees and found small 3-10 in (7.6-25 cm) seedlings that I dug and placed in pots.
You can find seedlings of exotic species too. Take care though, that you are not propagating a species that is invasive in your area. Although I think they are very pretty, I would not propagate seedlings of heavenly bamboo (Nandina domestica), coral ardisia (Ardisia crenata) or golden rain tree (Koelreuteria paniculata) because they are all invasive in my area (meaning that they are disrupting native plant communities). On the other hand, the podocarpus (Podocarpus macrophylla) is much better behaved so I potted up 18 seedlings in anticipation of planting a hedge sometime in the next few years. As in most years, I also located and potted a few American hollies (Ilex opaca), junipers and yellow anisetree (Illicium parviflorum).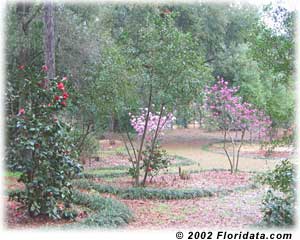 The wax myrtles and junipers that I planted this year were potted up last year. When I plant things out in the far reaches of the property they don't receive much care and must fend for themselves. Raising the seedlings in pots for a year provides an opportunity to form strong root systems that improve the odds of survival. Maybe these free plants aren't totally free because time and effort must be spent but at least they don't cost money and that's almost as good.
In Bloom at Floridune
Here in North Florida our winter is usually more like "pre-spring". This year, however, it was more like winter with temps dropping to freezing (or below) almost every night. This suppressed blooming of many of our earliest performers so it was rather drab around here up until mid-February when a storm came through bringing a warming trend that lasted for the remainder of the month.
The warmth and the wet brought the camellias back to life with the earliest varieties resuming their interrupted display while the late varieties are preparing for a March showtime. I already mentioned the big event of the month, the delayed opening of the first saucer magnolia. That was quickly followed by Magnolia 'Susan' (pic) and the star magnolia (Magnolia stellata) and all three are working together to create quite a colorful and fragrant scene!
In Bloom
Early in February the leatherleaf mahonia began displaying its fine fragrant yellow flowers that reminded again how much I like this durable and handsome evergreen shrub. At the very end of the month, the Carolina cherry laurel burst forth in fuzzy fragrant flowers just in time to make this list. This time of year walking outdoors on an almost warm evening is a sensory spectacle as first one fragrance and then another graces the nostrils.
This icon indicates that a plant produces fragrant flowers, foliage or other parts. Click here (or the icon) for more fragrant plant profiles from Floridata.
Unfortunately this is also the time of year when the pine, maple, oaks and many others are blooming and casting quantities of irritating pollen up those very same nostrils causing a much less aesthetic reaction involving mucus. The long leaf pines dump yellow pollen powder by the pound. It blows across the pavement in drifts, irritates eyes and smothers cars in thick fuzzy films into which I scribble bad words...
...aaaaaaaaaCHOO!
The Carolina yellow jessamine (Gelsemium sempervirens) is another early bloomer that has been delayed by the cold this winter - some years its fragrant golden flowers are appear in early January but as of March 1 it has yet to flower. With the nice weather we've had lately I'm sure they can't hold out more than another day or two at the most!
Pondside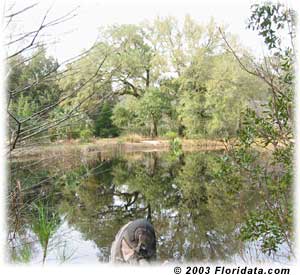 In January I was awakened at dawn each day by a pair of red-tailed hawks squawking and carrying on in the airspace above my bedroom. Being awakened by loud critters would normally tick me off - but not the hawks. I was certain it was the couple that last year raised a family high in a bald cypress out front. I was excited to have them back because they're awesome birds and also very useful. My place is periodically overpopulated and overrun with oversexed squirrels and moles. Although semi-cute, both of these species can be quite destructive. Last year, the hawk couple was able to easily feed their family a nutritious diet of small mammal effectively decimating the local varmint populations. I counted myself blessed to be able to share space with such a fine family whose comings and goings provided continuous interest and entertainment.
Sadly in early February I turned onto the hard top road to see a fluffy pile of feathers upon the pavement. My heart sank as I immediately suspected it was one of my hawks. The disappearance of noisy, early morning courtship flights confirmed my misgivings. But a couple of days ago, almost four weeks after the accident, hawks have returned to Floridune. I'll never know if this is one of my original hawks with a new mate or a whole new pair who just happened to stumble on my squirrel stash. Either way, it's great to have them in the neighborhood. I'm waiting to see if they move back into the original nest - if they do I'll assume that my hawk found a new mate. ...and squirrel is on the menu!
In addition to the hawks, love is in the air here. The girl Great Danes are in heat, the boy Danes are spazzed with desire, the birds are carrying on funny courtship routines and fish are scooping sandy nest in the bottom of the Catfish Pond. Hearts afire, February at Floridune ends in a fecund fiesta of love and lust as reproductive cycles roll into high gear.
Except for me. While everything else is doing life cycles I'll keep myself occupied updating Floridata's oldest Profiles with new pictures and info and maybe even getting some new Profiles out too - mostly flowering annuals and perennials and maybe a new palm.
Wherever in the world you garden I hope that you'll visit us often when planning your spring projects or just to browse and kill time (like reading these Journal pages!) I also hope that you'll help us grow by telling your friends about us, posting our URL on other websites and asking the garden editor at your local newspaper to give us a mention.
Please visit Floridata often, have a super springtime and be good and grow!
John S. "Jack" Scheper 3/5/03