January 2004 - Gardener's Journal
I wasn't going to write a Gardener's Journal this year but then, on the 31st of January I decided to do it anyway. After all, I haven't missed one in 13 months and I wanted to keep my streak going because writing is like going to the gym - once you stop it's hard to get back into it. Besides, I'm supposed to be working on business things and even though writing is time consuming and difficult, it is at least more fun than looking at numbers. It's also a way to productively goof off such that I don't feel guilty. I've spent most of January stuck at my desk but haven't minded much because of the mostly gray, damp and cool weather. We did have a week long stretch in the middle when it warmed into the seventies when everyone was running in shorts thinking that spring had arrived. It hadn't. A couple days later things cooled off and everyone was then running around sneezing and coughing.
With much of the rest of the country shivering in record low temperatures I agree that we're pretty lucky weatherwise down here in Florida's panhandle. We did experience numerous freezes in January but they were mild and of short duration. The cold was balanced out by some nice brisk sunny days that were perfect for doing heavy yard work (like moving pampas grass clumps) but they proved to be even more perfect for sitting outdoors drinking coffee thinking about doing heavy yard work.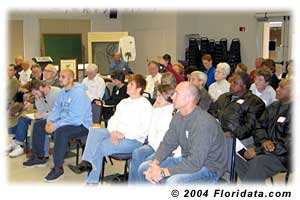 In late January I took a trip to Jacksonville, Florida where my friend Chuck Hubbuch was organizing the kickoff meeting of the Jacksonville Horticultural Study Group. The local chapter of the Palm Society met as well and Chuck, who is also the Botanical Curator at the Jacksonville Zoological Gardens, gave a presentation on the rare palms that he has visited in countries ranging from Madagascar and across the Indian Ocean to Thailand to New Guinea. I also found out that there is a palm garden at the FCCJ campus on Beach Boulevard and that a new arboretum is in the works for the Arlington section of town. I plan to tell you more about these projects in future Journals.
Because I'm a computer nerd I rarely venture far from the keyboard so I'm practically a hermit. But after a decade or two it's easy to get really sick of yourself, so it was great meeting some fellow gardeners and palm lovers. I also scored some Chinese fan palm (Livistona chinensis) seeds from one of the other members - that alone made the trip worthwhile. Also I finally found out how to pronounce "Licuala" (say li-CAW-lah) and discovered how fun it is to hear words you've only read. If all goes well I'll get back to Jax for the February meeting too!
Sam 2.0
A few months ago I wrote about my old beagle Sam who I thought was getting beat up by a coyote that had moved into the neighborhood. Sam is about 12 or 13 years old and two of his legs are messed up so he sleeps a lot and hobbles around when he walks but he's been doing "OK". Shortly after New Years, though, he began looking ragged and sad and then stopped eating - even weiner treats which is when I knew something was wrong. I had returned home early one afternoon to a house filled with a disturbingly "organic" odor. I traced it to Sam's bedding - some unpleasant material had come out of one end or the other of him. I don't know which for I didn't want to inspect it too closely - even for diagnostic purposes - because I was anxious that something would hurl out of me. So looking out of the side of my eye (so I could see it, but not see it well enough to get grossed), I packed up bedding and all into a trash bag and tied it shut - real tight.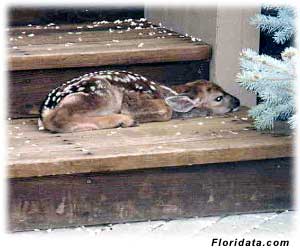 Later Sam began trembling and seemed disoriented and it was apparent that he wouldn't see the morning. It's always sad to loose a pet but Sam was the "special" dog in a household of Great Danes. I was bummed and decided to give him my favorite t-shirts as a last present. I arranged them into a little bed for him to lay on so he'd be comfortable in his last hours. I gave him my Sydney 2000 Olympics t-shirt that a friend in Australia had sent me and a University of Florida Gator t-shirt from when the football team dominated the country in 1996. Even though he was sick I could tell he liked them. I stayed up and rubbed his belly for a while and then said a sad "goodbye" and went to bed.
The next morning I took a few minutes to prepare myself before going in to see him. I was happily amazed when he sleepily raised his head, then hopped up and led me off to the refrigerator. Except for being famished he was fine! I pampered him back to health by stepping up his treat schedule because he had lost weight. I think the luxury of sleeping on my best t-shirts and dining on fine wiener gave him too much to live for. I'm taking Sam's recovery as yet another indication that 2004 will be a great year. Now as I write this in early February I'm stepping down his treat schedule because he's getting fat! Sam's time will come eventually but now I have the opportunity to especially appreciate him while he's here. Even though he is a garbage eater and smells bad (a lot) he's a real good dog!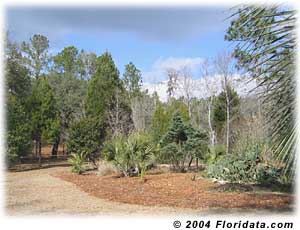 Projects
I promised myself that I wouldn't then I went ahead anyway and planted some seeds (calendula) that a friend gave me. Our little community here at Natural Bridge, Florida is at the epicenter of a deer population explosion so no one around here is growing anything. They have eaten the place brown as I've relentlessly complained in previous Journals. I sowed a few of the seeds in a bed near the back door (will be eaten) and the rest in some pots (should be safe). Now at the end of the month they're sprouting and I feel an overpowering urge to plant some more stuff. I hope I resist at least until spring when my little seedlings won't be the only tasty green things around.
I'm still pruning whenever I have a few free moments. I took a whack at three variegated Japanese mock orange (Pittosporum tobira) in the driveway circle and they're now carved up enough that I call them bonsai (but perhaps without the aesthetic appeal). I'm still hacking on several yaupon hollies (Ilex vomitoria) turned topiary and should get started on trimming back the crape myrtles (Lagerstroemia indica) before they leaf out.
There is still much mulching to do and (worse yet) a lot of raking to get the pine needles to do the mulching with. When I am rich I swear, as God is my witness, I will never rake mulch again. (For it will be delivered in neat little cubes tied in string. Oh yeah, and it will come with some guys to spread it around in luxuriously thick layers).
In Bloom
If it wasn't for camellias (Camellia japonica) my place would be almost colorless. Each week in January we had a couple freezes but the camellias always managed to pop a few buds open during the intervening warm spells. The strawberry tree (Arbutus unedo) is also still blooming. It's small white flowers don't contribute much color but the fragrance they release is very pretty.
On the second last day of the month I saw my first-sign-of-spring. A warm sunny day had caused the swamp maples (Acer rubrum) to open their fat red buds and I was sure happy to see them.
Before the deer became overpopulated and destructive, this was the time of year when pansies, snapdragon and all kinds of cool weather annuals would bloom. The occasional freezes will put them into suspended animation but they perk up promptly when warmth returns. In years past this was my favorite flower growing time because the cool months are the only time when many of the temperate zone flower favorites grow well. Many just can't handle Florida's summer heat and humidity so winter is when we enjoy sweet alyssum (Lobularia maritima), pansies (Viola x Wittrockiana), ornamental kale (Brassica oleracea var. acephala) and (my fav) snapdragons (Antirrhinum majus). If I ever get a fence or the deer population goes back to normal I'll definitely be growing all of these again - but for the present it's staying pretty drab here because there's just too many hungry deer! (Have you noticed I'm mellower about them this month? It must be the baby deer picture...)
Lawnchair
That's all for January, I better get back to work looking at numbers. I'm also still updating the oldest Plant Profiles and fixing up a bunch of Profiles for the coming weeks. The most exciting work though is designing Floridata 2.0. I've spent the past few years searching for an established business to help me re-engineer the site to add new shopping and marketing features - to no avail. Recently my Gary Cassin, my best buddy from high school (and now an engineer at ATT Labs) offered to help me design and code the new system - now we can do it ourselves! [Update September 2006: tragically Gary caught the golf bug a short time later and I haven't seen him since! He's advanced middle aged so it's only a matter of time until he hurts something and has to give up golfing and then maybe I can enlist his help...] The new Floridata.com will provide better opportunities for visitors to interact with both the content and with each other.
With Floridata 2.0 you'll be able to "shop by plant" to find all kinds of products from gardening supplies, seeds, plants to related products like foods, herbs, supplements, fragrance, flavors, etc. [Update September 2006: had this service running for a few days but encountered licensing problems - hopefully Google will launch such a service on our site in the near future. ]
We appreciate your business, donations and I thank you for your encouragement and support. Please visit Floridata often this year and don't forget to tell your friends about us. Spring is coming so be good and grow!
Jack Scheper 2/8/04; re-posted 2/23/16