Part 41 Rosaceae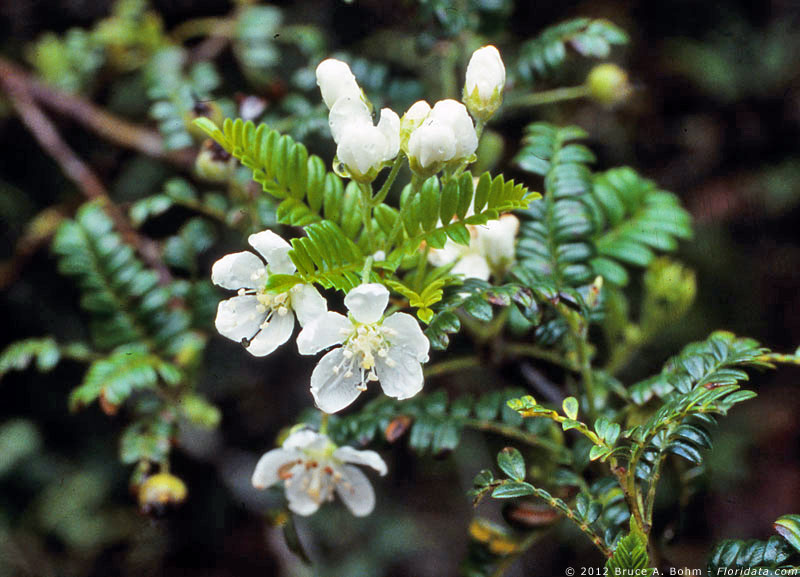 Rosaceae are home to some of the best known flowering plants on the planet, a statement that would be true if only the genus Rosa is considered. The family consists of 85 genera and as many as 3,000 species, although as pointed out by Mabberley (p. 747) many may be apomictic lines (lines that reproduce asexually). Rosa is not a particularly large genus, 100-150 species, but it is extremely well known through the propagation of color forms almost without number. Some folks still think that many of the wild roses are among the most attractive of wild flowers. Setting the fame of Rosa aside for the moment, other genera within the family are of major commercial significance: Malus (the apples), Prunus (the stone fruits, cherries, peaches, and apricots), and Pyrus (the pears), and, closer to the ground, Fragaria (strawberries) and Rubus (blackberries), both of which we will meet a little later. But first it is time to meet `ülei.
`ülei is Osteomeles anthyllidifolia, a beautiful creeping shrub with masses of small white flowers (see image). This attractive plant can be found on all of the main islands in a variety of habitats. It seems to be one of the few native species that can take advantage of disturbed soil; I have seen `ülei on roadsides and on sides of hiking trails where the soil has been significantly eroded. An impressive demonstration of this plant's capacity to form large hedges can be seen in the illustration (see image).
There are slightly different perspectives on the range of occurrence of this monotypic genus depending upon source. Authors of the Manual state that it occurs in the Cook Islands and Tonga in addition to the Hawaiian Islands, while Mabberley (p. 614) describes the range as China to Hawaii. Hawaiians had a variety of uses for `ülei. The berries were used in lei making, in the preparation of a lavender dye, and to eat in times of famine, or for emergency food on a journey. The wood was used for making farming tools, light weight darts for throwing games, short spears for fencing games, and for making a bow that was used with the islanders' only stringed instrument (Krauss). Abbott gives a bit more detail in the use of `ülei for fishing: the spreading branches of the shrub could easily be bent into hoops so that their ends could be tied together to fashion handles for scoop nets. The netting was made from a variety of fibers, but those made from olonä, Touchardia latifolia, were favored since they were strong, did not kink, and were resistant to seawater (Krauss). Touchardia belongs to the nettle family, Urticaceae, which we will meet later in this series.
A rare, and probably extinct, member of Hawaiian Rosaceae is Acaena exigua. (see image), known in Hawaiian as liliwai (Maui) or nani Wai`ale`ale (Kaua`i). The last collection from the summit bogs of Kaua`I was reported in 1870 by Heinrich Wawra, ship's surgeon and botanist on the Austrian East Asiatic Exploring Expedition 1868-1871. A specimen of Acaena was collected from a West Maui bog in 1957 but subsequently none was found until a single plant was discovered in a West Maui bog in 1997. Efforts were made to propagate the species but the remaining specimen died in 2000. The photograph of that individual, which appears here, was taken by Hank Oppenheimer, one of the botanists involved in extensive searches for any surviving individuals of the species. Further information may be found on page 98 of the Bishop Museum online publication: http//hbs.bishopmuseum.org/pubs-online/pdf/op113.pdf
Fragaria, the strawberry genus, is a complex one, not only with regard to how many species there are, but what actually constitutes a species in the first place. Authors of the Manual give 15 as the number, but go on to suggest that the genus is much in need of study. Mabberley (p. 343) refers Fragaria to Potentilla, a mostly boreal genus of about 330 species. One of the difficulties in assigning species status within the group is the complex chromosome structures and the different chromosome numbers which range from diploid to decaploid (10 sets of chromosomes). Many members of the strawberry group readily undergo hybridization. Owing to the commercial importance of the strawberry, many varieties have been selected for flavor, color, or physical strength of fruit (for shipping over long distances, which often takes a toll on the flavor).
Following the usage in the Manual, we see that there are two species on the Hawaiian Islands, F. vesca (see image) and F. chiloensis (see image). Fragaria vesca, the European or woodland strawberry, one of the diploid species, has been in cultivation on the continent since the 17th century. It occurs on Kaua`i in the Koke`e area and on the Big Island where it is quite common on disturbed ground in the vicinity of Kïlauea Iki volcano. Fragaria chiloensis, `öhelo papa in Hawaiian, occurs naturally on the west coast of North America from Alaska to California, disjunct to Chile and Argentina, on the Juan Fernandez Islands (Chile), and on East Maui and on the Big Island. The Hawaiian material has been formally described as subspecies sandwicensis. Hawaiian plants are more similar to specimens from the Juan Fernandez Islands than they are to plants from North America. The photograph was taken of plants being maintained in the Rare Plant Nursery near Volcano. Authors of the Manual point out a very interesting phenomenon regarding the decline of the `öhelo papa on the Big Island but not on Maui. They suggest that this may have been caused by a pathogen that was introduced to the Big Island along with F. vesca, but which was never introduced to Maui. The strawberry of commerce, at least in North America, was derived from crossing F. chiloensis and F. virginiana, a North American species. Both parental species are octaploids (eight sets of chromosomes).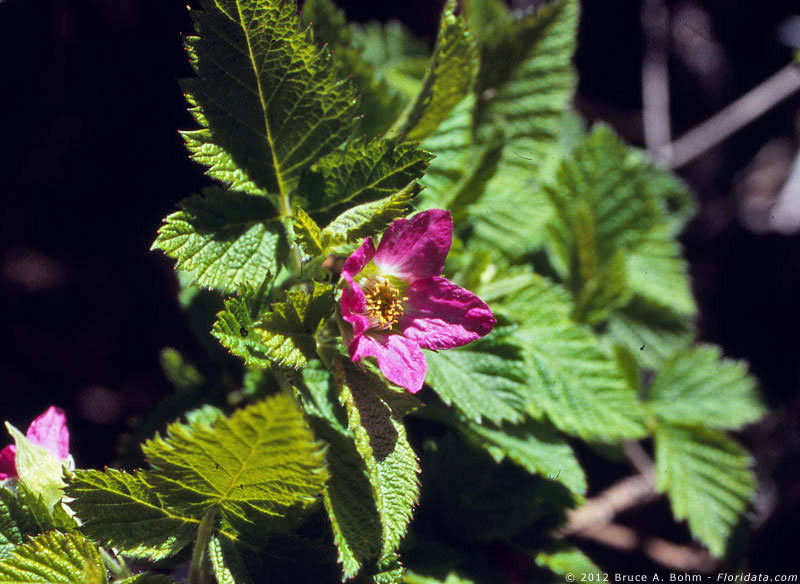 The genus Rubus is home to several very well known plant species among which are R. fruticosus, the blackberry, or bramble; R. ideaus, the raspberry; R. loganobaccus, the loganberry; R. spectabilis, the salmonberry; and R. ursinus, the trailing blackberry. A conservative estimate of species number in Rubus is about 250, but there are many apomictic 'species', perhaps numbering in the thousands. (Recall that an apomictic species is one that reproduces asexually.) The Hawaiian Islands are home to seven species, with the accompanying note by the authors of the Manual that this takes a very broad view of a complex situation. Two of these species are endemic to the Hawaiian Islands, R. hawaiensis (see image), `äkala, `äkalakala, or just kala in Hawaiian; and R. macraei (see image), for which Hawaiians use the same names.
Until quite recently, it was generally held among botanists familiar with the Hawaiian species of Rubus that the two were related, one being a derivative of the other, and that they share a common ancestor with the North American R. spectabilis, the salmonberry common in the coastal woods of my home province of British Columbia. This view remained untested until Dianella Howarth and collaborators (1997) analyzed chloroplast gene DNA sequence data from several likely relatives of these species. In addition to gaining a better understanding of relationships among the species that comprise the blackberries (subgenus Idaeobatus), the data showed that the two endemic species, although related in being grouped with other blackberries, are not related to each other as a progenitor-derivative species pair.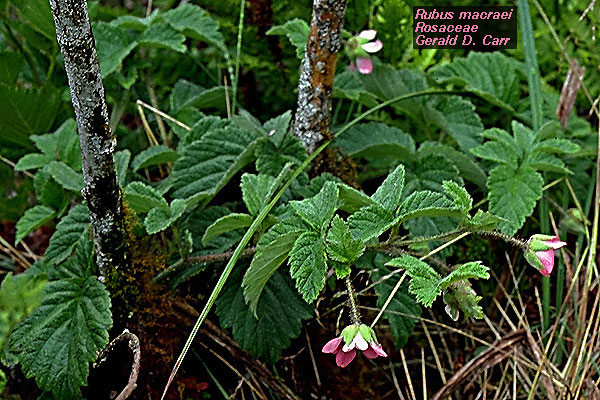 The earlier suggestion, based on morphological similarities, that R. hawaiensis is very closely related to the continental R. spectabilis was shown to be correct, and that the two could likely have been derived from a common ancestor. Rubus macraei, on the other hand, was shown to be much closer to species from Asia. Thus, two independent colonizations were responsible for the presence of the two endemic species on the islands. A broader view of relationships in Rubus, based upon DNA data, was discussed by Alice and Campbell (1999).
The other species of Rubus on the islands are naturalized species originating from such diverse sources as the eastern United States, eastern Asia, the Philippines, and India. One in particular, R. argutus (see image), has the capacity to spread invasively producing nearly impenetrable hedges. The alien species can hybridize with the local species resulting in contamination of native gene lines. In 1997 D. E. Gardner and coworkers at the University of Hawai`i (National Biological Service, Cooperative Park Studies Unit) evaluated the rust fungus Gymnoconia nitens as a possible biological control agent against the aggressive weedy species of Rubus that had been established in the islands over the years. The fungus worked well against alien species but also attacked the endemic R. macraei rendering this approach useless for areas in which both native and weedy species co-occur. The authors of that study suggested that it could be used safely in areas where endemic blackberries do not occur. Rubus macraei occurs on East Maui and Hawai`i; R. hawaiensis occurs on Kaua`i, Moloka`i, Maui, and Hawai`i. Use of the rust fungus would therefore be possible on O`ahu and Läna`i without causing harm to native blackberries.
Two of the other naturalized species that can be found widely distributed on the islands are R. rosifolius (see image), shown here with its characteristic fruit (see image); and R. ellipticus (see image), the yellow Himalayan blackberry, whose heavily armored stems (see image) are a clear identifying feature.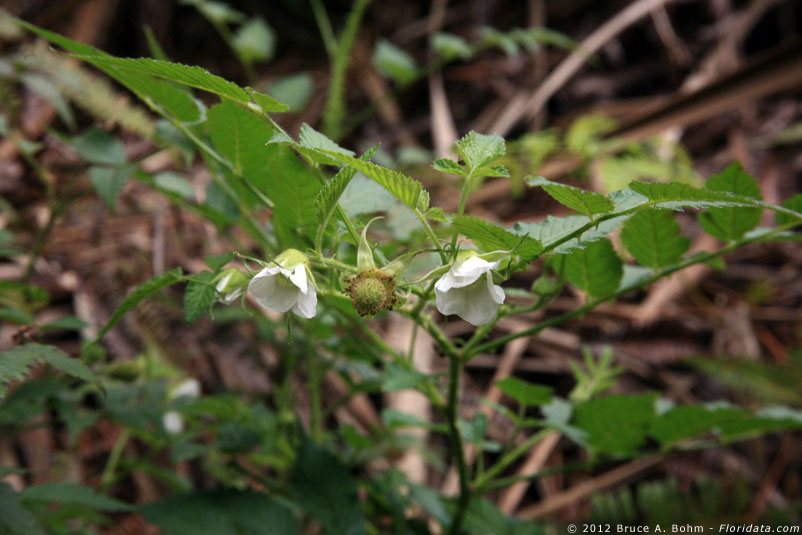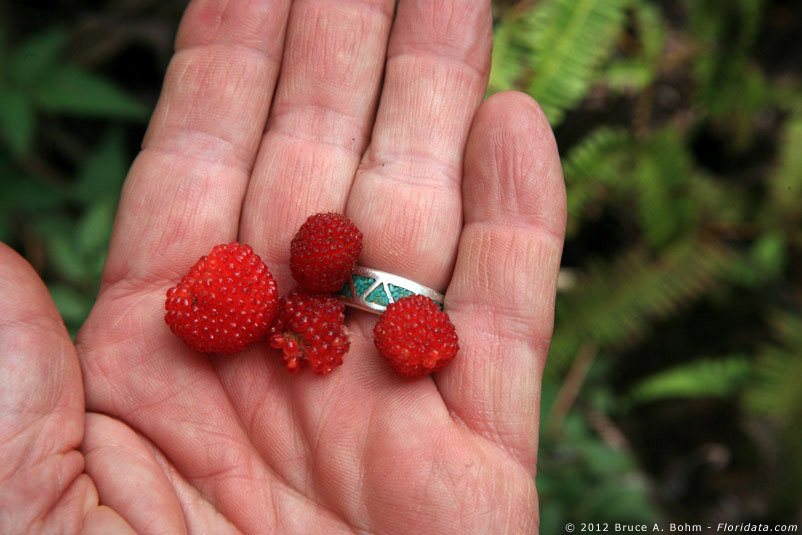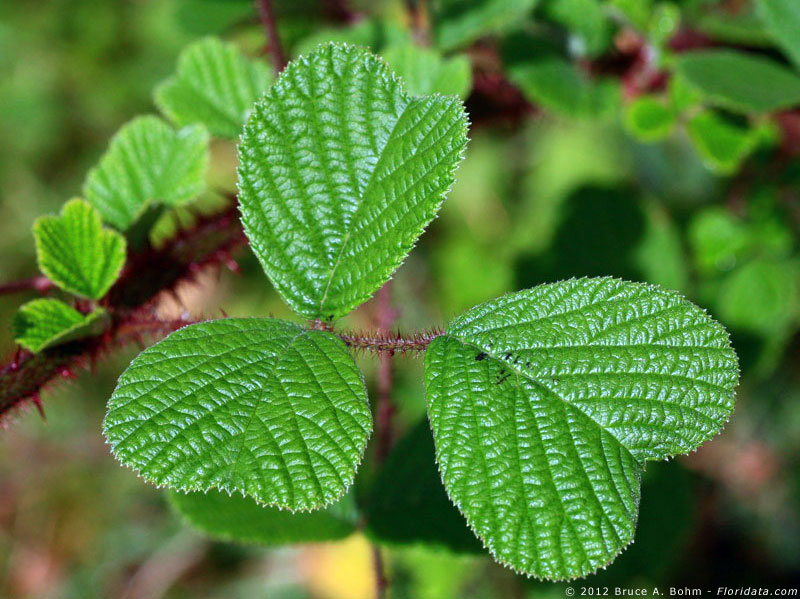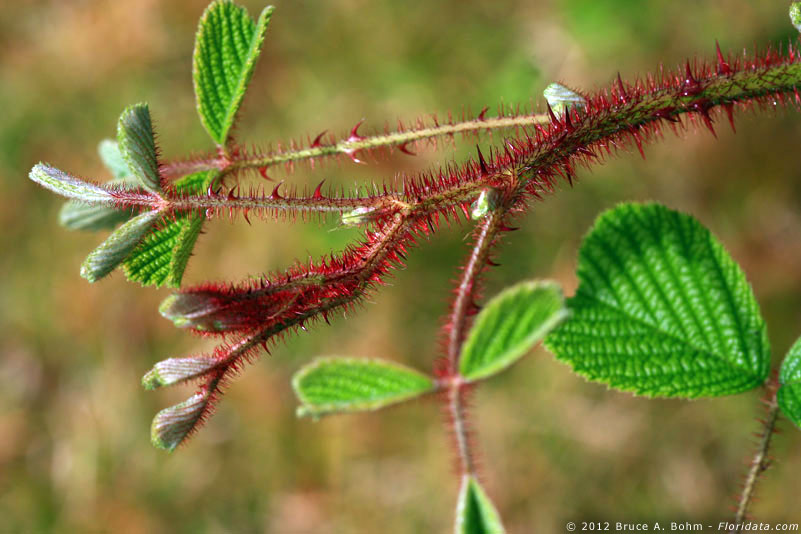 The genus Pyracantha, commonly known as firethorn, is represented in the islands by one species P. angustifolia. This native of China and has been planted in several areas on the islands in the Koke`e area of Kaua`i and in the vicinity of Volcano on the Big Island. This plant can be identified by its bright red fruits (see image) and impressive thorns (image).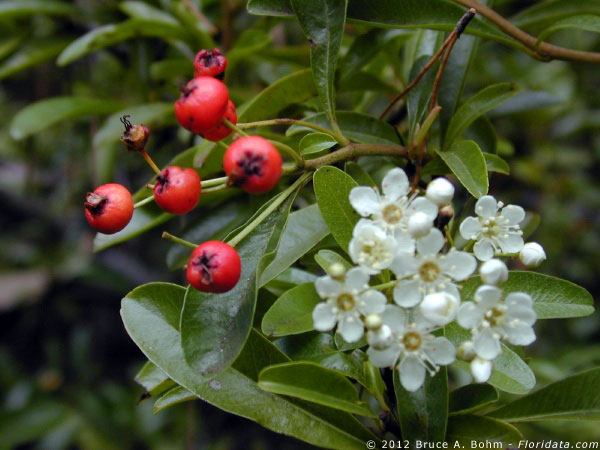 Literature cited…
Abbott, I. A. 1992. Lä`au Hawai`i. Traditional Hawaiian uses of plants. Bishop Museum Press. Honolulu, HI.
Alice, L. and C. S. Campbell. 1999. Phylogeny of Rubus (Rosaceae) based on nuclear ribosomal DNA internal transcribed spacer region sequences. American Journal of Botany 86: 81-97.
Gardner, D. E., C. S. Hodges Jr., E. Killgore, and R. C. Anderson. 1997. An evaluation of the rust fungus Gymnoconia nitens as a potential biological control agent for alien Rubus species in Hawai`i. Biological Control 10: 151-158.
Howarth, D., D. E. Gardner and C. F. Morden. 1997. Phylogeny of Rubus subgenus Idaeobatus (Rosaceae) and its implications toward colonization of the Hawaiian Islands. Systematic Botany 22: 433-441.
Krauss, B. H. 1993. Plants in Hawaiian Culture. University of Hawaii Press. Honolulu, HI.
August 3, 2012