Part 63 Pontederiaceae - Potamogetonaceae - Ruppiaceae
Pontederiaceae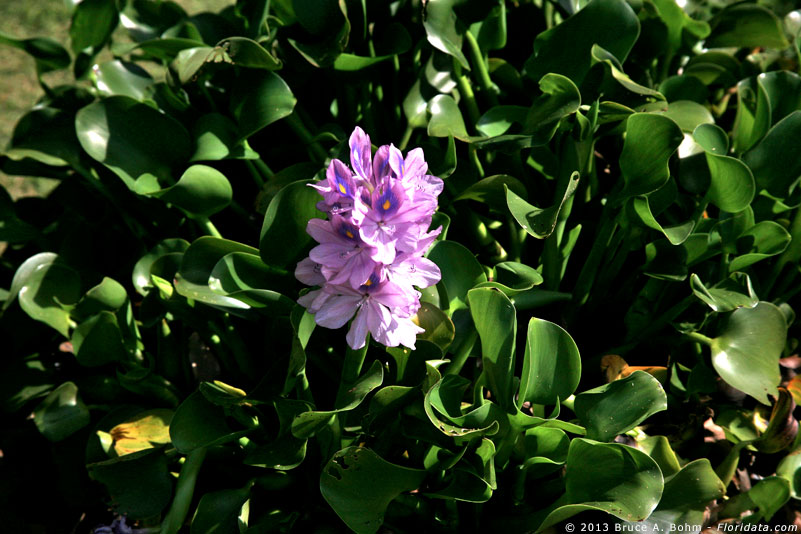 Pontederiaceae, the pickerel weed family, has two representatives in the islands, Monochoria vaginalis, a species naturalized in taro patches and sluggish streams; and Eichhornia crassipes (see image), the water hyacinth. Monochoria, thought to have been brought in as a contaminant of rice, does not pose particular problems, but the same cannot be said for water hyacinth. Water hyacinth is a rapidly growing, aggressive plant that can quickly occupy all available surface of a body of water with a thick, impenetrable mat. Waterways can become clogged to the point that boat traffic becomes extremely difficult. The attractive flower of this plant, and its ease of cultivation, make it a favorite for water gardens. Escaping from its decorative pond, however, it becomes a potentially serious problem. The specimen in the photograph was living in its own tub of water on the grounds near the reception building at NTBG. A healthy growth of water hyacinth can also be seen in the park in Hilo across Waianuenue Avenue from the Post Office building.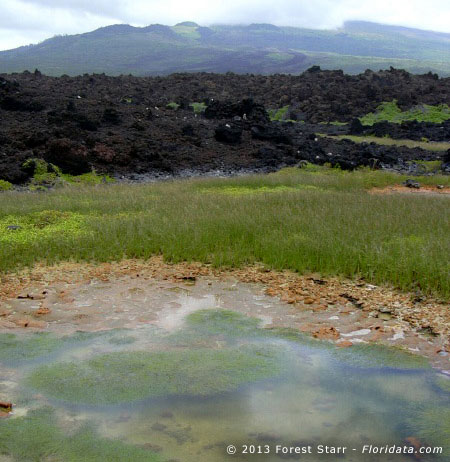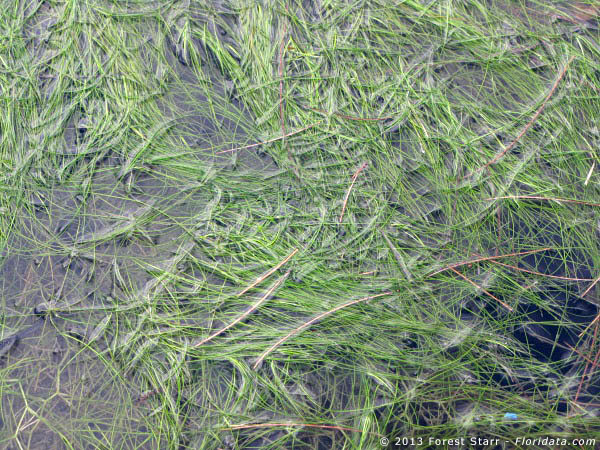 Potamogetonaceae
Potamogeton is a common genus of pondweed with about 100 species (Mabberley, p. 695). The genus is represented in the Hawaiian Islands by three species, two of which were described as indigenous by Hillebrand in his 1888 flora of the islands. One of the species is illustrated here (image).
Ruppiaceae
Ruppiaceae consist of a single genus with one highly variable (Manual) or seven species (Mabberley, p. 754) that enjoys a wide, nearly cosmopolitan distribution. Ruppia maritima, as its name implies, is an aquatic species whose common name is ditch-grass. This species lives in brackish ponds and can tolerate alkaline and sub-saline conditions. The photographs, from the Starr collection, were taken in the La P&eacuterouse Bay area (southern Maui). Several anchialine pools can be found along the arid coast in which Ruppia, can be found. Anchialine pools have underground connections with the ocean, but have fresh or brackish water on their surface. The stratification of saline, through sub-saline, to fresh water presents a challenging set of living conditions for a organisms that make their home in these pools. To orient readers, the southern flank of Haleakalä is seen in the background in the photograph.
March 8, 2013