Part 32 Nyctaginaceae - Ochnaceae - Oleaceae
Nyctaginaceae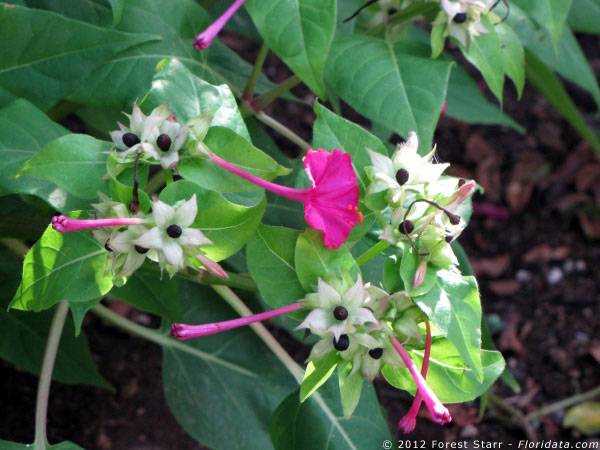 Nyctaginaceae are better known as the four-o-clock family, a name that comes from the popular ornamental plant Mirabilis jalapa (see image) whose flowers begin to open late in the afternoon and continue flowering through the night. The species is native to tropical America; one of its common names is marvel of Peru; the generic name is the Latin word for marvelous. This plant has become naturalized in the Hawaiian Islands and on many other islands in the Pacific. It has been reported to have become naturalized on Midway Atoll, and all of the main islands, except, presumably, Ni`ihau and Kaho`olawe.
The genus Boerhavia is represented on the Hawaiian Islands by one endemic, two indigenous, and one naturalized species. The genus consists of ca. 50 species according to Mabberley (p. 111), or between 10 and 40 according to the Manual. The genus has a pantropical and subtropical distribution. Members in the Hawaiian Islands are commonly referred to as alena. The two indigenous species are B. acutifolia (see image), which was formerly listed in the Manual as B. glabrata, and B. repens (see image). Boerhavia repens is a very common coastal plant characterized by its running habit–hence repens–and very small (see image) but beautiful flower clusters (as shown in the close-up view (see image).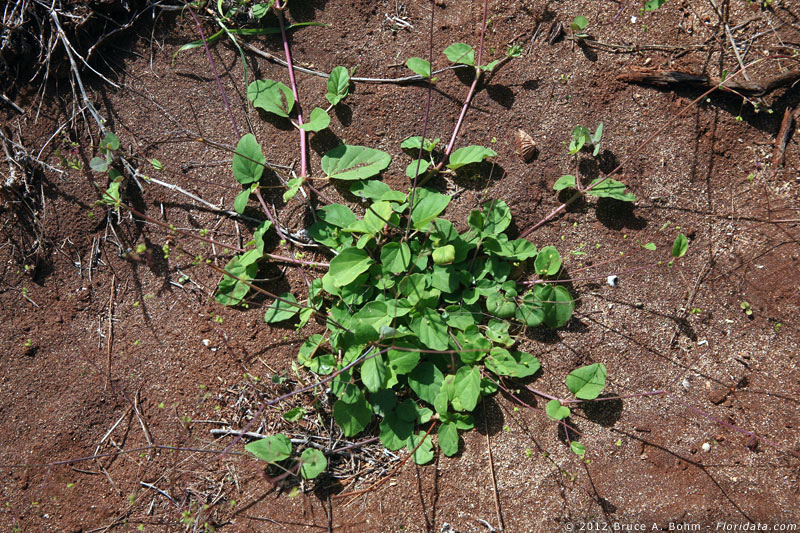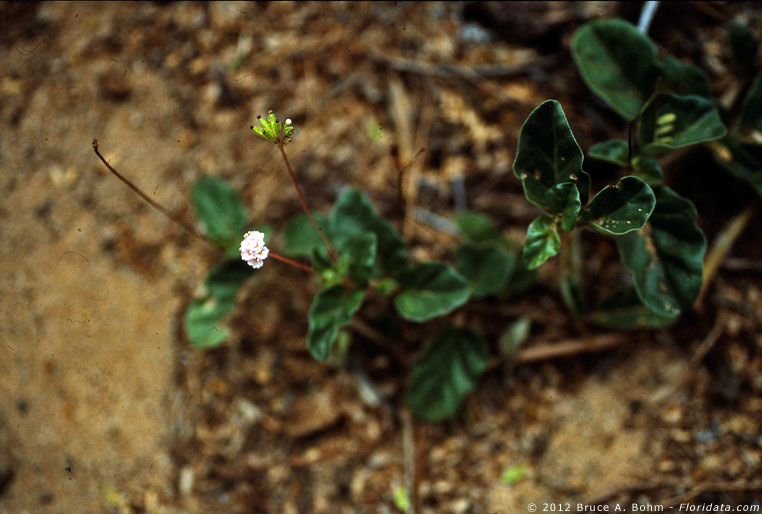 Boerhavia coccinea (see image), a species native to the Caribbean, has very beautiful dark red flowers which can easily be overlooked because they are so small. This plant also occurs in coastal habitats and on disturbed sites such as roadsides. Mabberley (p. 111) notes that this species can go from seed to seed in 10 days (!), which helps to account for the speed of its spread in the islands. We found this little plant near the parking lot in the La P&eacuterouse Bay area. The Hawaiian endemic species B. herbstii occurs in similar coastal habitats on most of the islands, including for a change Kaho`olawe (no shortage of dry coastal habitats). Unfortunately, I could not find a picture of this species.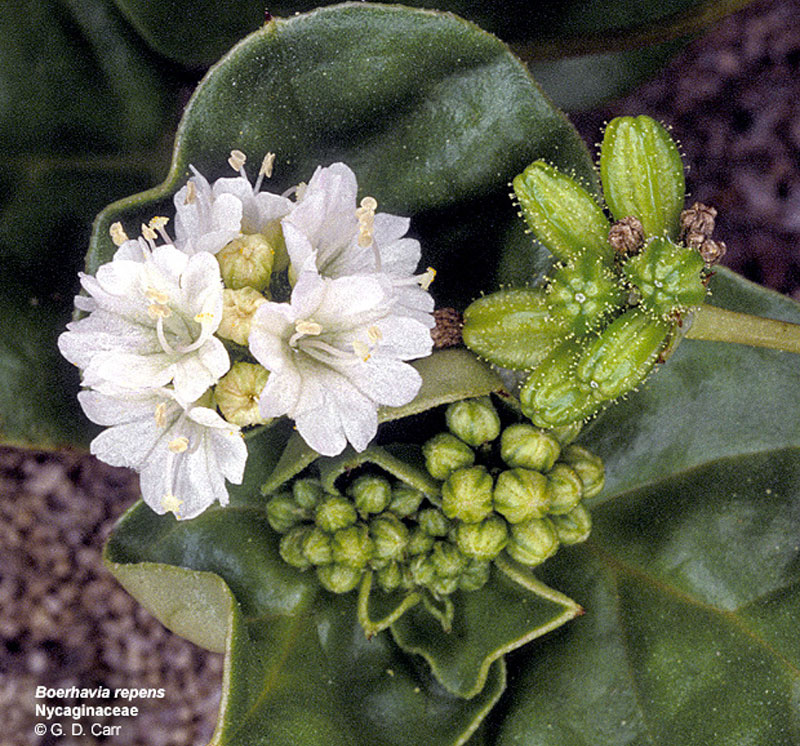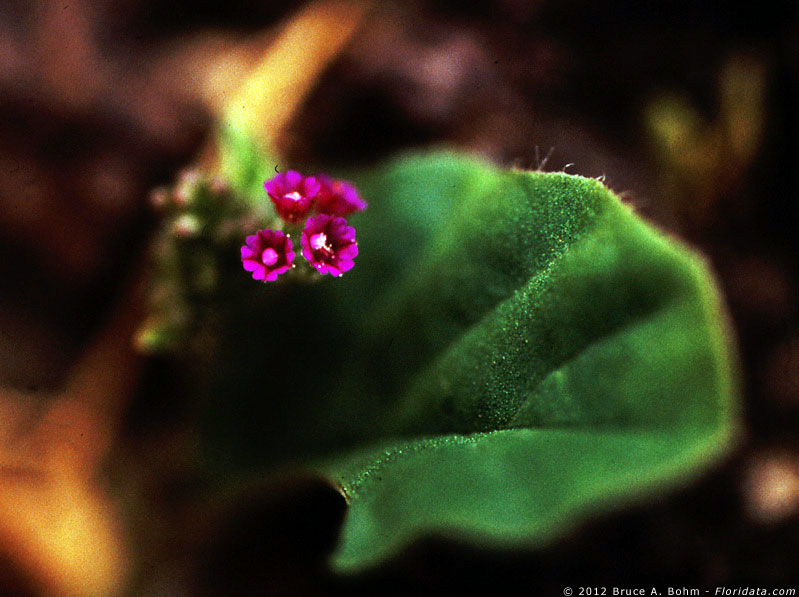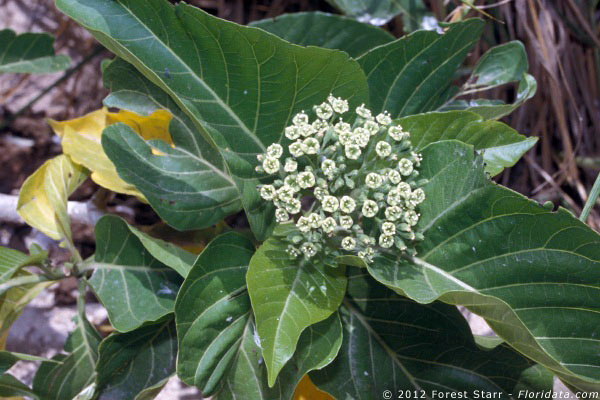 The third genus from the four-o-clock family that occurs on the islands is Pisonia, with three indigenous and two endemic species. Overall, the genus has about 40 species from warm and tropical habitats; many species occur in the Americas. One of the indigenous species is P. grandis (see image) which occurs widely on islands in the Pacific; I first encountered this species in 1972 during a visit to Heron Island on the Great Barrier Reef where it is the major forest tree.
A little history about P. grandis in the Hawaiian Islands is of interest. A single individual of this species was discovered on Lisianski Island in 1980; its existence was reconfirmed in 1983. The only other record of this species having been found in the Hawaiian Islands states that two specimens were found on "Mowee" in 1825 by John Macrae, whom the reader may remember from other botanical activities on the islands (Manual). I am unaware of any records of where on Maui this plant was supposed to have been found.
The indigenous species P. brunoniana (see image), which occurs on Kermadec, Norfolk and Lord Howe islands, Australia and New Zealand, occurs in mostly dry sites on all of the Hawaiian Islands except Kaua`i, Ni`ihau, and Kaho`olawe.
The endemic species, Pisonia sandwicensis (see image), äulu in Hawaiian, occurs on all of the main islands on dry to mesic sites. It is interesting to note that several prominent botanists recognized this species as the distinct genus Rockia on the basis of features of the stigma. Authors of the Manual, however, do not agree and continue to keep it as a species of Pisonia.
Our last example from the genus is the rare Kaua`i endemic Pisonia wagneriana (see image), päpala këpau in Hawaiian, literally gum päpala, where këpau is any gum, pitch, resin, or sticky juice. This species, along with some others, was used as a source of sticky material that oozes from the fruit that surrounds each seed. The gum was spread on a stick and a flower was attached to attract birds. A few feathers of an entrapped bird were plucked and the bird was released. The feathers were used for decorating garments or kähili, the feathered standards that identified members of the royalty. We have already seen päpala, which is the Hawaiian name of Charpentiera (Amaranthaceae), the wood used in the fire throwing ceremony.
Ochnaceae
Ochnaceae, the Ochna family, have a single representative on the islands, the recently naturalized Sauvagesia erecta. It is known from a single location on Moloka`i and has apparently been collected only twice in the mid 1980s. I have borrowed an image from the Starr collection. The genus consists of 39 species native to the tropics; two species occur in Africa one of which is S. erecta (Mabberley, p. 772).
Oleaceae
Oleaceae are home to several plants that would be familiar to most visitors, including olive (Olea europeae), lilac (Syringa vulgaris and others), forsythia (Forsythia), ash (Fraxinus), jasmine (Jasminum), and privet (Ligustrum). In all, the family consists of about 800 species assorted into 24 genera (Mabberley, p. 598-599).
Three representatives of the family can be found in the Hawaiian Islands, the naturalized tropical ash, Fraxinus uhdei (see image), nearly three quarters of a million trees of which were planted; the olive, known in Hawaiian as `oliwa or `oliwa haole; and the endemic Nestegis sandwicensis (see image). This species, known as olopua, pua, or ulupua in Hawaiian, occurs in dry to mesic forests on all islands except Ni`ihau and Kaho`olawe. The wood was much prized for making handles for tools, and as firewood. Olopua was also one of the hardwoods used for house construction, e.g., posts, rafters, and purlins (strips laid on top of rafters that held roofing material). Other hardwoods used for major construction included naio (Myoporum sandwicense), uhiuhi (Caesalpinia kavaiensis), `a`ali`i (Dodonaea viscosa), and mamane (Sophora chrysophylla) (Krauss, p. 56).
Literature cited…
Krauss, B. H. 1993. Plants in Hawaiian Culture. University of Hawai`i Press. Honolulu, HI.
May 30, 2012