Part 57 Hydrocharitaceae - Iridaceae - Joinvilleaceae
Hydrocharitaceae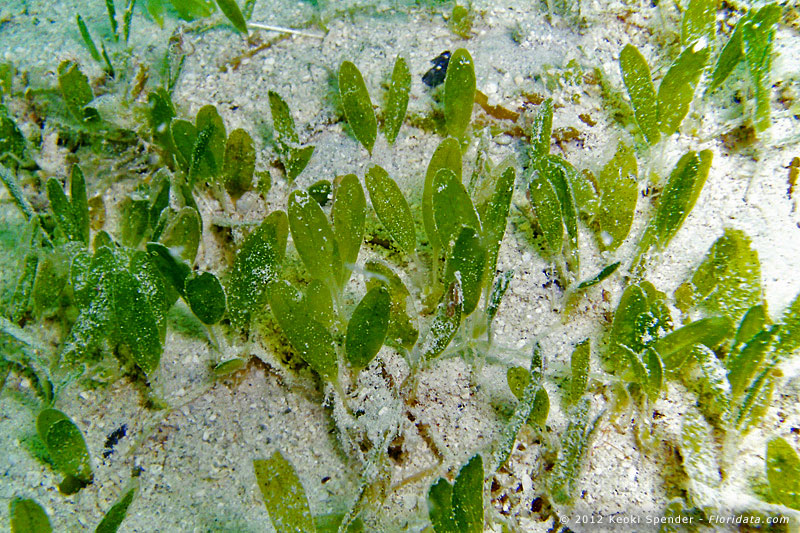 Hydrocharitaceae are a family of aquatic species, 120 in 18 genera following Mabberley's listing (p. 420). The family is represented on the Hawaiian Islands by three species, the naturalized Egeris (Elodea) densa, and two species of Halophila, the endemic H. hawaiiana, and the pantropical H. decipiens whose presence in the Hawaiian Archipelago was reported recently by K. J. McDermid and coworkers (2002). Halophila hawaiiana grows in muddy-bottomed fish ponds and on sandy bottoms near reefs. A beautiful photograph (see image above) of the plant growing on the sandy bottom of Käne`ohe Bay (O`ahu) at a depth of ca. 6' (2 m.), was taken by underwater photographer Keoki Stender. Since the photograph lacks any scale, readers may find it interesting to learn that leaves of mature plants can attain a length of 30 mm (1.25 in.) and a width of 6 mm (0.25 in.).
Halophila hawaiiana is an important plant in the diet of green sea turtles (Chelonia mydas). Similarly, H. decipiens, which also grows on organic-rich sandy bottoms, was reported by D. J. Russell and coworkers (2003) to be part of the diet of green sea turtles, which represented a first report of this plant in the animals' diet. Reviewing specimens collected since 1979, these workers found that the plant first appeared in the animal's diet after 1998. The question as to whether H. decipiens is a recent immigrant to Hawaiian waters or whether it had simply been overlooked in the past remains open.
Iridaceae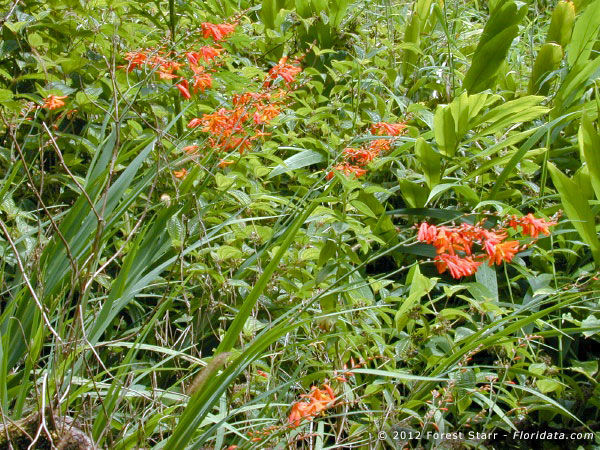 Iridaceae, home of the common garden genus Iris, is a fairly large family with 2,000 species arrayed in 70 genera. Although cosmopolitan in distribution, the family is very well represented in the South African flora with other centers of diversity in the eastern Mediterranean, and in Central and South America (Mabberley, p. 434). In addition to Iris, genera likely known to many readers would include Babiana, Crocus, Freesia, Gladiolus, Ixia, and Romulea. Five genera have representatives on the Hawaiian Islands, Aristea, Crocosmia, Sisyrinchium, Trimezia, and Watsonia, but only one has an endemic species. Sisyrinchium acre, the sole endemic, occurs only on East Maui and on the Big Island in open habitats that can extend into the subalpine shrub community. Hawaiian names for this plant are mau`u lä`ili or mau`u hö`ula `ili. The common name for members of the genus in English is blue-eyed grass (see Sisyrinchium angustifolium). This species apparently doesn't know that; its flowers are yellow.
Pictures of two naturalized members of the family are included here as examples of the contribution that these colorful island visitors can make to a show garden: Crocosmia x crocosmiflora (see image) and Watsonia borbonica (see image). Both genera have centers of variation in southern Africa.
Joinvilleaceae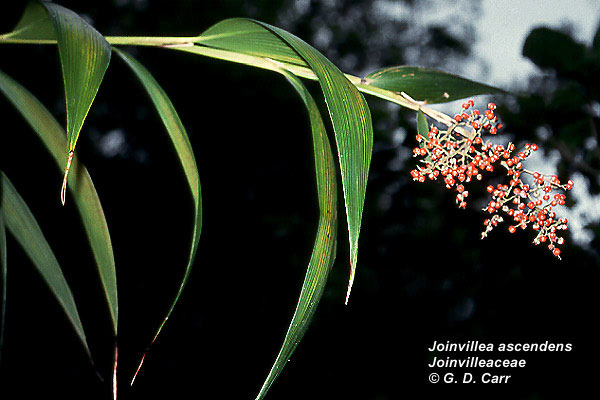 This small family consists of a single genus with two species with a native range that extends from western Malesia to the Solomon and Caroline Islands and to the Hawaiian Islands. Joinvillea ascendens (see image), `ohe in Hawaiian, has been collected from all of the main islands except Läna`i, Ni`ihau, and Kaho`olawe, but is considered rare. It occurs in wet sites such as intermittent streams, and often occurs as single individuals.
Literature cited…
McDermid, K. J., M. . Gregoritza, and D. W. Freshwater. 2002. A new record of a second seagrass species from the Hawaiian Archipelago: Halophila decipiens Ostenfeld (Hydrocharitaceae). Aquatic Botany 74: 257-262.
Russell, D. J., G. H. Balazs, R. C. Phillips, and A. K. H. Kam. 2003. Discovery of the sea grass Halophila decipiens (Hydrocharitaceae) in the diet of the Hawaiian Green Turtle, Chelonia mydas. Pacific Science 57: 393-397.
January 6, 2012