Part 20 Geraniaceae - Gesneriaceae
Geraniaceae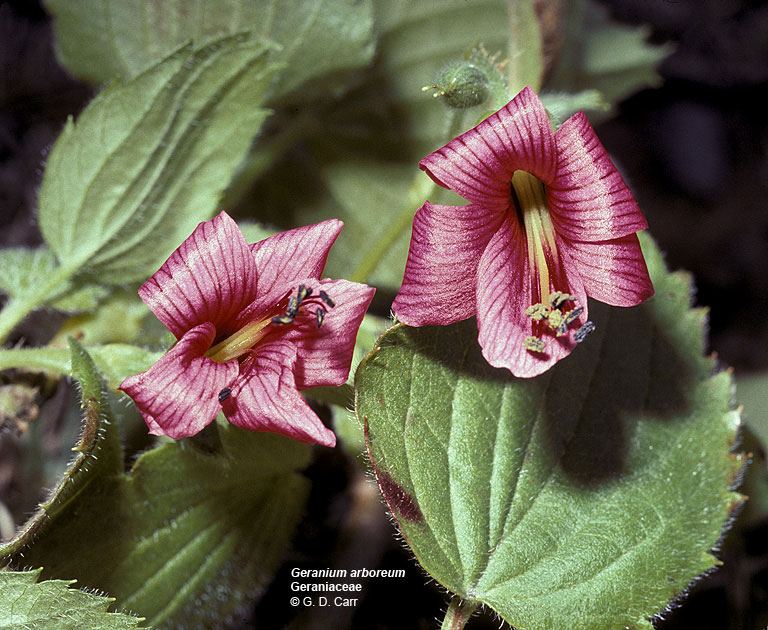 Geraniaceae are a family of 650 species in five genera (Mabberley, p. 356) the most common of which are Geranium, Pelargonium (includes the house plant called geranium), and Erodium (crane's bill). The other two genera are Monsonia (including Sarcocaula), native to southwestern Asia, parts of Africa, and Madagascar; and Hypseocharis, a small group in the Andes.
Two genera of Geraniaceae have representatives in the Hawaiian flora, Erodium with a single weedy species (E. cicutarium), and Geranium with 11 species, six of which are endemics. Several of the endemic species are either rare or occur in places not easily reached by most visitors. Geranium arboreum (see image), known as nohoanu or hinahina in Hawaiian, is a particularly attractive as well as an important species insofar as it is the only member of the genus with tubular flowers, an adaptation for bird pollination. I have searched for this plant unsuccessfully on several occasions; the photograph was taken by Gerald Carr, former head of the Botany Department at the University of Hawai`i (Mänoa).
Much easier to find is G. cuneatum. Four subspecies are recognized on the basis of leaf characteristics and geography. The most distinctive form is G. cuneatum subsp. tridens, which occurs only on Haleakalä where it is often a major component in alpine or subalpine vegetation (Geranium1.jpg). The subspecific name "tridens" derives from the characteristic three teeth on the tips of leaves; the other subspecies have four or more teeth. Making identification even easier, plants with multi-toothed leaves are found only on the Big Island, and not on Haleakalä. The other three subspecies can be distinguished by their leaves and to a lesser extent by their geography. Leaves that are green on both sides are considered characteristic of subsp. cuneatum; leaves that are densely grayish to silky on both sides belong to subsp. hololeucum (completely white); and leaves whose upper surface are green with lower leaves that are densely grayish to silky belong to subsp. hypoleucum (white beneath). Geranium cuneatum subsp. hypoleucum (Geranium2.jpg) was photographed on the eastern flank of Mauna Kea at about 9,500' (ca. 2,900 m) elev., not far from the silversword exclosure. The Hawaiian names for this species are nohoanu, in reference to their habitats at cold, high elevation sites dwelling (Pukui and Elbert, p. 269), and hinahina with regard to the grey surface of the leaves. Apparently, Hawaiians made no distinctions among the recognized subspecies.
Geranium hanaense occurs in bogs in the Hana Forest Reserve on East Maui; the rare G. kauaiense occurs in bogs on Pu`ukukui and Mount `Eke, the highest points on West Maui; the rare and endangered G. multiflorum (Geranium3.jpg) occurs at higher elevations on Haleakalä.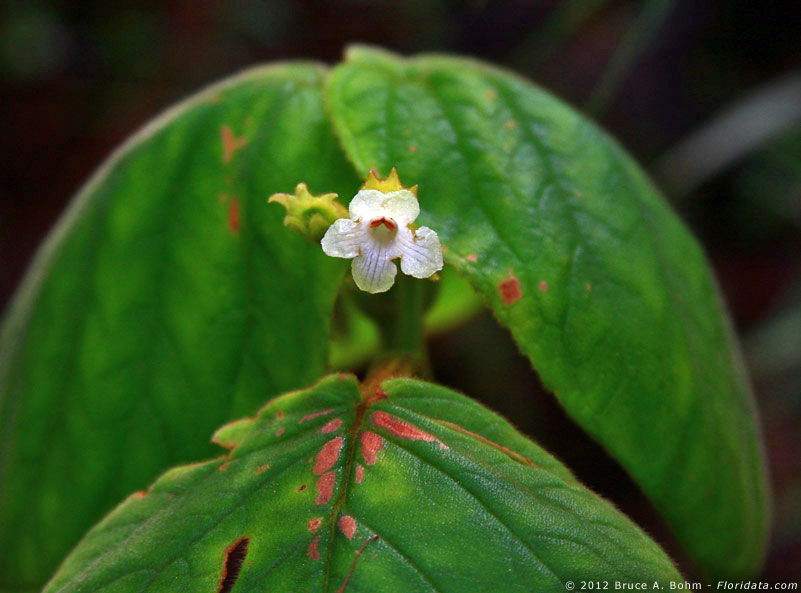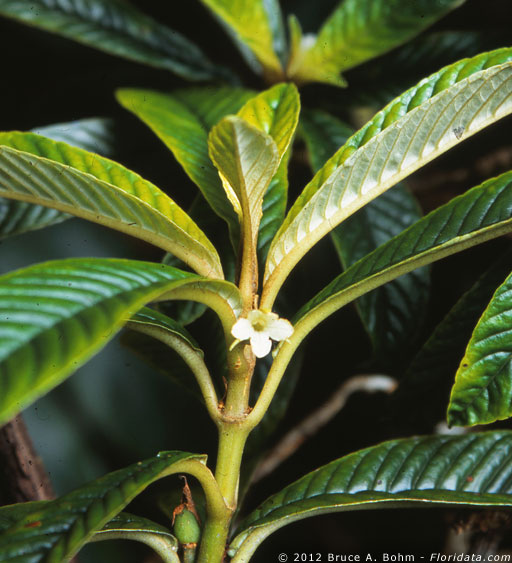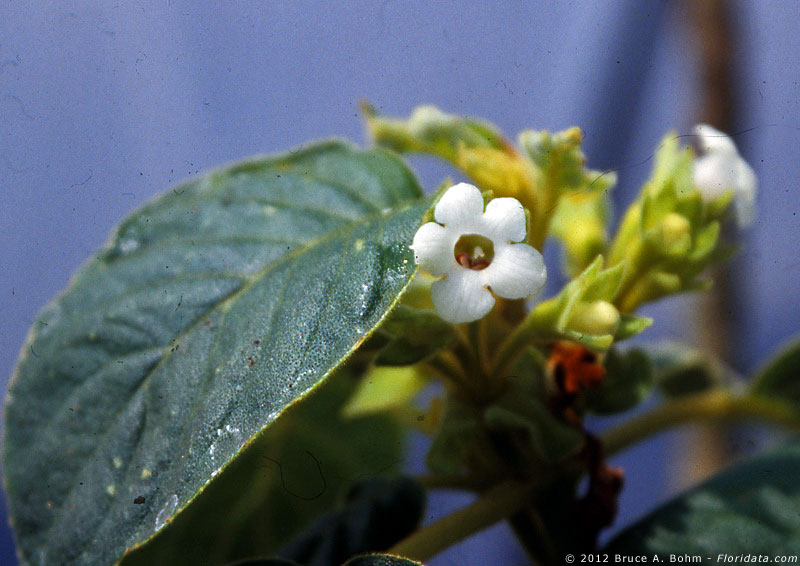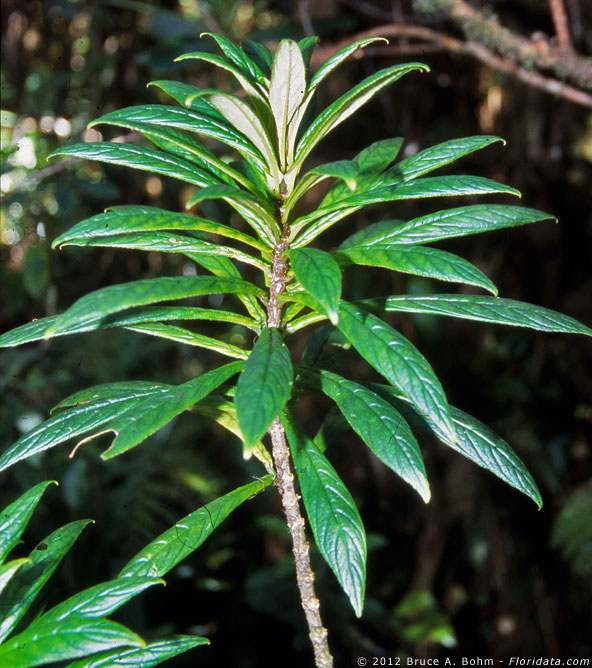 D. L. Pax and coworkers (1997) used DNA sequence data to assess relationships both among island species and between island species and putative evolutionarily related species from other parts of the world. They concluded that the island species are more closely related to each other than they are to any other species of Geranium, strongly suggesting that the island endemic species are the result of a single colonization followed by differentiation. Looking at the broader picture, those authors concluded that the closest related species occur in Mexico, followed by a North American species. The least closely related species were those from Asia and Australia. The suggested relationship with species from the New World is in line with a postulated relationship with species from Peru made by the Hawaiian botanist F. R. Fosberg based upon morphological features (1936).
Gesneriaceae
Several members of Gesneriaceae are well known decorative plants including species of Columnea, Gloxinia, Sinningia (Sinningia speciosa is the common gloxinia), Saintpaulia (the African violet is S. ionantha), and Streptocarpus (commonly called the Cape primrose). The family is a large one consisting of 2,900 species assorted into 139 genera according to Mabberley (p. 357). Authors of the Manual cite 2,500 species in 120 genera.
The genus of interest to us here, Cyrtandra, is a large one consisting of as many as 600 species with centers of diversity in Borneo and New Guinea each with 150 species. The genus is very well represented in the Hawaiian Islands as well with 53 species listed in the Manual (additional ones are listed in the Supplement). Four species are considered extinct while several others are marked as rare and/or endangered. Variation is widespread in the genus, including the Hawaiian species, with the associated problem of clearly delimiting species. Morphological differences among the island species are such that four, or as many as six, independent introductions may have occurred.
One of the easiest ways to see a Cyrtandra in its native habitat is to visit the Thurston Lava Tube area on the Big Island. Cyrtandra platyphylla (see image), which is known as `ilihia in Hawaiian, grows in wet forest in the general area of the lava tube and in shaded spots along the trail into Kilauea Iki. It is also reported from similar habitats on Maui, but access is much easier in the lava tube area on Hawai`i owing to the paved walkway. Two species that I have seen while hiking the Awa`awapuhi Trail (on Kaua`i) are C. longifolia (see image) and C. wawrae (see image). The Moloka`i endemic Cyrtandra procera (see image) unfortunately was not in flower during my visit.
Literature cited…
Fosberg, F. R. 1936. The Hawaiian geraniums. Occasional Papers of the Bernice P. Bishop Museum 12 (16): 1-19.
Pax, D. L., R. A. Price and H. J. Michaels. 1997. Phylogenetic position of the Hawaiian geraniums based on rbcL sequences. American Journal of Botany 84: 72-78.
Pukui, M. K. and S. H. Elbert. 1986. Hawaiian Dictionary. University of Hawai`i Press, Honolulu.
March 13, 2012