Part 19 Flacourtiaceae - Frankeniaceae - Gentianaceae
Flacourtiaceaee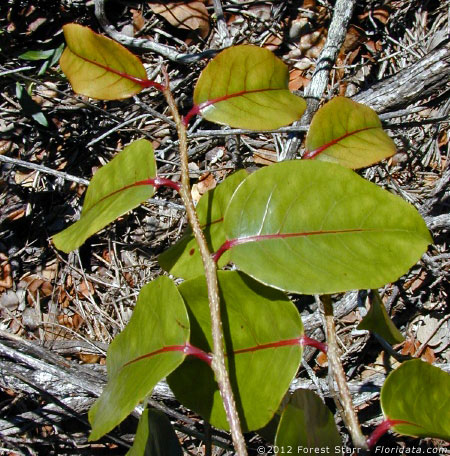 According to the Manual this mainly tropical family consists of 85 genera and as many as 900 species. The only representatives of Flacourtiaceae in the Hawaiian Islands is the genus Xylosma, which consists of 85 species widely distributed in tropical regions, with seven in Polynesia. Both of the species present in the Hawaiian Islands are endemic: X. crenatum, considered endangered, occurs only on Kaua`i; while X. hawaiiense (see image), maua in Hawaiian, a species mainly of mesic forests, occurs on all of the main islands except Ni`ihau and Kaho`olawe.
Mabberley (p. 916) lists this genus as belonging to the willow family, Salicaceae, a change based upon DNA sequence data.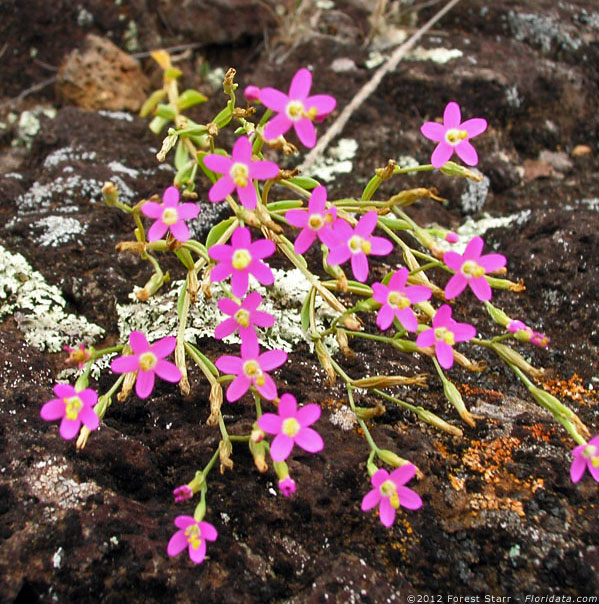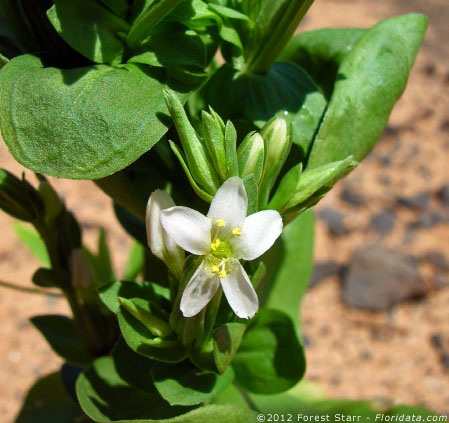 Frankeniaceae
A single population of Frankenia salina, a Californian salt marsh species, commonly called alkali heath or alkali seaheath, was found on Tern Island, French Frigate Shoals in 1968. It did not survive a storm in 1969 that inundated the island.
Gentianaceae
Gentianaceae, the well known gentian family, have two representatives on the islands. Centaurium erythraea, (see image), bitter herb or European centaury, occurs widely in dry to mesic, disturbed sites on all of the islands except Ni`ihau. The endemic C. sebaeoides (see image), `äwiwi in Hawaiian, occurs on Kaua`i, O`ahu, Moloka`i, and West Maui on dry, coastal sites on either clay or volcanic soils. I have not seen either of these plants and must, once again, call upon my colleagues for illustrations.
March 1, 2012