Hawaiian Sandalwood - A Shameful History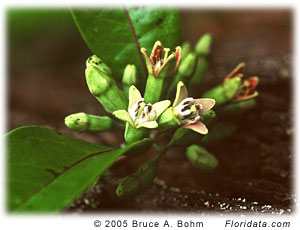 Indian sandalwood, Santalum album (Santalaceae), has been cultivated widely in Asia for centuries. Its aromatic wood is much treasured for manufacture of decorative items and furniture; distillation of the wood provides an oil much sought after for perfumes and medical uses, and even sandalwood sawdust is used because of its attractive scent. On a more somber note, sandalwood is often burned at Buddhist funerals.
Of the two dozen or so species of Santalum that are known, the Hawaiian islands are home to four (some authorities have described as many as nine.) Hawaiians, who use the names lä´au ´ala (sweet wood) and ´iliahi, employed sandalwood primarily for scenting tapa cloth. It was not long after their arrival that Europeans became aware that sandalwood occurred quite widely on the Hawaiian Islands. They were also aware that cultivated sandalwood from southern Asia did not satisfy the market. Harvesting of S. freycinetianum (Photo 1) on the islands was begun in 1791 by Captain John Kendrick, a Boston fur trader, and continued with ruthless enthusiasm until the supply of trees was exhausted by about 1840. In peak harvesting years the crops were truly staggering: in the period 1821-1822 1.8 million kilograms (ca. 4 million pounds) of sandalwood were shipped to China. It has been estimated that about 6,000 trees had to be harvested to fill a ship.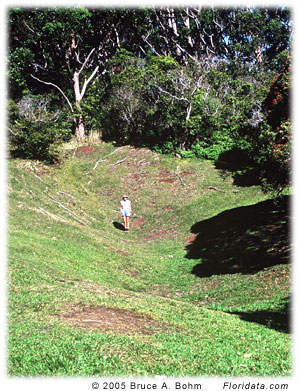 A 'shipload' was measured by filling a hull-sized depression with logs. Then, when the requisite amount had been accumulated, the logs were tied onto the backs of workers who would carry them to the nearest harbor. A reminder of those brutal times can be found on Moloka´i near the Waikolu Valley Lookout. About a half hour's drive along the Maunahui Road takes one to an elevation of about 3,300 ft (ca. 1,000 m) where it is possible to visit the Sandalwood Hull, Luanämoku ´iliahi in Hawaiian (Photo 2). This is a must-see destination if one has any sensitivity to how cruel and insensitive humans can be to each other. Imagine this pit full of logs that are about to be carried, by men, women, and children, to the nearest harbor - perhaps as much as 20 miles on Moloka´i. The load for a man was reckoned to be about 133.5 pounds (ca. 60.6 kg). Many laborers were seriously injured; many others were less fortunate.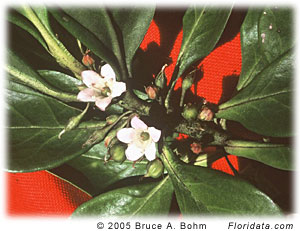 With so many men taken away for cartage duty, farms were neglected resulting in a serious food shortage and causing a bad situation to become even more intolerable. Eventually the leaders-who had profited from the harvest-saw the seriousness of the situation and took some corrective measures, but by this time much of the forests had been denuded of sandalwoods anyway. This certainly must be reckoned as one of the most shameful acts of abuse, both to the people and the land, that the islands have ever experienced.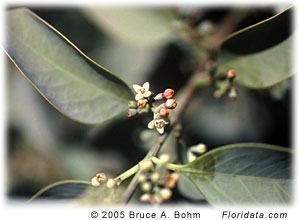 One of the other species discovered on the islands soon after European contact was Myoporum sandwicense (Myoporaceae), the tree that the Hawaiians call naio (Photo 3). Heartwood of naio has an aroma similar to that of sandalwood, a feature not missed by the entrepreneurial traders of the day. With the virtual elimination of true sandalwoods on the islands, attention was turned to naio as a potential substitute. The first shipload of naio that reached Asia was rejected as being inferior. Thus was naio saved from extinction. In English, naio is commonly called "bastard sandalwood".
With the near elimination of sandalwood from the flora, the casual visitor to the islands is not likely to find one in its native habitat unless highly motivated, lucky, or is traveling with someone who knows the flora well. All four species can be seen in collections, however. Santalum freycinetianum, formerly common on all of the islands except Hawai´i, was seen above in Photo 1. The other three species are S. ellipticum (Photo 4), which also occurred on most of the islands; the East Maui endemic S. haleakalae (Photo 5); and S. paniculatum, an endemic species of the Big Island (Photo 6).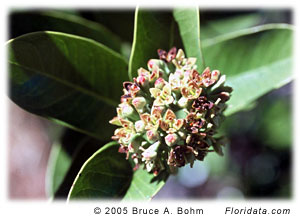 Trouble by over-harvesting sandalwood has not been limited to the Hawaiian Islands. Santalum fernandezianum, an endemic species of the Juan Fernandez Islands of Chile had been reduced by logging to a few trees by 1740 and eliminated completely by 1916. Santalum species occur on other islands in the Pacific Basin, in Australia, and on the Indomalaysian peninsula. Over-exploitation is very much a problem wherever sandalwood happens to occur. In her book Hawaiian Heritage Plants, Dr. Angela Kay Kepler presents a detailed account of the "sandalwood era" and points out that the sandalwoods of the Near East were harvested for construction of King Solomon's House of the Lord as well as for his own dwellings to the point that the forests no longer exist. Those activities nearly extinguished the cedars of Lebanon as well.
Bruce A. Bohm October 24, 2006