March 18, 2018
The star magnolias (Magnolia stellata) in my Kentucky neighborhood were ready to bloom two weeks ago but sub-freezing temperatures caused a delay. I hope they wait a bit longer because depite recent warmer temps, hard freezes are predicted for later in the week. At least the early spring flowers, like crocus, snowdrops and some daffodil (Narcissus spp.) are cheering our spirits! Thanks for visiting, please tell your friends about us and be good and grow. Jack
New Plant Profile
African iris (Dietes bicolor) is an easy to grow evergreen perennial that is popular in warm winter climates (USDA Zones 8-11). This durable species likes moist well-drained soils but can handle short periods of both flooding and drought (good candidate for a rain garden). Read the profile» for more on this garden favorite.
Closely related to the African iris is the fortnight lily (Dietes iridioides). It is slightly less hardy but otherwise very similar in appearance and use. Several hybrids between the two are available. Read the profile» of this popular perennial for USDA Zones 8-10.
.
Spring Flowers!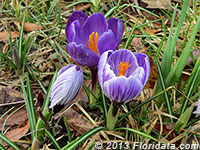 I saw a hillside covered in pretty little 'Pickwick' Dutch crocus (Crocus spp.). This variety blooms the flowers are white with purple veins that age to solid purple with age. For more on spring flowering bulbs, read Ray's articles about The Daffodils and history of The Tulips then check out Floridata's profiles of these and other spring-blooming favorites:
Easy Annual Flowers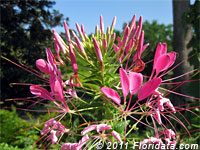 The spiderflower (Cleome hassleriana) is a tall (to about 5 feet) branching plant that is tolerant of hot weather and is virtually pest-free. Improved cultivars like 'Violet Queen' are shorter and more compact and grow well in pots and containers.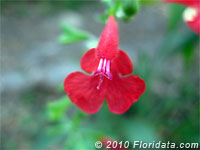 The Texas scarlet sage (Salvia coccinea) is a heat and drought tolerant annual that is often planted in wildflower meadows and butterfly gardens. Despite the common name, Texas scarlet sage also has white and pink flower forms. Regardless of color, hummingbirds and butterflies love to visit this sage for dinner. Here's some links to more easy to grow flowers for hot sunny gardens:
Cornelian Cherry
Despite the common name, cornelian cherry (Cornus mas is actually one of the dogwoods. It is a large shrub or small tree and is one of the earliest blooming woody species. In late winter cornelian cherry covers itself in clusters of tiny yellow flowers. By mid-summer the attractive, edible fruits ripen providing food for birds and other wildlife. Read about the cornelian cherry and about these other dogwoods (members of the genus Cornus):
Grow Greens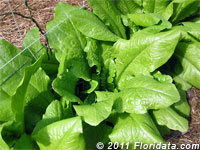 Also called celtuce, this lettuce (Lactuca sativa) is known and grown for its crisp crunchy stems and is just one of dozens of varieties that you too can easily grow. Grow and eat leafy salad greens like the lettuces and friends:
Early Blooming Ornamentals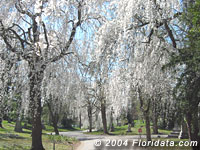 The 'Okame' flowering cherry (see Prunus campanulata) trees began blooming last week and I noticed on Saturday that the Higan cherries (Prunus subhirtella) were starting to break bud too! The weeping (var. pendula) Higan cherry in full bloom is one of my favorite springtime sights. Click here to download a large version (800x600) to display on your computer desktop.
Here are a few more ornamental woodies that you might see blooming at this time of year:
Flowering Plants of Hawaii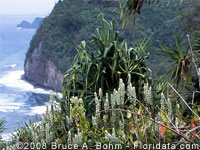 The Hawaiian Islands are home to an array of native plant species that has attracted the attention of botanists, naturalists, horticulturists and world travelers ever since Europeans first visited the islands near the end of the 18th century. Read more »
You'll find more links on our Articles and Resources page.