169
Fatsia japonica
Common Names:

fatsia, Japanese aralia
Family:
Araliaceae
(ginseng Family)
---
Description
Imagine an ivy plant on hormones! Fatsia has huge, up to 12 in (30 cm) wide leaves that are deeply lobed and slightly serrated. Petioles, or leaf stems, are quite long, and hold the leaves up and out with the plant growing to heights of about 8 ft (2.4 m) and about half as wide. The upright stems are covered with prominent leaf scars and mostly unbranched. The weight of the leaves tends to make the plant list to one side or another. Flowering season is fall, but plants must be mature to bloom. Flowers are white, held on a white stalk in small terminal clusters and followed by small, fleshy black fruit. Neither adds much to landscape appearance, and may be almost overlooked. This plant is mainly grown for its outstandingly attractive foliage.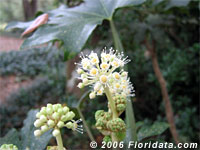 Location
The Japanese aralia is not surprisingly a native of Japan but is now enjoyed all over the world in landscapes and as a container plant indoors and out.
Culture
Likes slightly acid, compost-rich soil which should not dry out. Stems that become leggy or top-heavy may be cut back to encourage branching, or staked for support. Does best in a protected area, or with a northern exposure. Plant responds well to fertilizer which helps it look its best.

Light:

Shade to partial shade.

Moisture:

Moist, well drained soil.

Hardiness:

USDA Zones

8

-

10

.

Zone 7 as well if planted in a protected area with well mulched roots to protect from freezes.

Propagation:

By cuttings from semi-ripe wood.
Usage
Fatsia is a good courtyard or patio plant. Because of its extraordinary bold landscape effect, it might require a little imagination to figure out how to get the most effect from this plant! The effect is easily diminished by placement too close to other plants that could compete for attention. Fatsia is used in Japanese gardens. It can be striking against a light colored background with a fountain or statuary piece in front, especially at night with illumination.
Features
When properly situated the Japanese aralia is a low-maintenance plant seldom bothered by pests or disease. It resembles a shorter, more compact version of the rice paper plant (Tetrapanax papyiferus) but unlike that species is not an aggressive colony former and is invasive.
Jack Scheper 06/13/97; updated 11/23/00, 9/13/05