May 25, 2018
Happy Memorial Day! I'm looking forward to a long weekend working in the garden, planting a couple of new trees and eating picnic food. I hope you have exciting plans too! Have a safe and fun Memorial Day weekend and be good and grow. Jack
New Plant Profile
Tongue fern (Pyrrosia lingua) is an Asian species that grows naturally in subtropical forests on rocks and trees. It is hardy in USDA Zones 7-10 where it finds use as ground cover suitable for dry shady spaces as well as in containers and epiphitically on slabs of bark. Tongue fern is enjoyed as a house plant in colder climates. Read Floridata's tongue fern profile now»
Hotties 4 Full Sun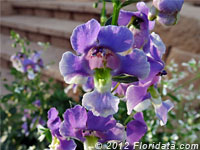 Summer snapdragon (Angelonia angustifolia) will survive heat and humidity and still bloom like crazy all summer long. Click to download a large of version (800x600)
Another newer offering that can beat the heat are the brilliantly colored calibrachoa hybrids, sometimes called seashore petunias (Calibrachoa X hybrida). These are perfect for hanging containers in sunny situations. More sun loving species:
Perennials for Butterflies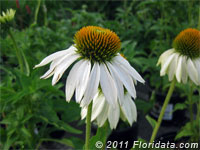 I like all oxymoronically named plants but the white purple coneflower (Echinacea purpurea) might be my favorite and the 'White Swan' white purple coneflower is the biggest and prettiest of all. Download the 'White Swan' to display on your desktop.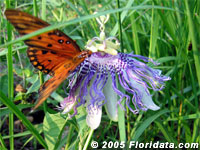 Here is one of my favorite color combinations: an orange gulf fritillary butterfly on a pretty purple passionflower (Passiflora incarnata), a beautiful native of the southeastern United States. Click here to download a large version (800x600) of this beautiful butterfly and visit Floridata's Butterfly Gallery to see dozens more species.
Late Spring Bloomers
The Virginia bluebell (Mertensia virginica) is an herbaceous perennial with erect branching stems and pretty little blue flowers. One of the North American spring ephemerals, Virginia bluebells blooms for a few weeks in spring, loses its leaves, goes dormant, and disappears by midsummer. Read more » about this showy springtime woodland wildflower that grows in USDA Zones 3 - 7.
The handsome and easy-going black-eyed Susan (Rudbeckia hirta) wildflowers are beginning to bloom along the roadsides in the southeast. Local governments have sown wildflowers along roads and highways in many states where they look awesome and reduce the number of mowings needed. Click to download a large of version (800x600) of this image.
Hotties 4 Full Sun
Ornamental bacopa (Sutera cordata) is an evergreen perennial ground hugger that grows to only a few inches in height. Although bacopa hails from South Africa and is tender to frost, it is offered by garden centers in northern climates where it is grown as a bedding and container annual. Read more » about this relatively new offering, appreciated for its compact form, non-stop flowers and tolerance of hot sunny (and salty) situations.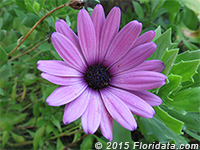 The African or Cape daisy (Osteospermum spp.) is a tender species that may not the easiest plant to grow but rewards with lots of pretty flowers over a long period if you're able to make it happy. There are dozens of species and hybrids but only a few are in cultivation. They like bright sunny situations, well drained soil and regular watering to look their best but are able to survive drought. They prefer low humidity and extended periods of hot, humid, rainy weather are sometimes fatal! These are very handsome plants and worth the effort. If planted in a place to their liking, they require little effort and will thrive and be gorgeous! Use African in beds, borders, rock gardens and containers. They are perennial in Zones 9-10 and grown as annuals elsewhere. Read the profile » and check out a few other show sun-lovers:
Flowering Vines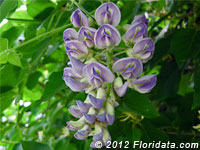 Unlike its showier Chinese cousin (Wisteria sinensis), American wisteria (Wisteria frutescens) blooms in early summer rather than spring. Like Chinese wisteria, the American's violet flowers are pleasantly fragrant. Click for a closer look at the small but striking violet flowers. Here are a few more beautiful summer-flowering vines to read about:
Flowering Plants of Hawaii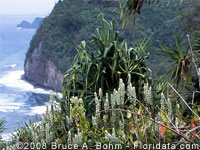 The Hawaiian Islands are home to an array of native plant species that has attracted the attention of botanists, naturalists, horticulturists and world travelers ever since Europeans first visited the islands near the end of the 18th century. Read more »
You'll find more links on our Articles and Resources page.