July 14, 2018
It's hot and humid in my Northern Kentucky neighborhood but rain and a cool-down will arrive next week. Our summer is growing well, I hope your's is too! Stay cool and be good and grow. Jack
New Plant Profile
Gray birch (Betula populifolia) is a small to medium size tree that is a native of northeastern North America. It is a pioneer species that grows in old fields and disturbed lands where it sometimes forms thickets. This is a nice graceful little tree for a specimen planting in small yards in USDA Zones 3-6. Though it is fast-growing, it has a life span of less than 30 years. Read Floridata's gray birch profile now»
Groundcovers
Over the years I've noticed this plant with its pink and cream highlighted foliage and wondered what it was. I found a planting of it and was motivated to finally find out its name - it is called (Houttuynia cordata). Often planted as a ground cover, houttuynia is also edible and has medicinal uses as well. Click here for more on this perennial that grows in USDA Zones 6-11.
Pretty Little Palms
Have you ever bought a tiny souvenir palm in-a-box on your Florida vacations? Have you ever received a living plant arrangement that included a tiny palm? If you have then you know the parlor palm (Chamaedorea elegans). Parlor palm is native to Central American where it inhabits the shady understory of dense rain forests and can grow to 10 feet in height (container grown palms can grow to 3 or 4 feet indoors). Read more about this delightful small palm that makes an attractive addition to shady gardens in Zones 9-11 and in containers almost everywhere.
Gingers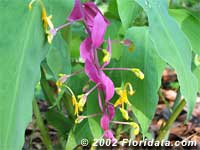 The dancing ladies ginger (Globba winitii) in my garden down in North Florida blooms at this time of year. It's really pretty with colorful dangly blossoms that "dance" in the breeze and grows well in shady situations. Member of the ginger family, Zingiberaceae, are largely tropical and sub-tropical species and many like these in the following list we enjoy in our gardens and in our food:
Fig
At this time of year, among the things I miss most about being away from my home in Florida's Big Bend, are the luscious fresh figs (Ficus carica) are ripe and ready to eat right about now. There is nothing tastier than a fresh-picked, sun-warmed fig! Since I'm not there, the birds and other wildlife will have the feast all to themselves. In a few weeks the leftover figs will ferment and be eaten by certain wildlife like deer and especially by the squirrels who cannot hold their figs very well. They eat the alcohol-infused fruits, get fried and fall out of the trees. It's funny. I miss that too.
Downy Thornapples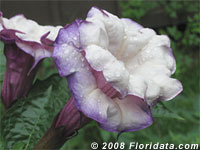 This is another of the fancy double-flowered downy thornapples, also called devil's trumpet, (Datura metel) that Steve grows. As the common name suggests, these are close relatives of the angel trumpets (Brugmansia species). Download a large version of this purple double devil's trumpet.. Read about a couple more daturas (all contain poisonous compounds, do not grow in areas frequented by children and pets):
Flowering Plants of Hawaii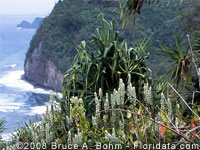 The Hawaiian Islands are home to an array of native plant species that has attracted the attention of botanists, naturalists, horticulturists and world travelers ever since Europeans first visited the islands near the end of the 18th century. Read more »
You'll find more links on our Articles and Resources page.