October 22, 2017
It's looking to be not a great year for colorful autumn foliage in many parts of the country. But it's still a great time to plant trees and shrubs - use the Master Plant List's Fall Foliage filter to find species for a more colorful next autumn. Thanks for visiting! Please tell your friends about us and be good and grow. Jack
New Profile
Japanese hornbeam (Carpinus betulus) is a smallish deciduous tree. Its compact form, handsome profile and interesting fruits make Japanese hornbeam a suitable landscaping choice for small spaces. This low maintenance little tree is ideal for shady areas under big pines or oaks in USDA Zones 4-8. Read the profile »
Here are two other Carpinus species that you can read about at Floridata:
My Autumn Scenes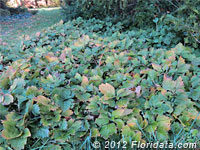 Allegheny spurge Pachysandra procumbens is a low-growing subshrub native of the eastern United States. This handsome species is rare in its native range but is now much appreciated and planted by gardeners both north and south. Click to download a large version of this image.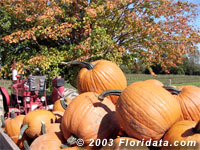 Here's a nice Halloweenish picture of a load of Kentucky pumpkins (Cucurbita spp.) posed in front of a sugar maple (Acer saccharum) ablaze in fall color. Click to download large (800x600px) format version of The Pumpkin Wagon.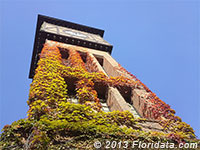 The MainStrasse Clock Tower is located in Covington, Kentucky where at this time of year it is attractively draped in Boston ivy Parthenocissus tricuspidata that is in the process of assuming its brilliant autumn color. Click to download large format version (800x600px)
Butterfly Favorites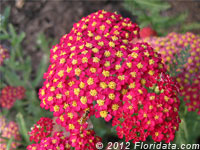 Common yarrow (Achillea millefolium) is a North American native wildflower species that thrives in the heat and humidity of mid-summer. 'Paprika' is a particularly showy cultivar that is also attractive to butterflies. Download a large version to display on your desktop.
Ornamental Grasses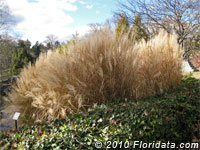 Eulalia or maiden grass (Miscanthus sinensis) has been a popular garden plant for centuries. There are hundreds of named selections that vary in height, color, variegation and other characteristics. Many of the selections, like ''Silberspinne', look great even when stems and leaves are dried and dead! Click to download a large version (800x600) of this image.
Visit Floridata's Master Plant List with filter set to Fall Foliage Plants to see more species whose leaves turn in autumn.
Fall Fruits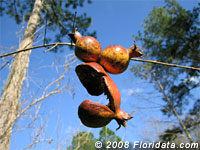 These pomegranates languished on limb for long past their prime, they fermented, swelled and popped their rinds. The birds and squirrels enjoyed antioxidant rich treats and a hell of a time. Click here to download a large (800x600) version of this pretty pomegranate picture.
A big patch of lotus (Nelumbo lutea) grows in a pond along one of my favorite dog walks. When water levels are low at this time of year, it's easy to take nice pictures of the stylish lotus seedpods. Click to download a large version of this pretty pod picture.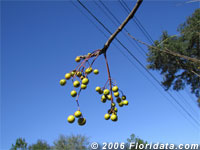 The Chinaberries (Melia azedarach) are ripening now. Even though they're toxic, some birds eat them anyway, eventually to poop out the undigested seeds. These germinate into mini-forests of invasive Chinaberry trees - especially beneath utility lines and other places where birds roost. In The Deep South, a Chinaberry tree planted in the yard was traditionally thought to bring good luck. They don't, so if you have one in your yard, the best luck might be from chopping it down. Click to download a large version (800x600) of this Chinaberry cluster.
Shiitake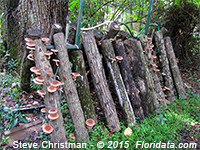 Steve grows shiitake mushrooms on lengths of water oak log. He sent this picture of his mushroom garden (download large version), just refreshed by a passing rain show. They are nutritious and delicious and you can easily Grow Your Own Shiitake Mushrooms.
Flowering Plants of Hawaii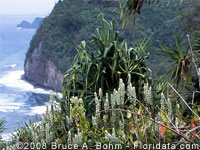 The Hawaiian Islands are home to an array of native plant species that has attracted the attention of botanists, naturalists, horticulturists and world travelers ever since Europeans first visited the islands near the end of the 18th century. Read more »
You'll find more links on our Articles and Resources page.