October 14, 2017
The weather has been so beautiful in my neighborhood that I was inspired to plant almost 100 tulip bulbs! Plant a few spring blooming bulbs now and next spring you'll be very glad you did! Visit Floridata often, tell your friends about us and be good and grow. Jack
New Profile
Japanese hornbeam (Carpinus betulus) is a smallish deciduous tree. Its compact form, handsome profile and interesting fruits make Japanese hornbeam a suitable landscaping choice for small spaces. This low maintenance little tree is ideal for shady areas under big pines or oaks in USDA Zones 4-8. Read the profile »
Here are two other Carpinus species that you can read about at Floridata:
Sumacs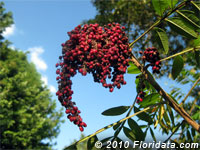 Shining or winged sumac (Rhus copallinum) is a fast growing and short lived deciduous shrub or small tree. Winged sumac often forms thickets, a mass of this in bloom, in fruit or in fall color makes a memorable sight. It is a native of the eastern United States ranging from southeastern Maine south to Florida.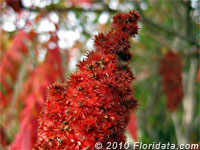 Staghorn sumac (Rhus typhina) is another North American native that grows as shrubby colonies of stems and occasionally as a standalone tree. Dense flower clusters at the tip of the stems mature into showy scarlet fruits. Europeans have long valued staghorn sumac as an ornamental and Native Americans made a drink from the fruit which tastes like lemonade and has a high vitamin C content.
Unlike the staghorn sumac species, 'Dissecta' has deeply dissected leaves that resemble those of ferns. This cultivar of Rhus typhina is popular with landscape designers.
Sages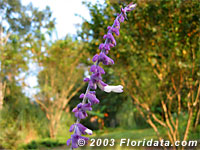 Back home in North Florida (Zone 8), the Mexican bush sage is blooming now along with the big yellow forsythia sage and a pretty pink autumn sage that looks pretty boring most of the time but makes up for it at this time of year. Members of the genus Salvia are often referred to collectively as the "sages". While many gardeners are familiar with the bedding annual, scarlet sage (S. splendens), there are many other ornamental Salvia species to consider.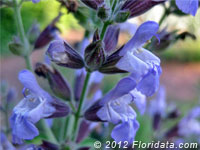 The familiar culinary sage (Salvia officinalis), of turkey dressing fame and other savory dishes, is a hardy perennial (to Zone 5). In addition, this easy-growing plant produces beautiful blue blossoms in summer. Here is a sampler of just a few of the Salvia species profiled at Floridata:
Seedy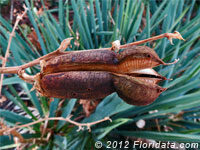 Adam's needle (Yucca filamentosa) is the most frost hardy of the Yuccas (it goes by different names depending on region, some of which some botanists assign to separate species. The seed pods on the plants here in Greater Cincinnati are ripe and some look like weird creatures like this one. Download large versions of this and other images from the Adam's Needle Profile's Image Gallery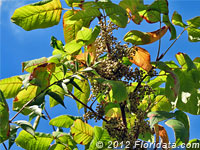 I don't like poison ivy Toxicodendron radicans but I can't help but admire the plant's handsome white berries - and many species of birds absolutely love them! The foliage also put on fine autumn display of color so if poison ivy comes a'creeping around your place, you might not want to automatically kill it if it's not in your way.
Seedy and Thorny
Most of the thornless honeylocust (Gleditsia triacanthos) cultivars are also sterile and produce few seed pods. I saw these on a wild tree and want to report that they are huge (over a foot long) and full of big seeds that resemble lima beans so it's easy to understand why you wouldn't want them all over your yard once a year.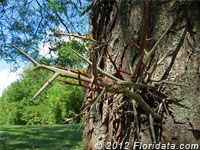 This image illustrates why thornless honeylocust ( Gleditsia triacanthos) cultivars are preferred in the landscape. Trunks of mature trees are often covered from top to bottom with these monster multi-pronged thorns that are sometimes two long!.
Visit Floridata's Master Plant List with filter set to Fall Foliage Plants to see more species whose leaves turn in autumn.
Fall Fruits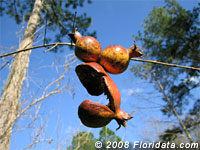 These pomegranates languished on limb for long past their prime, they fermented, swelled and popped their rinds. The birds and squirrels enjoyed antioxidant rich treats and a hell of a time. Click here to download a large (800x600) version of this pretty pomegranate picture.
A big patch of lotus (Nelumbo lutea) grows in a pond along one of my favorite dog walks. When water levels are low at this time of year, it's easy to take nice pictures of the stylish lotus seedpods. Click to download a large version of this pretty pod picture.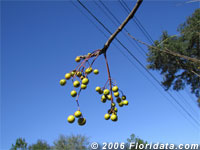 The Chinaberries (Melia azedarach) are ripening now. Even though they're toxic, some birds eat them anyway, eventually to poop out the undigested seeds. These germinate into mini-forests of invasive Chinaberry trees - especially beneath utility lines and other places where birds roost. In The Deep South, a Chinaberry tree planted in the yard was traditionally thought to bring good luck. They don't, so if you have one in your yard, the best luck might be from chopping it down. Click to download a large version (800x600) of this Chinaberry cluster.
Shiitake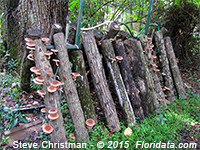 Steve grows shiitake mushrooms on lengths of water oak log. He sent this picture of his mushroom garden (download large version), just refreshed by a passing rain show. They are nutritious and delicious and you can easily Grow Your Own Shiitake Mushrooms.