June 20, 2018
It's summertime! Summer solstice arrives in the Northern Hemisphere this year at 6:07 AM on Thursday. Please visit Floridata often, bring your friends and be good and grow. Jack
New Plant Profile
Gray birch (Betula populifolia) is a small to medium size tree that is a native of northeastern North America. It is a pioneer species that grows in old fields and distrubed lands where it sometimes forms thickets. This is a nice graceful little tree for a specimen planting in small yards in USDA Zones 3-6. Though it is fast-growing, it has a life span of less than 30 years. Read Floridata's gray birch profile now»
Summer Edibles
Some vegetables grow best in cool weather, others like it hot. Many of our favorite edibles are grown in summer like tomatoes and cucumbers. More edible species to grown in your summertime garden:
Beat the Heat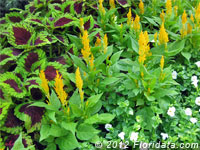 Feathered amaranth Celosia spp.) joins other sun-lovers to create a spectacular bed that will remain bright and colorful all season long. The showy leaves of coleus (Coleus x hybridus) provide background while low growing white wishbone flower (Torenia fournieri) fills out the space in front of the celosia. More flowers for sunny beds:
Gingers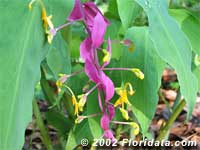 The dancing ladies ginger (Globba winitii) in my garden down in North Florida blooms at this time of year. It's really pretty with colorful dangly blossoms that "dance" in the breeze and grows well in shady situations. Member of the ginger family, Zingiberaceae, are largely tropical and sub-tropical species and many like these in the following list we enjoy in our gardens and in our food:
For the Butterflies
The butterfly bush (Buddleja davidii) is a long-time garden staple whose cultivars come in a range of colors from white to pink to purple - and they really are attractive to many kinds of butterflies. However the species is an invasive pest in some regions so check locally to determine if it's OK to plant where you live. We've added this warning to our Profile. Here are a few more flowers that butterflies visit at this time of year:
Hollyhocks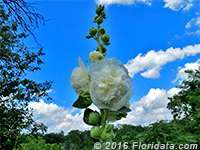 After several attempts, I finally grew my first hollyhock (Alcea rosea) flowers last summer. In late June the pretty white double-flowered hollyhock began producing big beautiful blossoms along four feet of towering stem. The buds at the bottom of the stalk opened first, with blooming proceeding upward over a several week period. Click to download a large (800x600 px) version of this image.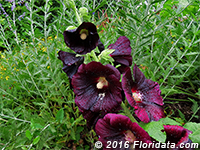 Right beside the white hollyhock (Alcea rosea), I planted a single-flowered black one. Actually the flowers are more dark purple than black but as they open they really do look (almost) black - whatever the color, it is very striking plant. Click to download a large (800x600 px) version. Here's a list of a few more perennial summer favorite flowers:
Flowering Plants of Hawaii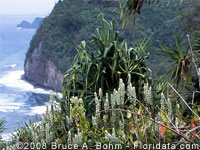 The Hawaiian Islands are home to an array of native plant species that has attracted the attention of botanists, naturalists, horticulturists and world travelers ever since Europeans first visited the islands near the end of the 18th century. Read more »
You'll find more links on our Articles and Resources page.