February 16, 2018
Enough. It's time to do something about gun violence. Visit Everytown for Gun Safety (everytown.org) to learn how. End the slaughter and be good and grow. Jack
New Plant Profile
The English yew (Taxus baccata) is an Old World species that has been in cultivation for over a thousand years. Hundreds of cultivars of this handsome evergreen are available in a range of shapes and sizes. The yew is traditionally symbolic of: The Tree of Life, Immortality, Rebirth, Protection, Longevity, Change, Divinity, Strength and also are wonderful plants to use in the landscape so you might want to plant one in your USDA Zone 7 - 8 yard. Read more »
More Yews
The Japanese yew (Taxus cuspidata) is a close relative of the above English yew and together they are the parent species of the familiar group of landscape evergreens Taxus x media. Read profile » about these yews you can use in your USDA Zones 5-7 landscape.
Florida yew, (Taxus floridana), is one of the rarest trees in the world and is listed as an Endangered Species by state and federal agencies. Florida yew occurs only in forested bluffs and ravines scattered along a 15-mile reach on the east side of the Apalachicola River in Florida's panhandle (USDA Zone 8). Read more »
The Cherries
Purple sand cherry (Prunus x cistena) is a woody shrub or small tree with reddish-purple foliage that is often planted in home landscapes. In spring fragrant pink flowers are produced at the same time the leaves appear. Purple sand cherry is popular for use in home landscapes in USDA Zones 3-8 in foundation plantings, mixed hedges and specimens.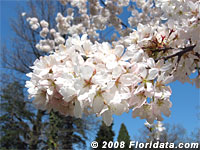 Some of the showiest spring-blooming ornamental shrubs and trees are Prunus species. One of the most famous is the Yoshino cherry (Prunus x yedoensis) that is widely planted, including Washington, D.C. which is famous for the springtime spectacle created by this and other flowering cherry species.
These Prunus species are American natives that also produce showy flowers at this time of year:
Attract Hummingbirds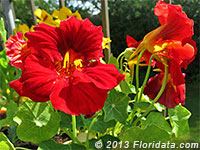 Nasturtium (Tropaeolum majus) is a very easy to grow annual that hummingbirds love and so will you! The large seeds are easy to handle and germinate quickly. The plants grow and bloom quickly. As a special bonus, the flowers and young leaves are edible! Here's a few favorite springtime hummingbird attractors (set the "Attracts Hummingbirds" Feature filter to see more in Master Plant List):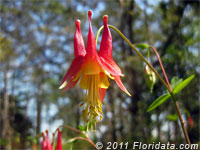 How could any hummingbird resist the incredibly gorgeous flowers of the wild columbine Aquilegia canadensis)? It blooms in the early spring and is extremely easy to grow, in sun or partial shade. The dainty flowers are produced over a long spring and summer season and often more than once per year. Download a large version of this image for a closer look at this spring beauty.
For Wet Soils
Even when it doesn't rain torrents every day, you may have places in your yard and garden that for one reason or another stays wet/moist most of the time. Many beautiful plants prefer to grow in wet soils so take advantage to grow beauties like the the scarlet hibiscus Hibiscus coccineus) and many other garden favorites that thrive under such conditions. More species that prefer moist soils:
Grow Time
Steve says you should start your own pepper and tomato plants 6-8 weeks before they will be planted out in the garden (after all danger of frost has past! :-) If you want to grow unusual or heirloom varieties you must start your own as these are not typically offered for sale as plants so Start Your Own Pepper and Tomato Plants!
Flowering Plants of Hawaii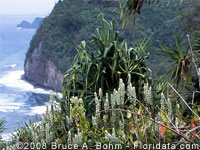 The Hawaiian Islands are home to an array of native plant species that has attracted the attention of botanists, naturalists, horticulturists and world travelers ever since Europeans first visited the islands near the end of the 18th century. Read more »
You'll find more links on our Articles and Resources page.