March 23, 2018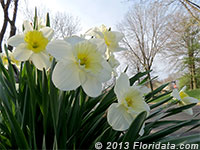 In my Kentucky neighborhood, the snow keeps falling and squashing the early-blooming 'Ice Follies' daffodils. Happily they bounce right back, good as new when it melts! They help remind me that spring is coming here. Snow or no, please visit Floridata often in 2018 and be good and grow. Jack
New Plant Profile
African iris (Dietes bicolor) is an easy to grow evergreen perennial that is popular in warm winter climates (USDA Zones 8-11). This durable species likes moist well-drained soils but can handle short periods of both flooding and drought (good candidate for a rain garden). Read the profile» for more on this garden favorite.
Closely related to the African iris is the fortnight lily (Dietes iridioides). It is slightly less hardy but otherwise very similar in appearance and use. Several hybrids between the two are available. Read the profile» of this popular perennial for USDA Zones 8-10.
.
Spring Flowers!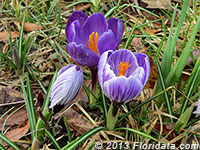 I saw a hillside covered in pretty little 'Pickwick' Dutch crocus (Crocus spp.). This variety blooms the flowers are white with purple veins that age to solid purple with age. For more on spring flowering bulbs, read Ray's articles about The Daffodils and history of The Tulips then check out Floridata's profiles of these and other spring-blooming favorites:
Shady
Bear's breeches (Acanthus mollis) produces large flower stalks in spring but it is more famous for its large leaves. Acanthus foliage is reproduced in the ornamentation of classical Greek artwork and in the capitals of Corinthian order columns. Some of these shade loving species have showy flowers but these are nice to grow just for the attractive foliage: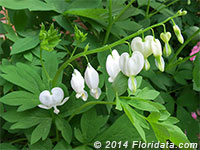 Pink-flowered bleeding hearts (Dicentra spectabilis) are more common, but this white form is also readily available at garden centers. The handsome foliage is a bonus. Click to download a large version (800x600).
Annual Re-seeders
The opium or bread poppies (Papaver somniferum) bloom at this time of year. The opium poppy is an annual that must reseed itself each season so the ground must remain exposed and not mulched over. If you don't smother the seeds and the poppies will return year after year! Click to download a large version (800x600) of the pretty purple poppy to display on your computer desktop.
Grow Greens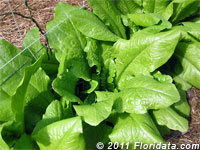 Also called celtuce, this lettuce (Lactuca sativa) is known and grown for its crisp crunchy stems and is just one of dozens of varieties that you too can easily grow. Grow and eat leafy salad greens like the lettuces and friends:
Spring Blooming Shrubs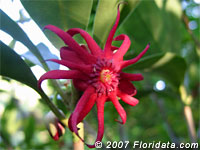 The Florida anise (Illicium floridanum) blooms at this time of year back home in North Florida. It's one of my favorite native shrubs with super-model blossoms that are a treat to photograph. Click here to download a large version (800x600) of this native (to the southeastern USA) beauty and visit the Florida Anise Profile to see others.
Here are some other spring-blooming shrubs that are natives of the SE United States:
Flowering Plants of Hawaii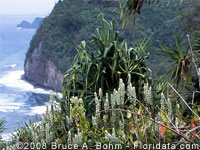 The Hawaiian Islands are home to an array of native plant species that has attracted the attention of botanists, naturalists, horticulturists and world travelers ever since Europeans first visited the islands near the end of the 18th century. Read more »
You'll find more links on our Articles and Resources page.