September 15, 2018
I'm working hard on a brand new Floridata that will launch in late October. Please tell your friends about us, visit often and be good and grow. Jack
The Gerber Daisy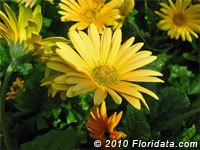 The gerber daisy (Gerbera jamesonii) has huge colorful flowers, is easy to grow and is one of the few plants that I've ever managed to get to bloom indoors. Even where they are not hardy, the gerbers are a favorite container and bedding plant. Instead of letting yours freeze to death when cold weather arrives, consider bringing them indoors for the winter. Even if you don't take very good care of it, your gerber will survive and recover quickly when you plant it back outdoors in spring. Click to download a large version of this golden-yellow gerber to display on your desktop.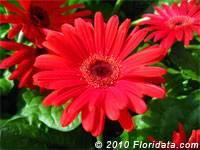 ... but if you take care of your gerber when you bring it indoors you will be rewarded with colorful flowers - like these spectacular scarlet blossoms - right in the middle of winter when you'll appreciate them the most. Read more about this easy-going beauty in the profile ». I made a list of link to profiles of a few more species that you'll have fun getting to bloom indoors:
Medicinal Plants
Autumn is when the sweet goldenrod (Solidago odora) burst into bloom throughout eastern North America. Long used in folk medicines, this showy wildflower is also known as blue mountain tea and used to treat urinary, digestive problem as well as several other complaints.
Also called autumn crocus (Colchicum autumnale), this plant is the source of colchicine, a drug long used to treat gout. Click to read more about this talented little beauty that is now in bloom.
Botanibummers
Common privet (Ligustrum vulgare) is a deciduous shrub that is often used to create sheared hedges. Privet is a native of southern Europe but has spread to many other parts of the world. The species has proven to be invasive in temperate climates in the United States, Canada and Australia where its culture is prohibited or discouraged. Read about the common privet, a durable and useful shrub that grows in USDA Zones 5 - 8 but that should only be grown in its native range. This is one of the invasive woody species that was causing problems in my Northern Kentucky neighborhood when I was a kid. The other was Chinese honeysuckle: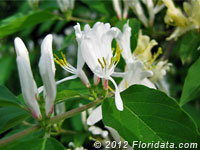 I've known this species since I was a kid when I used it to make "camps" under its leafy domes. It was everywhere but I didn't learn its name until this summer. In the 50's and 60's a "miracle shrub" was advertised in the Sunday newspaper comics section. It was also promoted by the USDA as a fast-growing species for controlling erosion. It's name is Amur or Chinese honeysuckle (Lonicera maackii) and now it is everywhere. Click here to read more about this beautiful but extremely invasive exotic shrub that grows (don't plant it!) in USDA Zones 2-8.
Here is a sampler of links to a few more woody species that are invading mid-western and other northerly locations: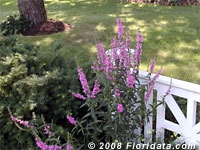 Not all invasive species are woody. In 2000 I visited the Cincinnati area and was surprised to see a lot of purple loosestrife (Lythrum salicaria) being planted in gardens. This infamous beauty is highly invasive and has messed up wetland plant communities across the northeastern United States. I asked at a local nursery if purple loosestrife wasn't also invasive locally and was told "no". Needless to say he was wrong as demonstrated in this photo of a large plant growing along the shoreline of a pond in Boone County, KY. If you have this pest in your garden it would be a good thing if you pulled it up and threw it away. (And we all will thank you! :) Exotic species that live in, on and around water are sometime invasive - some of the more infamous species are:
Warm-winter climates have their own collection of damaging species. In this section is a sampler of just a few that are invading Florida and other parts of the southeastern US.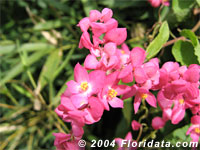 Prolifically pretty in pink at this time of year is the rambunctious Mexican creeper, also called coral vine or coralita (Antigonon leptopus). It is a tender evergreen vine that in frost free areas will clamber up into tree tops like a pepto-pink kudzu vine (Pueraria lobata). Here are links to a few of the more infamous invaders:
This showy shrub is often planted in Florida and other warm winter areas - but beware! Christmas senna (Senna pendula) is an invasive species in many frostfree areas so don't plant them! If one grows in your Central or South Florida yard you might want to arrange for it to suffer unfortunate fatal accident. Don't plant it, but it is pretty so download a large version (800x600) of this picture for a closer look.
Flowering Plants of Hawaii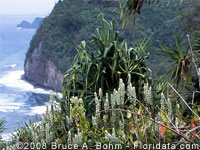 The Hawaiian Islands are home to an array of native plant species that has attracted the attention of botanists, naturalists, horticulturists and world travelers ever since Europeans first visited the islands near the end of the 18th century. Read more »
You'll find more links on our Articles and Resources page.