September 24, 2017
Autumn is here and it's time to plant your tulips and other spring blooming bulbs. It's also a great time to plant trees and shrubs and maybe even a fall vegetable garden (I'm planting some lettuce and spinach in a tub on my condo deck this year). Please visit Floridata often this fall, tell your friends about us and be good and grow. Jack
New Profile
Our newest plant profile is of the famously fragrant French lavender, (Lavandula stoechas), a small aromatic shrub with silvery evergreen foliage and showy flower structures. French lavender is a low maintenance plant that is heat and drought tolerant that has been cultivated for centuries for its fragrance. Click to read more about French lavender, a tender sub-shrub that grows in USDA Zones 8-11. Gardeners in colder climates grow this lavender in a container and over-winter indoors. Another alternative is to grow the similar, but more cold hardy, English lavender described below:
English lavender (Lavandula angustifolia) is a small shrub that is very similar to its French cousin in both appearance and aroma. The difference is that the English lavender is more cold hardy and so may be grown as a garden plant in USDA Zones 5-9. Read more about this low-maintenance, sun-loving, fragrant favorite for containers, beds and rock gardens.
The lavender species are members of Lamiaceae, the mint Family. Many of the culinary herbs used in cooking are also aromatic members of the mint family - here are few to read about (and maybe grow):
Cool Weather Flowers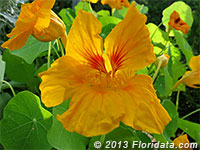 In the Deep South and similar warm climates, gardeners can grow many beautiful cold resistant flowering plants like the nasturtium. (Tropaeolum majus) throughout the winter. Plant them in fall and they will bloom in winter - unless it gets really cold and then they don't. But they probably will... These are a few favorites for warm climate winter garden:
Berry Beautiful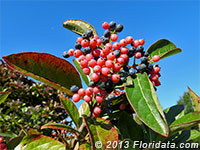 The possomhaw (Viburnum nudum) cultivar 'Winterthur' produces large showy crops of berries that are important sources of nutrition for many bird species and other wildlife. These ripening beauty berries are particularly pretty in pink. They mature to a dark reddish purple before dropping to the ground or eaten by possums (or whatever gets to them first). Here is a sampler of several more notable American native species: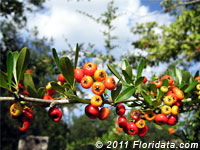 The firethorn (Pyracantha coccinea) is a large evergreen shrub that becomes a center of attention at this time of year when the fruit begins to ripen. The popularity of this old world shrub is in decline, being replaced in the United States in the landscape by improved versions of native species (like some of those in the above list). Click here to download a large version (800x600) of this image to display on your desktop.
The Gerber Daisy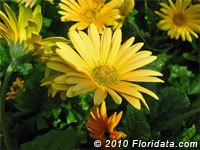 The gerber daisy (Gerbera jamesonii) has huge colorful flowers, is easy to grow and is one of the few plants that I've ever managed to get to bloom indoors. Even where they are not hardy, the gerbers are a favorite container and bedding plant. Instead of letting yours freeze to death when cold weather arrives, consider bringing them indoors for the winter. Even if you don't take very good care of it, your gerber will survive and recover quickly when you plant it back outdoors in spring. Click to download a large version of this golden-yellow gerber to display on your desktop.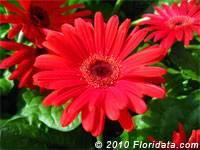 ... but if you take care of your gerber when you bring it indoors you will be rewarded with colorful flowers - like these spectacular scarlet blossoms - right in the middle of winter when you'll appreciate them the most. Read more about this easy-going beauty in the profile ». I made a list of link to profiles of a few more species that you'll have fun getting to bloom indoors:
It's not really a strawberry nor is it a begonia but the strawberry begonia (Saxifraga stolonifera) does resemble those plants in some respects. Strawberry begonia is a low-growing, tender perennial noted for its handsome foliage and interesting flowers. Gardeners in warmer climates use strawberry begonia to create colorful groundcover plantings suitable for shady areas beneath trees and other low-light situations. Read more about this pretty little perennial that is hardy in USDA Zones 7-10 and that is grown everywhere indoors in containers and especially hanging baskets where the slender stems can gracefully cascade over the edges.
Flowering Plants of Hawaii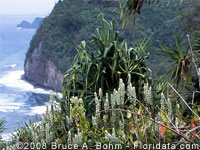 The Hawaiian Islands are home to an array of native plant species that has attracted the attention of botanists, naturalists, horticulturists and world travelers ever since Europeans first visited the islands near the end of the 18th century. Read more »
Probiotic
Make Your Own Sauerkraut
Cabbage is one of the easiest vegetables to grow - and one of the healthiest to eat. Sauerkraut is just naturally fermented cabbage and is a "living food" (contains live microbiological cultures like yogurt). It is also very easy to make at home so read this article and eat healthy in 2016!
You'll find more links on our Articles and Resources page.