August 10, 2018
Floridata reached a technical limit of 1000 Plant Profiles a while back. As a result I've been taking down one "old" profile whenever I post a new one. I'm working on a brand new version of Floridata that will be out by November 1 at the latest, when it launches these old Plant Profiles will be updated and re-posted to the site. Please visit us often and be good and grow. Jack
New Plant Profile
Japanese stewartia (Stewartia pseudocamellia) is a deciduous tree that produces showy white blossoms for several weeks in early summer. When planted in landscapes Japanese stewartia is typically maintained as a multi-stemmed shrub. It is at its best in the woodland garden, in mixed shrub borders, and as a specimen in cool, partly shady lawns in USDA Zones 5-8. Read Floridata's profile of Japanese stewartia now»
Summer Fruits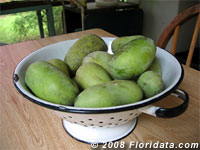 The pawpaw (Asimina triloba) harvest has begun. These await their fate in Steve's kitchen as pawpaw pudding and possibly pie! Click to download a large version (800x600) of this pawpaw picture.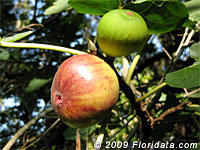 I miss the old fig (Ficus carica) tree in my yard down in North Florida at this time of year. I remember when I took this picture - an artistically aimed sunbeam illuminated this particular fig. I aimed my camera, took the shot, picked and ate it. . Click to download a large version (800x600) of this fine fig.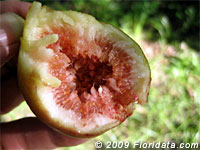 Yes, it is as sweet and juicy and delicious as it looks. There is nothing like a sun-warmed fig (Ficus carica) fresh from the tree! Click here to download a large version (800x600) of a fig interior.
The sand pears (Pyrus pyrifolia) on my tree down in Florida are ripe now. The deer stay close so they can come and scarf them up as soon as they hit the ground. I don't mind them eating the pears but I still don't like them very much - except when they're baked into a pie!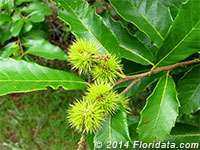 The chinquapin (Castanea pumila) is a shrub or small tree that is native to the southeastern portion of North America. It produces an edible nut that resembles a small chestnut. Read about chinquapin, a nice woody for natural and wildlife landscapes in USDA Zones 5 - 9.
Ferny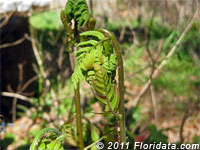 A regal fern (Osmunda regalis) unfurls its fiddleheads into specialized leaves, called fertile fronds, upon which its reproductive spores are produced. Click here to download a large version (800x600) for a closer look and check out some of our other fern species profiles:
Surprise!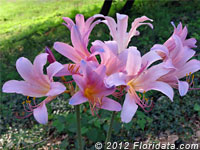 In my Northern Kentucky neighborhood the spectacular surprise lilies (Lycoris squamigera ) are in full bloom. The stems first appeared last week, withing three days they were knee high and sporting crowns of fragrant pink blossoms.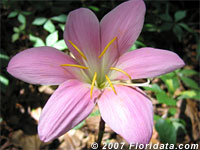 At this time of year, this little plant suddenly shoots up flower stems from the bare earth after summer rains! The rainlily (Zephyranthes grandiflora) has been planted across the Deep South for generations. With all the big storms we're having this should be a bumper year for rainlilies. Click to download a large version of these rain lilies for your computer.
Autumn crocus, also called naked boys and naked ladies (Colchicum autumnale), is the source of colchicine, a drug long used to treat gout. Click to read more about this talented little beauty for late season color and interest in meadow and rock gardens in USDA Zones 4 - 8.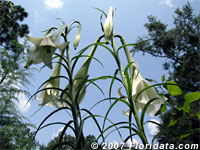 The Formosa lily (Lilium formosanum) has escaped cultivation where I live in Florida's Big Bend. At this time of year you can see stands of lilies growing in roadside ditches. Click to download a large version (800x600) of the fragrant Formosa lily to display on your computer.
Confederate Rose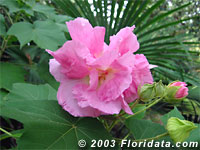 Late summer and early autumn is when the Confederate rose bursts into bloom all across The South. This deciduous shrub likes mild winter climates and is hardy to Zone 7. The double-flowered Confederate rose (Hibiscus mutabilis) variety 'Plena' is most often planted in landscapes and enjoyed for the large colorful flowers that appear at this time of year.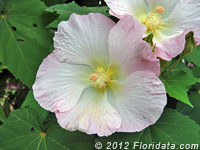 As pretty as the double form, the single-flowered Confederate rose is sometimes called the cotton rose, a reference to the large pods filled seeds equipped with fluffy white "sails" similar to those of real cotton (which is also related to the hibiscuses).
Flowering Plants of Hawaii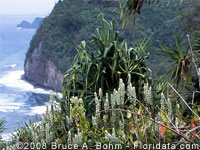 The Hawaiian Islands are home to an array of native plant species that has attracted the attention of botanists, naturalists, horticulturists and world travelers ever since Europeans first visited the islands near the end of the 18th century. Read more »
You'll find more links on our Articles and Resources page.