October 14, 2018
Hurricane Michael did a lot of damage to Steve's neighborhood at Lake Talquin but he's OK and his place is mostly intact. We wish him and all of our fellow Floridians a speedy recovery and quick restoration of power. I've been living in Kentucky so I'm fine and look forward to returning to the area next year. I miss Florida now more than ever. Be good and grow. Jack
Autumn Leaves
Sweetgum (Liquidambar styraciflua) is a handsome North American native that tolerates a range of soil conditions (including wet conditions), is seldom bothered by pests, and its leaves make a colorful autumn display - even in the Deep South. However, the spiny dangleball fruits are a bummer to clean up and even worse to step on in bare feet.
Depending on weather, the little southern turkey oak (Quercus laevis) will have brilliant scarlet leaves one autumn and dull red-brown leaves the next. But there are many other species that gardeners in the Deep South can plant that will produce spectacular fall foliage displays most every year. More tree species with colorful autumn leaves for The South:
Visit Floridata's Master Plant List with filter set to Fall Foliage Plants to see more species whose leaves turn in autumn.
Cool Weather Edibles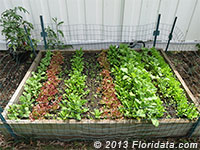 If I were spending the winter down South I would be planting a winter vegetable garden. I'm in Northern Kentucky now but I might plant a few of these anyway - last season I harvested arugula and Bibb lettuce all winter even though it was pretty cold and I didn't take very good care of them... Read profile »
Here are a few winter vegetables that that I love and that the deer hate:
The deer like these as much as I do and always decimate my crop before I manage a single taste but I usually planted them anyway:
Steve lives in North Florida (Zone 8) where he maintains an All Year Vegetable Garden. We send our prayers and wishes for the best of luck to Steve and his neighbors for a speedy recovery from ravages of Hurrican Michael.
Shiitake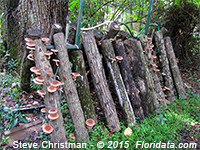 Steve grows shiitake mushrooms on lengths of water oak log. He sent this picture of his mushroom garden (download large version), just refreshed by a passing rain show. They are nutritious and delicious and you can easily Grow Your Own Shiitake Mushrooms.
Sages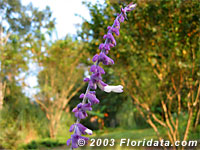 Back home in North Florida (Zone 8), the Mexican bush sage is blooming now along with the big yellow forsythia sage and a pretty pink autumn sage that looks pretty boring most of the time but makes up for it at this time of year. Members of the genus Salvia are often referred to collectively as the "sages". While many gardeners are familiar with the bedding annual, scarlet sage (S. splendens), there are many other ornamental Salvia species to consider.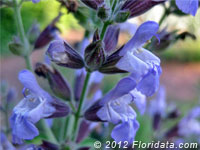 The familiar culinary sage (Salvia officinalis), of turkey dressing fame and other savory dishes, is a hardy perennial (to Zone 5). In addition, this easy-growing plant produces beautiful blue blossoms in summer. Here is a sampler of just a few of the Salvia species profiled at Floridata:
The Hornbeams
Japanese hornbeam (Carpinus japonica) is a smallish deciduous tree. Its compact form, handsome profile and interesting fruits make Japanese hornbeam a suitable landscaping choice for small spaces. This low maintenance little tree is ideal for shady areas under big pines or oaks in USDA Zones 4-8. Read the profile »
Here are two other Carpinus species that you can read about at Floridata:
Flowering Plants of Hawaii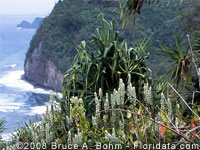 The Hawaiian Islands are home to an array of native plant species that has attracted the attention of botanists, naturalists, horticulturists and world travelers ever since Europeans first visited the islands near the end of the 18th century. Read more »
You'll find more links on our Articles and Resources page.