July 25, 2017
We're enjoying from beautiful weather in my Northern Kentucky neighborhood. Lots of rain with dry-outs in between have gardens lush and landscape gloriously green for mid-summer. Best of all the tomatoes are doing well and beginning to ripen - I had my first yellow cherry tomato last week! I hope things are growing well where you are too. Please visit often, share Floridata with your friends and be good and grow! Jack
New Plant Profile
Grassleaf spurge (Euphorbia graminea) is a tropical perennial that is frequently grown as an annual in non-tropical climates. You may have seen the variety 'Glitz', and perhaps others, used as "filler" in container plantings where it create dense cloud of wiry stems and tiny white flowers. Read more about this versatile species that is hardy in Zones 10-12 but grown as an annual in other zones where it is also used in mass plantings, borders, indoor containers and for cutting and arranging.
More Eurphorbs
The most familiar Euphorb (a generic name for a member of the botanical family Euphorbiaceae) would be the holiday poinsettias (Euphorbia pulcherrima). Many others, like the crown-of-thorns (Euphorbia milii) in the photo, are grown as ornamentals in a range of climates from tropical to temperate, as well as indoors. It is a large and diverse family many of whose members are cultivated as ornamentals and garden plants like those in this list:
Summer-Flowering Shrubs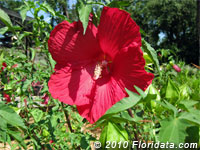 Here is a super showy hibiscus (Hibiscus moscheutos) for gardeners who live cold climates. There are several cultivars of the swamp (aka "hardy") hibiscus. All produce scores of huge blossoms throughout the season and all are spectacular but 'Lord Baltimore' is my favorite and certainly the most colorful. Click to download a large version (800x600) to display on your computer desktop.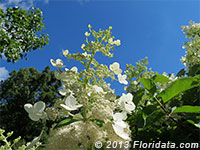 Panicle hydrangea (Hydrangea paniculata) is a woody shrub that is native to the southeastern United States. Look for cultivars 'Grandiflora' (aka peegee or tree hydrangea), 'Limelight' has large flower clusters with a green tinge and 'Pinky-winky' has flowers with a pink blush. The cultivar 'Tardiva' blooms later in the season than the species. Here are a few other shrubby summer bloomers:
Summer Bulbs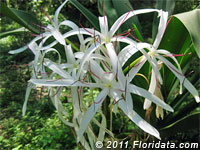 The grand crinum lily (Crinum asiaticum) is a huge plant that produces gorgeous clusters of fragrant blossoms at this time of year. Download a large version of grand crinum lily blossoms to display on your desktop and check out more summer blooming bulbs in this list:
Fragrant
In its native Australia this tree is called argyle apple but in The States it's know as the silver dollar tree (Eucalyptus cinerea). Florists use the showy silver-blue leaves in both fresh and dried arrangements. In the early sixties my Mom had a bunch of "milk glass" (translucent white) vases that always hosted a bunch of this fragrant foliage. I have a silver dollar tree in my yard in Florida so maybe I'll surprise her with a fresh bouquet of silver dollar stems when I go on my next trip back home. Click here for more on this colorfully fragrant small tree for USDA Zones 8-11. More aromatic woodies:
Wet and Wildly Beautiful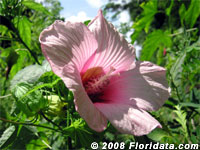 The halberdleaf marshmallow (Hibiscus laevis) grows to 7 feet in height and inhabits wetlands and poorly drained soils. The very showy flowers, about 6 in (15 cm) across, open for just one day with five petals that are pale pink with crimson bases. A succession of blooms may last most of the summer. Read more) about this spectacular, American native that ranges from eastern Canada to northern Florida. Here are some links to a few more moisture-lovers that will beautify your wet spots:
Summer Veg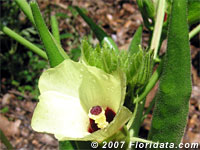 A better common name for okra (Abelmoschus esculentus) would be "pods of the gods" - I like them pickled... Click here for a large version (800x600) of this okra flower (note resemblance to cotton, a fellow member of the mallow (Malvaceae ) family. Links to more edibles that we enjoy from our gardens at this time of year:
Summer Survivors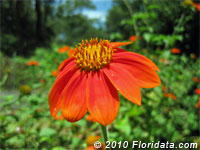 I photographed this handsome Mexican sunflower (Tithonia rotundiflora) growing at the edge of Steve's vegetable garden. The plants were so big that branches were breaking from stem under their own weight. I didn't grow Mexican sunflowers this year but plan to next year for sure... Click to download a large version (800x600) this brilliantly blazing blossom.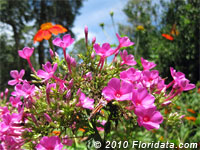 Adjacent to Steve's sizzling scarlet Mexican sunflower blazes a magenta-flowered garden phlox (Phlox paniculata) cultivar. The whole area swarms with butterflies and bees stirring up a riot of color that's impossible to ignore. Click to download a large version (800x600).