December 10, 2017
I bought I little container-grown red cedar (red cedar) to use for a Christmas tree. I have it on the balcony decked out in tiny white lights where it can be seen through the glass doors from the living room. For about the same price as a cut tree I have one that I'll plant on an eroding hillside after the holidays. Enjoy your holiday preparations and be good and grow. Jack
Amaryllis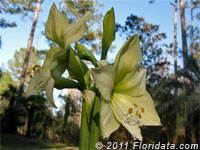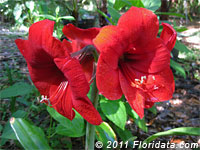 Decorate with holiday-hued amaryllis like white 'Moonlight' and 'Red Lion' ( Hippeastrum hybrids). The huge bulbs are easily forced into bloom and make great gifts. When the plants are finished blooming, gardeners in warmer areas can plant the bulbs outdoors where they will produce flowers in spring of the following year. Those of us in frosty climates can grow the plants in containers over the summer, then clean and "rest" the bulbs in a cool, dry place indoors (the vegetable keeper in your refrigerator works well, but non-gardening household members tend to object...) You can view and download dozens of images from the amaryllis profile's Image Gallery.
Christmas Cactus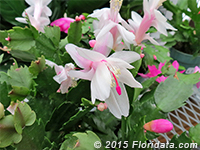 Earlier in the year we added a profile of the beautiful and easy to grow Christmas cactus (Schlumbergera x buckleyi) to our plant encyclopedia. Extensive hybridization and selection have resulted in more than 200 named cultivars, differing mainly in flower color, which ranges from white through pink to fire engine red, and even peach, yellow and orange. Read more about this tropical epiphytic cactus for USDA Zones 9 - 11 or grow indoors where its brilliant blossoms help chase away winter's gloom at this time of year.
Seasonal Notes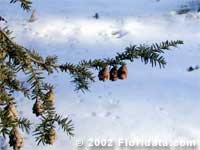 Wait! Before you bring in boughs of holly, magnolia, and other greens for your mantle or a cut Christmas tree, prepare for a longer lasting display. Continue reading at Seasonal Notes: Preparing Christmas greens and other winter house and garden ideas
From ancient times in the Old World, people have brought evergreens inside so the gods of spring would have safe haven for the winter; and they celebrated the beginning of the return of the sun with various festivals. Early Christians adapted the pagan traditions with new stories and customs. New traditions are started and some become popular while others seem to fade away. Continue reading at Myths and History of Mistletoe and Magnolia
Poinsettias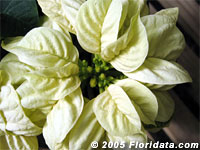 Here are a two more pretty poinsettia (Euphorbia pulcherrima) varieties that you may encounter. They have colorful bracts that are formed into a roughly spherical shape that (kind of) resembles a rose blossom. Download a large version (800x600) of this the 'White Winter Rose' for your computer desktop.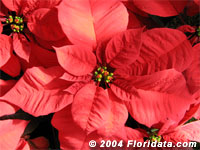 This is the more traditionally colored version of the 'White Winter Rose' poinsettia. Click here to download a large version of the 'Winter Rose' poinsettia.
The Eurphorbs
Our holiday poinsettias Euphorbia pulcherrima are members of the botanical family Euphorbiaceae. Many of these are from tropical, sub-tropical or Mediterranean climates and are not hardy to cold, like the beautiful crown of thorns (Euphorbia milii) plant in the photo. The following plant lists demonstrate the diversity of this fascinating botanical family - here are some showy ornamentals:
House Plants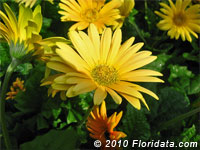 The Gerber daisy (Gerbera Jamesonii) is one of the easiest plants to get to bloom indoors. It produces flowers throughout the year and cultivars are available that vary in size, flower stem length and flower form. Best of all the Gerbers are available in a rainbow of brilliant colors including pastels and multi-colors. A favorite is the 'Happy Pot' Gerber daisy in the picture. These are compact plants, with flowers held on short strong stems. All you need is a bright spot near a window and some bloom booster fertilizer to have Gerbers in your home all winter!! Here is a list of links to other favorite flowering plants that are sure to brighten your home:
Flowering Plants of Hawaii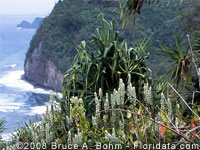 The Hawaiian Islands are home to an array of native plant species that has attracted the attention of botanists, naturalists, horticulturists and world travelers ever since Europeans first visited the islands near the end of the 18th century. Read more »
You'll find more links on our Articles and Resources page.