May 20, 2018
I was in the Smoky Mountains last week and saw sweetshrub and sweet pepperbush in bloom along the creek and silverbells and mountain laurel on the mountainside. Lots of other things were blooming but I was too busy relaxing to notice. I'm back at work now and will catch up on our backlog of new Plant Profiles soon. Thanks for visiting, please share Floridata with your friends and be good and grow. Jack
New Plant Profile
Forget-me-not (Myosotis sylvatica ) is a short-lived perennial (biennal) that blooms in spring. Use it in borders, woodland gardens and as filler and background for your spring-flowering bulbs. Forget-me-not is hardy in USDA Zones 3-8. Read Floridata's forget-me-not profile now»
A Pair of Peonies
In my Kentucky neighborhood the tree peonies, also called moulan (Paeonia suffruticosa), have just finished blooming. The spectacular blossoms didn't last but a week after being blasted with a couple strong strong wind and rain storms. I saw one with deep red flowers that I seriously need one of... Download images from the Tree Peony Image Gallery
The more familiar common or Chinese peonies (Paeonia lactiflora) beginning blooming just as the tree peonies are finishing up. The double-flowered varieties are very pretty but I like the big singles the best. Download images from the Peony Profile (click the Image Gallery button).
Fruits & Berries
The highbush blueberry (Vaccinium corymbosum) is a North American native and one of the species grown commercially from which we get these delicious and nutritious fruits. Highbush blueberry is easily grown (requires acidic soils) in the home garden and the neighborhood birds and wildlife enjoy the blueberries as much as you do. This blueberry grows in a wide range of USDA Zones 3 - 8. Cultivars are available that extend the range to Zone 9. Read about the highbush blueberry and these other fruits and berries that you can grow at home:
Woody Groundcovers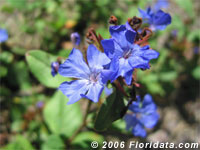 The false plumbago (Ceratostigma plumbaginoides) started blooming this week. This low growing perennial is every bit as pretty as the true plumbago (Plumbago auriculata ) and and is much hardier (it grows in USDA Zones 5-9). Click to download a large (800x600) version of this blue beauty for your desktop. More species to use for large-scale groundcover:
Hotties 4 Full Sun
Ornamental bacopa (Sutera cordata) is an evergreen perennial ground hugger that grows to only a few inches in height. Although bacopa hails from South Africa and is tender to frost, it is offered by garden centers in northern climates where it is grown as a bedding and container annual. Read more » about this relatively new offering, appreciated for its compact form, non-stop flowers and tolerance of hot sunny (and salty) situations.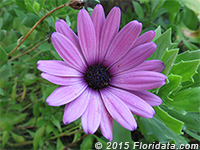 The African or Cape daisy (Osteospermum spp.) is a tender species that may not the easiest plant to grow but rewards with lots of pretty flowers over a long period if you're able to make it happy. There are dozens of species and hybrids but only a few are in cultivation. They like bright sunny situations, well drained soil and regular watering to look their best but are able to survive drought. They prefer low humidity and extended periods of hot, humid, rainy weather are sometimes fatal! These are very handsome plants and worth the effort. If planted in a place to their liking, they require little effort and will thrive and be gorgeous! Use African in beds, borders, rock gardens and containers. They are perennial in Zones 9-10 and grown as annuals elsewhere. Read the profile » and check out a few other show sun-lovers:
Flowering Vines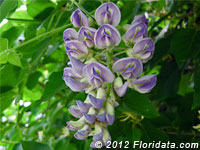 Unlike its showier Chinese cousin (Wisteria sinensis), American wisteria (Wisteria frutescens) blooms in early summer rather than spring. Like Chinese wisteria, the American's violet flowers are pleasantly fragrant. Click for a closer look at the small but striking violet flowers. Here are a few more beautiful summer-flowering vines to read about:
Flowering Plants of Hawaii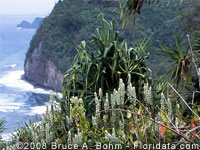 The Hawaiian Islands are home to an array of native plant species that has attracted the attention of botanists, naturalists, horticulturists and world travelers ever since Europeans first visited the islands near the end of the 18th century. Read more »
You'll find more links on our Articles and Resources page.