November 19, 2017
Have a Happy Thanksgiving and a fun and safe holiday weekend. Please visit Floridata often and be good and grow. Jack
Happy Thanksgiving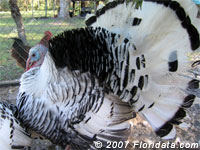 Why all of the turkey pictures on Floridata? The only reason is that I like turkeys (and other poultry) and raised them until I became old and crusty. To celebrate Thanksgiving, I'm posting a few of my favorite turkeys. This male Royal Palm turkey is all puffed up and looking fine - you can have him strutting his stuff on your computer background if you click to download a large version (800x600) of his hotness.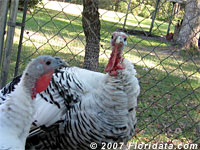 These too are Royal Palm turkeys (female at left, male at right). They belong to my neighbor Scott but I have visitation rights. Turkeys are much like swimming pools and boats in that it's better to have a friend that has one (and who will share) than to own one yourself. Click here to download a large version (800x600) and put these turkeys on your desktop.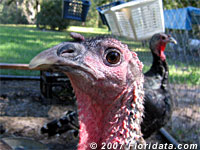 Bonita Belle, The Bronze Breasted Beauty, is a female turkey who once lived next door to me. She liked stale bread, walks in the rain and pecking camera lenses when being photographed. I'm not sure what became of her but I fear the worst. Click to download a large version of Bonita Belle a big breast-of-bronze beauty to enjoy on your computer desktop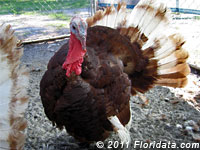 The Bourbon Red turkey is an historic variety developed in Bourbon County, Kentucky just after the Civil War. Also known as Kentucky Reds and Bourbon Butternuts, the breed was developed for meat production which was widely marketed in the 1930s and 1940s.
New Profile
Japanese hornbeam (Carpinus japonica) is a smallish deciduous tree. Its compact form, handsome profile and interesting fruits make Japanese hornbeam a suitable landscaping choice for small spaces. This low maintenance little tree is ideal for shady areas under big pines or oaks in USDA Zones 4-8. Read the profile »
Here are two other Carpinus species that you can read about at Floridata:
Confederate Rose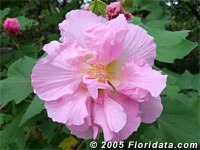 Young Confederate Rose
The Confederate roses (Hibiscus mutabilis)are blooming at this time of year. There are single and double flowered forms and both change color as they mature. Click here to download the young light pink flower.
Old Confederate Rose
This rose doesn't fade. When the blossoms open they are light pink, becoming darker and more intense with age.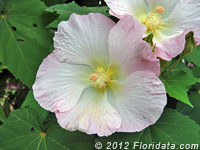 Young & Single Confederate Rose
The double form of Confederate rose is most often planted but the single form is just as pretty IMHO. Read the Confederate rose profile », a woody ornamental shrub that is cold hardy in USDA Zones 7-9.
Down South
The Christmas senna (Senna pendula) begins blooming around this time of year. It's very showy but very invasive in much of Florida and in similar warm winter climates so enjoy it when you see it but don't plant it! Read profile » of this shrub that is hardy in USDA Zones 9-11.
The popcorn senna or Christmas candle (Senna alata) begins blooming in early autumn and continues through the winter. The narrow, bright yellow flower clusters may grow to 2 ft in length and inspired another of the plant's common names, Christmas candle. Read profile » of this tropical woody that is hardy in USDA Zones 10-11.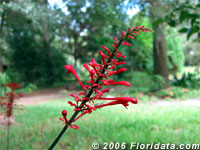 I once had several big clumps of fall-blooming firespike (Odontonema strictum), a favorite of hummingbirds. Sadly, the deer have consumed every single plant so now I have none. Somehow the roots survive year to year so if I can figure out how to keep them deer-free the firespike flowers will return. Read profile » of firespike, a perennial that is cold hardy in USDA Zones 8 - 11.
By this time of year the entire Deep South is perfumed in the tea olive's (Osmanthus fragrans) beautiful sweet scent. At my place in North Florida the tea olives have a least a few flowers on them for most of the year except for summer but they are at their full-fragranced glory at this time of year. Read the profile »
The loquat (Eriobotrya japonica) fruit is edible and has a nice flavor but the reason I like to grow these pretty little evergreen trees is for the fragrant flowers that appear at this time of year. One of the things I miss most is sitting by the pond on a cool winter night smelling loquat and tea olive perfume in the air, reflecting on the full moon reflecting in the still dark water while eavesdropping on the owls and coyotes calling in the distance. Read profile »of this evergreen tree hardy in USDA Zones 7-10.
Cool Weather Flowers
The japonica camellias (Camellia japonica) begin blooming about when the sasanqua camellia's season is ending. One of the first japonica to bloom in my yard is the pretty 'Pink Perfection' camellia that typically produces it first flowers just after Thanksgiving. . Click here to download a large version (800x600) of this winter blooming beauty.
Flowering Plants of Hawaii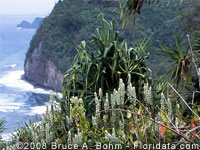 The Hawaiian Islands are home to an array of native plant species that has attracted the attention of botanists, naturalists, horticulturists and world travelers ever since Europeans first visited the islands near the end of the 18th century. Read more »
You'll find more links on our Articles and Resources page.