April 25, 2018
I took advantage of our first spring weekend without horrible weather to work on a hillside rock garden. I planted a very nice willow oak, three Parson's junipers and three Leyland cypress trees that I hope will grow rapidly to protect a section that is eroding. It sure is nice getting out in the dirt again after an incredible long winter. Thanks for visiting, tell your friends about Floridata and be good and grow. Jack
New Plant Profile
Prairie dropseed (Sporobolus heterolepsis) is a native American perennial grass. In summer the airy inflorescence of prairie dropseed is like a pink cloud in the garden, Long-living and low maintenance the prairie dropseed is one of our most ornamental native grasses. Use this versatile plant in the mixed border, in the meadow garden, or as a ground cover on poor, dry soils throughout USDA Zones 4-8. Read Floridata's new prairie dropseed profile»
.
Spring Flowers!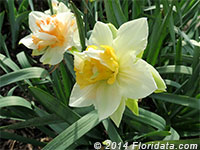 There are a lot of the double flowered 'Cheerfulness' daffodil (Narcissus spp.) growing around my neighborhood. This beauty has golden yellow centers that darken to a peach color as the flower matures. For more on spring flowering bulbs, read Ray's articles about The Daffodils and history of The Tulips then check out Floridata's profiles of these and other spring-blooming favorites:
Hummingbird Vines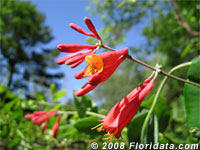 The hummingbirds love native American coral honeysuckle vine - especially at this time of year when its beautiful blossoms burst forth and they line up to sip its delicious nectar. Technically they don't actually line up as much as wage furious battles over which hummer will have exclusive feeding rights to the flowers! Hummingbirds don't seem to share very well. Read about the coral honeysuckle (Lonicera sempervirens) and download large versions of this and other images.
More vines that will attract hummingbirds to your garden:
Hollyhocks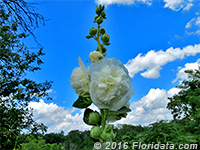 After several attempts, I finally grew my first hollyhock (Alcea rosea) flowers this summer! A couple of weeks ago this pretty white double-flowered hollyhock began producing these big beautiful blossoms along four feet of towering stem. The buds at the bottom of the stalk open first, with blooming proceeding upward over a several week period. Click to download a large (800x600 px) version of this image.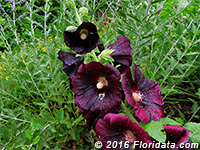 Right beside the white hollyhock (Alcea rosea), I planted a single-flowered black one. Actually the flowers are more dark purple than black but they are just opening they look almost black but whatever the color, it is very striking plant. Click to download a large (800x600 px) version. Here's a list of a few more perennial summer favorite flowers:
Herbs
This herb has been grown for centuries and used by herbalist to cure ills and heal wounds. Lemon balm (Melissa officinalis) is also reported to "renew youth, strengthen the brain, relieve languishing nature and prevent baldness". I'm going to plant some because I feel a need to languish less. More herbs that may not renew youth but they do taste good:

The Junipers
The eastern red-cedar (Juniperus virginiana) has been one of my favorite trees since I was a kid in Kentucky where it was one of the few native evergreen species in our area. Click here for more on the eastern red-cedar, a great choice for bird and wildlife habitats in USDA Zones 3-9. Here's a list of links to other juniper species that are often used in landscapes:
Flowering Plants of Hawaii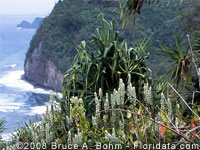 The Hawaiian Islands are home to an array of native plant species that has attracted the attention of botanists, naturalists, horticulturists and world travelers ever since Europeans first visited the islands near the end of the 18th century. Read more »
You'll find more links on our Articles and Resources page.