January 21, 2018
We're finally thawing out in my neighborhood but it's still too wet and cold to even consider working in the garden - but it's a great time to browse Floridata for ideas for your spring projects! Thanks for visiting. Please tell your friends about us and be good and grow. Jack
New Plant Profile
The oriental poppy (Papaver orientale) has been a popular garden plant for generations. The flowers are long-stemmed with huge flowers in brilliant shades of orange, scarlet, white and other colors depending on the cultivar or hybrid. Read more » about this perennial poppy that for a few weeks in early summer will create a spectacle in your USDA Zone 3 - 8 garden.
Other Poppies
Icelandic poppy (Papaver nudicaule) is a perennial with spectacular flowers suitable for cutting. Iceland poppies are great plants for the mixed border or flower bed, and in rock gardens in USDA Zones 2-8.
This annual poppy species is the source of both the narcotic opium (source of morphine, codeine among other medically useful compounds). Bread poppy (Papaver somniferum) is another name because its tiny black seeds are used on baked goods. Read profile » of opium poppy that grows in USDA Zones 7-10.
The Viburnums
A while ago, the genus Viburnum was re-assigned from the Caprifoliaceae (honeysuckle) Family to the Adoxaceae (moschatel) Family. I made a survey of our Viburnum profiles as I updated the data and realized what a beautiful and useful bunch of woodies are in this genus:
Native Viburnums
The blackhaw viburnum (Viburnum prunifolium) is a large deciduos shrub that may occasionally grow to tree size heights up to 30 feet. A native of the eastern United States, this easy-growing shrub produces showy flower clusters in the spring and edible fruits in fall. Read more » USDA Zones 4 - 8.
The mapleleaf viburnum (Viburnum acerifolium) is a small deciduous shrub. It is native to eastern North America from southern Ontario and Quebec, south to northern Florida, and west to Wisconsin and eastern Texas where it inhabits the shady understory of hardwood forests. Read more » about the mapleleaf viburnum, used in informal hedges, woodland and wildlife gardens where it is hardy in USDA Zones 4 - 8. Gardeners are beginning to recognize the value of our native Viburnums in the landscape and we at Floridata this is just fine! Here are a few more natives to to read about:
Hybrid and Ornamental Viburnums
The Eskimo viburnum (Viburnum 'Eskimo') is an ornamental shrub with semi-evergreen leaves and large white flower clusters in the spring. This shrub is a hybrid that was developed by the United States National Arboretum in the 1980's. It is an attractive compact shrub that is well suited for home landscapes. Read more » about this popular and pretty little bush and then check out these other Viburnum species and hybrids that are also9 commonly used in gardens and landscapes:
Viburnums for Warm Climates
Several Viburnum species are commonly used in warm-winter climates. Sweet viburnum (Viburnum odoratissimum) is commonly used to create hedges and screens in Florida and other frostfree climates. It is an evergreen species that produces fragrant flowers in the spring and can grow to the size of small tree if not kept in bounds with regular pruning. Here are couple more viburnums for warm climates:
Hummingbird Vines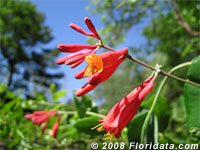 The hummingbirds love native American coral honeysuckle vine - especially at this time of year when its beautiful blossoms burst forth and they line up to sip its delicious nectar. Technically they don't actually line up as much as wage furious battles over which hummer will have exclusive feeding rights to the flowers! Hummingbirds don't seem to share very well. Read about the coral honeysuckle (Lonicera sempervirens) and download large versions of this and other images.
More vines that will attract hummingbirds to your garden:
Flowering Plants of Hawaii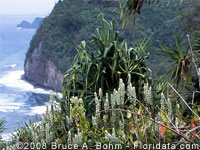 The Hawaiian Islands are home to an array of native plant species that has attracted the attention of botanists, naturalists, horticulturists and world travelers ever since Europeans first visited the islands near the end of the 18th century. Read more »
You'll find more links on our Articles and Resources page.