August 19, 2017
Now is the time to plan your fall projects. Not only is this the time of year to plant tulips and other bulbs for spring flowering, it is also the best time to plant trees, shrubs and perennials. Visit Floridata often, share us with a friend and be good and grow! Jack
New Plant Profile
Commonly known as wild thyme or mother of thyme (Thymus serpyllum)the subject of our newest plant profile is a small, evergreen sub-shrub that typically grows to heights of less than 10 inches. Wild thyme is as pleasantly aromatic as many of the thymes used in sachets, potpourris, and as culinary herbs, including common thyme (Thymus vulgaris). Read more about this interesting culinary and ornamental herb that is hardy in Zones 4-9. Here is a sampler of a few other kitchen herbs you can read about (and grow):
The Salvias
Autumn sage (Salvia greggii) is a desert species that prefers warmer climates (USDA Zone 7-9). This handsome evergreen perennial blooms in late summer and fall. Red, pink and white flowering varieties are available. Autumn sage is very drought tolerant, thrives in lean soils and is a favorite for butterfly gardens!
The forsythia sage (Salvia madrensis) is a huge perennial plant with foot-long, bright yellow flower clusters that appear in late summer and early fall. This sage is hardy to Zone 7 and may reach heights up to 10 feet in frostfree climates. Here is a list of links to profiles of other sages (a common name for species in the genus Salvia) in cultivation:
The Mexican bush sage (Salvia leucantha) is another fall blooming perennial that is commonly grown in Zone 8-10 gardens. It too is a large plant, growing up to 4 feet in height, and often surrounded by clouds of butterflies when in bloom!
Late Summer Fragrance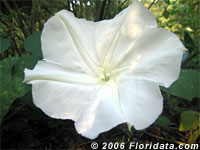 Two summers ago I planted some moonflower (Ipomoea alba) seeds in a big tub on my Mom's condo balcony. By the end of August they had grown all over the awning, rail, etc. and each evening the vines were covered with huge fragrant moonflowers. They were beautiful but very thirsty - I often had to water them twice a day in hot weather to keep them from wilting. Now I know not to ever do that again but they sure were pretty! Here are some more fragrant late summer bloomers:
Cool Weather Leafy Vegs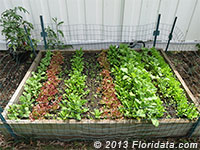 Raised bed gardens are a fun and efficient way to grow. Even in such a small space, it's possible to grow a surprising quantity of fresh vegetables - especially in autumn when milder temperatures set in. Last spring the bed hosted several types of lettuce (Lactuca sativa ) (in photo): 'Red Sails' leaf and Buttercrunch head lettuce were the family favorites. Here are links to more leafy greens that you might enjoy in your fall garden:
Use the Edible Plants filter on the Features drop down menu on Floridata's Master Plant List to see them all.
The Blues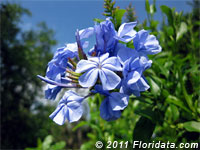 I love blue flowers and plumbago (Plumbago auriculata) has some of the bluest. Look for selections with flower color ranging from light baby blue to dark violet-blue. Click to download a large version (800x600) of sky blue plumbago picture. Here are some links to more blue (or kinda blue) flowers: