September 16, 2017
I was in the Smokey Mountains last week. It was too early for colorful autumn leaves but did see lots of late summer wildflowers in bloom: Joe Pye weed, ironweed and swamp sunflower (to name a few favorites) were all making spectacles of themselves. I arrived home to a less colorful scene as the deer had consumed all of the leaves from the caladiums as well as the awesome red-morning glory that they stripped of foliage to as high as they could reach. I'm fantasizing about getting a paint ball gun. With really ugly colors of paint. Think bad thoughts about deer and be good and grow. Jack
Medicinal Plants
Autumn is when the sweet goldenrod (Solidago odora) burst into bloom throughout eastern North America. Long used in folk medicines, this showy wildflower is also known as blue mountain tea and used to treat urinary, digestive problem as well as several other complaints.
Also called autumn crocus (Colchicum autumnale), this plant is the source of colchicine, a drug long used to treat gout. Click to read more about this talented little beauty that is now in bloom.
Fruit, Nut and Bean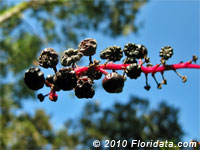 Pokeweed (Phytolacca americana) is a big, showy perennial with bright burgundy stems and purple berries. Many bird species enjoy gorging themselves on fresh pokeberries prior to pooping on just washed automobiles. Click to download a large version (800x600) of these pokeberries that have dried into what looks like pokeberry raisins (but they are poison to people so never eat any). This is the plant of Polk Salad Annie, a song made famous by Elvis but Tony Joe White is the original: (click for video). PS "poke" or "polk" are both OK...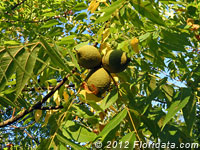 The black or American walnut (Juglans nigra) is one of North America's most spectacular trees. It's wood is hard, dark and takes a lustrous finish. It's nuts are delicious and able to awesomely enhance chocolate chip cookies. Click here for more on this beautiful and useful giant of the forest that would also look great in your Zones 5-9 yard (providing you have a really big yard to accommodate its ultimate size!)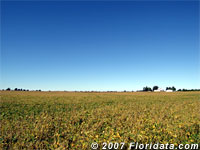 Drive through central Ohio at this time of year and you will see some of the most beautiful and productive soybean (Glycine max) fields in the world! The foliage is beginning to yellow and the fat bean pods are about ready for harvesting. Did you know that soybean and edamame are this same species? Read more »
Woody House Plants
Serissa (Serissa foetida) is a small shrub that has tiny leaves that takes shearing well and is often used to create topiary, sculpted hedges and bonsai. The specific name foetida is from the Latin verb foetere meaning "to stink" which it does really well when you crush the foliage. Click here for more on this evergreen or semi-evergreen shrub for Zones 7-9 and everywhere as a container plant (great for bonsai). Here is a list of a few other woody plant that you can grow indoors: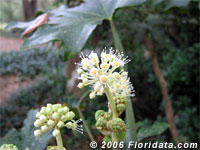 In warm winter climates (Zones 8+) the fatsia (Fatsia japonica) is often planted in very shady where its large evergreen leaves and stature serve to create lush, low-maintenance screens and backgrounds. At this time of year, plants are covered in showy spherical flower clusters. Japanese aralia can also be grown in containers indoors where it makes a beautiful specimen plant.
Browse Floridata's Indoor Plants List.
Cool Weather Flowers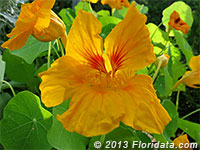 In the Deep South and similar warm climates, gardeners can grow many beautiful cold resistant flowering plants like the nasturtium. (Tropaeolum majus) throughout the winter. Plant them in fall and they will bloom in winter - unless it gets really cold and then they don't. But they probably will... These are a few favorites for warm climate winter garden:
Flowering Plants of Hawaii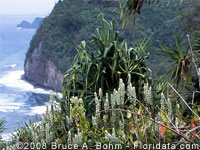 The Hawaiian Islands are home to an array of native plant species that has attracted the attention of botanists, naturalists, horticulturists and world travelers ever since Europeans first visited the islands near the end of the 18th century. Read more »
Although one of the smaller of the Hawaiian Islands, Moloka'i incorporates a rural life style all but vanished from the larger islands and a quiet beauty of its own. Its nickname, The Friendly Isle, could not be more apt. Click here for a botanical tour of this uniquely beautiful island.
You'll find more links on our Articles and Resources page.