July 22, 2017
I install new SSL/HTTPS securty on Floridata this week. This was a big milestone for me and now I can get back to work on the next version of Floridata that will be bigger, better and take advantage of many exciting new tachnologies. Please tell your friends about Floridata, visit often and be good and grow! Jack
New Plant Profile
Sawgrass (Cladium jamaicense) is a perennial sedge that grows in moist soils and shallow water. Its common name references the sharp serrated leaf edges are able to effortlessly cut and slash bare flesh. This is the species that forms the Everglades' famous River of Grass (Sedge!). Read more about sawgrass, a native of coastal areas of the southeastern United States as well as throughout the Caribbean and Central America within USDA Zones 7-11.
Tropical Beauties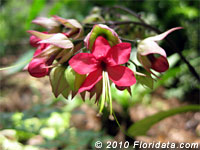 I pinched a piece of this tropical vine when I was in Orlando a few years ago. The glorybower or bleeding heart vine (Clerodendrum thomsoniae), as it is also commonly called, can't take our Zone 8 freezes in the winter so I grow it in a pot. It was hit by last winters record cold snap and I thought it was dead for sure. The appearance of a green shoot in April was a surprise and I'm impressed that it's recovered quickly and began blooming last week. Click to download a large version (800x600) of this tropical beauty with the gory name (it's strange that a beautiful flower should inspire an association with a traumatized body part?).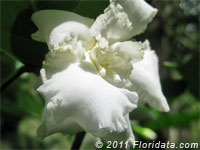 Crepe jasmine (Tabernaemontana divaricata) is a tender evergreen shrub with fragrant white blossoms. I have one in my Zone 8 garden where it freezes back to the roots each winter but always returns in the spring. For more than a decade it has never bloomed. Until this year! I moved it to a sunnier place last fall. I regularly watered it and feed it with liquid fertilizer and now - flowers at last! Download a large version of the crepe jasmine.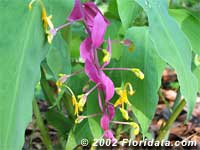 The dancing ladies ginger (Globba winitii) in my garden down in North Florida blooms at this time of year. It's really pretty with colorful dangly blossoms that "dance" in the breeze and grows well in shady situations. Member of the ginger family, Zingiberaceae, are largely tropical and sub-tropical species and many like these in the following list we enjoy in our gardens and in our food:
Summer-Flowering Shrubs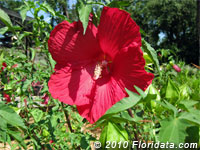 Here is a super showy hibiscus (Hibiscus moscheutos) for gardeners who live cold climates. There are several cultivars of the swamp (aka "hardy") hibiscus. All produce scores of huge blossoms throughout the season and all are spectacular but 'Lord Baltimore' is my favorite and certainly the most colorful. Click to download a large version (800x600) to display on your computer desktop.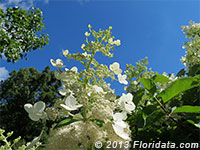 Panicle hydrangea (Hydrangea paniculata) is a woody shrub that is native to the southeastern United States. Look for cultivars 'Grandiflora' (aka peegee or tree hydrangea), 'Limelight' has large flower clusters with a green tinge and 'Pinky-winky' has flowers with a pink blush. The cultivar 'Tardiva' blooms later in the season than the species. Here are a few other shrubby summer bloomers:
Summer Bulbs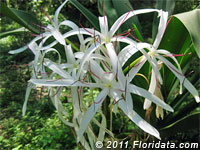 The grand crinum lily (Crinum asiaticum) is a huge plant that produces gorgeous clusters of fragrant blossoms at this time of year. Download a large version of grand crinum lily blossoms to display on your desktop and check out more summer blooming bulbs in this list:
Fragrant
In its native Australia this tree is called argyle apple but in The States it's know as the silver dollar tree (Eucalyptus cinerea). Florists use the showy silver-blue leaves in both fresh and dried arrangements. In the early sixties my Mom had a bunch of "milk glass" (translucent white) vases that always hosted a bunch of this fragrant foliage. I have a silver dollar tree in my yard in Florida so maybe I'll surprise her with a fresh bouquet of silver dollar stems when I go on my next trip back home. Click here for more on this colorfully fragrant small tree for USDA Zones 8-11. More aromatic woodies:
Wet and Wildly Beautiful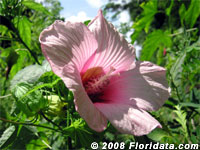 The halberdleaf marshmallow (Hibiscus laevis) grows to 7 feet in height and inhabits wetlands and poorly drained soils. The very showy flowers, about 6 in (15 cm) across, open for just one day with five petals that are pale pink with crimson bases. A succession of blooms may last most of the summer. Read more) about this spectacular, American native that ranges from eastern Canada to northern Florida. Here are some links to a few more moisture-lovers that will beautify your wet spots:
Summer Veg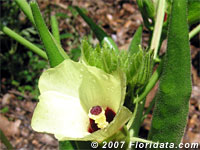 A better common name for okra (Abelmoschus esculentus) would be "pods of the gods" - I like them pickled... Click here for a large version (800x600) of this okra flower (note resemblance to cotton, a fellow member of the mallow (Malvaceae ) family. Links to more edibles that we enjoy from our gardens at this time of year: