February 17, 2017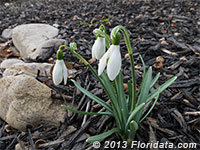 First sign of spring! I spotted a bunch of snowdrops blooming. They're in a protected area up against a neighbor's house so they got a head start but still it won't be long - gardening season is just around the corner so visit Floridata often for ideas, tips and info on your favorite plants as well as many that might be alot less familiar. Please tell your friends about us and be good and grow. Jack
The Cherries
Purple sand cherry (Prunus x cistena) is a woody shrub or small tree with reddish-purple foliage that is often planted in home landscapes. In spring fragrant pink flowers are produced at the same time the leaves appear. Purple sand cherry is popular for use in home landscapes in USDA Zones 3-8 in foundation plantings, mixed hedges and specimens.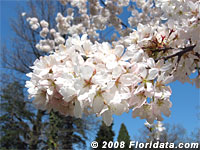 Some of the showiest spring-blooming ornamental shrubs and trees are Prunus species. One of the most famous is the Yoshino cherry (Prunus x yedoensis) that is widely planted, including Washington, D.C. which is famous for the springtime spectacle created by this and other flowering cherry species.
These Prunus species are American natives that also produce showy flowers at this time of year:
New Plant Profile
Our latest plant profile is of the flexible pine (Pinus flexilis), a species native to western North America. Limber pine is a long lived and slow growing tree that tolerates high wind and dry, rocky soils better than other pines. Read more » about this handsome evergreen tree (or large shrub) is used in landscapes as handsome specimens and in screens and windbreaks in USDA Zones 4 - 7.
Spring Blooming Woodies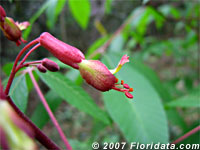 The red buckeye (Aesculus pavia) is a delightful little tree (or large shrub) that is native to the southeastern United States. They bloom in spring, taking over the show as the azaleas and dogwood flowers are fading. Click here to download a large version (800x600) of this native (to the southeastern USA) beauty and visit the Red Buckeye Profile to see others.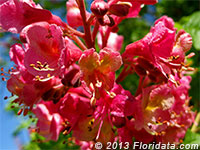 The red horsechestnut (Aesculus x carnea) is a very showy spring bloomer and popular ornamental tree. Red horsechestnut (Aesculus x carnea) is a hybrid species resulting from a (presumed) chance cross between the shrubby red buckeye (Aesculus pavia) from SE North America, and common horsechestnut (A. hippocastanum), a much larger tree from Europe. Click here to download a large version (800x600) of this flamboyant flower and read more in the Red Horsechestnut Profile.
Here are some other spring-blooming woody ornamentals:
Mountain Laurel
Mountain laurel (Kalmia latifolia) is an evergreen shrub that produces large clusters of showy cupped-shaped flowers in shades ranging from white to pink to almost crimson. Despite its name, mountain laurel also grows from the Gulf of Mexico coastal plain north to New Brunswick, Canada. A number of mountain laurel cultivars are available, many are of compact stature that fit well into smaller landscapes and all produce spectacular springtime blossoms. Use mountain laurel in partially shaded areas as specimens and mixed shrub plantings and woodland gardens in USDA Zones 4 - 9 read about it here.
Flowering Plants of Hawaii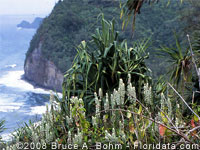 The Hawaiian Islands are home to an array of native plant species that has attracted the attention of botanists, naturalists, horticulturists and world travelers ever since Europeans first visited the islands near the end of the 18th century. Read more »
You'll find more links on our Articles and Resources page.
Welcome to our New Site!
All of our articles and resource pages can be accessed from the Articles and Resources link is in the Site Menu at the upper right hand corner of each page. Some of the pages in our archive will be temporarily unavailable until they are reformatted and re-posted here on the new site. Sorry for the inconvenience.