April 28, 2017
I'm headed to Tennessee for a week to visit the Smoky Mountains. The trip will focus on wildflower photography, napping and pancakes. I hope you have a great week too! Please share Floridata with your friends and be good and grow. Jack
New Plant Profile
Our newest Plant Profile is of the notorious Japanese knotweed (Fallopia japonica), a large, fast-growing perennial species that was imported into the US as an ornamental species in the late 1800's. Since then the plant has spread across the continent, disrupting a wide range of plant communities in all but the southernmost states. Japanese knotweed is extremely persistent and nearly impossible to eradicate. Read more about this weedy species that is found in USDA Zones 3-8.
Flowering Shrubs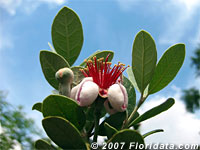 Back home in Tallahassee, Florida the feijoas (Feijoa sellowiana) are blooming this month. Also called pineapple guava, this evergreen shrub produces egg size edible fruits and the waxy flower petals are edible too!
Dwarf fothergilla (Fothergilla gardenii) is a deciduous shrub that is a native of the southeastern United States. It features showy bottlebrush-shaped flower clusters in early spring and in fall the leaves turn brilliant shades of yellow, orange and red. It prefers a woodsy setting and due to its small stature it is a good choice for smaller yards and gardens. Click here for more on this charming little shrub for Zones 4-8.
Fruits and Nuts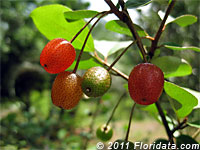 The gumi (Elaeagnus multiflora) is sweet, slightly astringent and totally tasty. Birds like gumi too. Click to download a large of version (800x600) of these gumi fruits for a closer look. Here are some links to more unusual woody species with edible fruits:
Annual Re-seeders
The opium or bread poppies (Papaver somniferum) bloom at this time of year. The opium poppy is an annual that must reseed itself each season so the ground must remain exposed and not mulched over. If you don't smother the seeds and the poppies will return year after year! Click to download a large version (800x600) of the pretty purple poppy to display on your computer desktop.
Summer Flowering Bulbs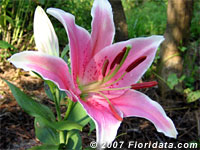 I moved most of my lilies (Lilium hybrids), including the 'Sorbonne' oriental lilies in this picture, to a bed closer to the house where I can better protect them from the stupid, despicable deer. Unless they were traumatized when I transplanted them, most should bloom in about a month. Click to download a large version (800x600). Here are links to profiles more spring flowering bulbs (tubers, corms, etc.) that you can plant now for flowers this season:
Flowering Plants of Hawaii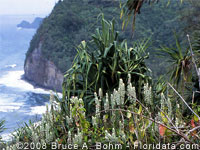 The Hawaiian Islands are home to an array of native plant species that has attracted the attention of botanists, naturalists, horticulturists and world travelers ever since Europeans first visited the islands near the end of the 18th century. Read more »
You'll find more links on our Articles and Resources page.
Pawpaw Patch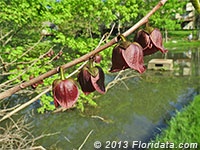 There is a pawpaw (Asimina triloba) tree growing at the edge of a pond on the path where I walk my dog every day. It's in full bloom now and covered with small bell-shaped flowers that hang straight down from the branches.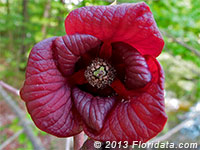 I took this "ant's eye" view of one of the blossoms. They are small and leathery and kind of weird but very beautiful and very interesting. The ones that manage to mature into fruit will be very delicious. Visit the Pawpaw Profile's Image Gallery to download these and other images in large format (800x600px).
Welcome to our New Site!
All of our articles and resource pages can be accessed from the Articles and Resources link is in the Site Menu at the upper right hand corner of each page. Some of the pages in our archive will be temporarily unavailable until they are reformatted and re-posted here on the new site. Sorry for the inconvenience.