January 14, 2017
Although spring is still a couple of months away, it's not too soon to begin planning this season's gardening projects. Spend some time browsing the Plant Profiles in our Plant Encyclopedia and our Resources and Articles to inspire some great ideas. Please tell your friends about us and be good and grow. Jack
New Plant Profile
Saltcedar (Tamarix ramosissima) is a robust deciduous tree with tiny scale-like leaves and showy pink flowers in late summer. Saltcedar is an aggressive grower, even on soils so severely impacted that virtually no other plants will grow. Unfortunately it has escaped cultivation in some places to be become an invasive pest in parts of the southwestern United States. Saltcedar is hardy in USDA Zones 3 - 8. where it is occasionally used in screens and hedges (where it isn't invasive). Read more »
Easy Annuals
Garden selections of this common "weed" are easy to grow from seed. Plant purslane (Portulaca oleracea) in containers, borders and rock gardens where it will quickly form low growing mats of brilliantly colored blossoms while thriving under hot, sunny, dry conditions. Growing annuals from seed is an enjoyable and inexpensive way to fill your yard with color. The following are a few of my favorites that are happy to grow in hot, sunny places: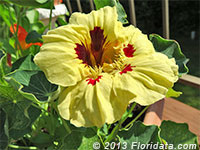 Big fat seeds, fast growth rate and lots of colorful flowers are a few reasons why the nasturtium (Tropaeolum majus) is one of the best starter plants for budding young gardeners. As a bonus both the flowers and foliage are edible!
Early Flowering Woodies
The weather was so warm in December that I saw forsythia (Forsythia spp.) shrubs beginning to bloom! Depending on where you live, it will be a month or more before they bloom in earnest. Click here to download a large (800x600) version of this springtime scene. More early spring-blooming shrubs:
The Glorybowers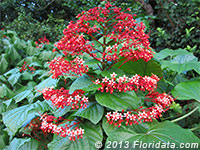 Species of Clerodendron, such as the pagoda flower (Clerodendrum paniculatum), are large, coarse-leaved, cold tender tropical plants. They are sometimes used as garden and landscape items in warm winter areas. Many are aggressive growers and some are invasive so we don't really recommend planting them but they are fun to know so check out their profiles.
Exotic Fruits & Nuts
Among our Plant Profiles is that of the water chestnut (Pachira aquatica) which produces those crunchy white disks found in certain Chinese dishes. Even if you can't grow these where you garden you might enjoy reading about these familiar fruits and foods. Some like water chestnut can even be grown indoors - young water chestnut plants are sold as "lucky money trees". As you browse Floridata's Plant List you'll discover we have profiles of many unusual and exotic fruits - plants that you may not grow but that are fun to know. Here is a sample:
Flowering Plants of Hawaii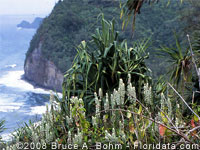 The Hawaiian Islands are home to an array of native plant species that has attracted the attention of botanists, naturalists, horticulturists and world travelers ever since Europeans first visited the islands near the end of the 18th century. Read more »
Welcome to our New Site!
All of our articles and resource pages can be accessed from the Articles and Resources link is in the Site Menu at the upper right hand corner of each page. Some of the pages in our archive will be temporarily unavailable until they are reformatted and re-posted here on the new site. Sorry for the inconvenience.