September 25, 2016
The weather has been beautiful around here - except for the "very high" pollen counts. Ragweed (Ambrosia artemisiifolia) is having a very good year here in Northern Kentucky and was prolifically producing pollen just as bad down in the Smoky Mountains when I visited last week (it didn't matter though, was still really fun!) Steve did a bunch of new Plant Profiles and I'm back at work now so stop by later in the week to see whats new. Please visit Floridata often this fall and be good and grow. Jack
Cool Weather Flowers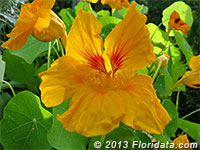 In Florida and similar warm winter climates, we can grow many very beautiful cold resistant flowering plants at this time of year. The nasturtium (Tropaeolum majus) is one of these that likes cool weather. In Zone 8 where I lived, they are planted in fall and bloom throughout the winter - unless it gets really cold and then they don't. The big fat seeds are easy for kids to handle and they are fast growing and quick to produce showy flowers (which are not only non-poisonous but edible as well!). Here are a few more of my cool flower favorites for the winter garden:
New Plant Profile
The lovely southern maidenhair fern (Adiantum capillus-veneris) is the subject of Floridata's newest plant profile. The delicate maidenhair fern is among the prettiest of the cultivated ferns. The lacy foliage works well as a backdrop for other semi-shade loving plants. They do well in hanging baskets, rock gardens, shady borders and woodland margins where it is hardy in Zones 7-11. If provided suitable conditions (above average humidity), the maidenhair will succeed indoors too. Read profile » and check out this sampler of links to representative profiles of a few famous fern families:
The Gerber Daisy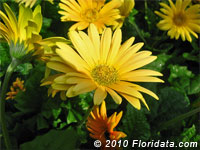 The gerber daisy (Gerbera jamesonii) has huge colorful flowers, is easy to grow and is one of the few plants that I've ever managed to get to bloom indoors. Even where they are not hardy, the gerbers are a favorite container and bedding plant. Instead of letting yours freeze to death when cold weather arrives, consider bringing them indoors for the winter. Even if you don't take very good care of it, your gerber will survive and recover quickly when you plant it back outdoors in spring. Click to download a large version of this golden-yellow gerber to display on your desktop.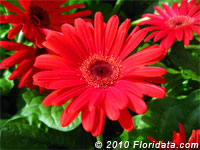 ... but if you take care of your gerber when you bring it indoors you will be rewarded with colorful flowers - like these spectacular scarlet blossoms - right in the middle of winter when you'll appreciate them the most. Read more about this easy-going beauty in the profile ». I made a list of link to profiles of a few more species that you'll have fun getting to bloom indoors:
It's not really a strawberry nor is it a begonia but the strawberry begonia (Saxifraga stolonifera) does resemble those plants in some respects. Strawberry begonia is a low-growing, tender perennial noted for its handsome foliage and interesting flowers. Gardeners in warmer climates use strawberry begonia to create colorful groundcover plantings suitable for shady areas beneath trees and other low-light situations. Read more about this pretty little perennial that is hardy in USDA Zones 7-10 and that is grown everywhere indoors in containers and especially hanging baskets where the slender stems can gracefully cascade over the edges.
Mo'omomi Dunes, Moloka'i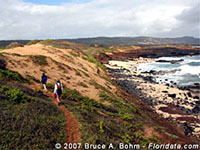 Although one of the smaller of the Hawaiian Islands, Moloka'i incorporates a rural life style all but vanished from the larger islands and a quiet beauty of its own. Its nickname, The Friendly Isle, could not be more apt. Click here for a botanical tour of this uniquely beautiful island.
Flowering Plants of Hawaii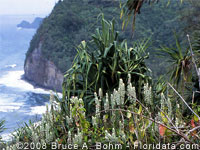 The Hawaiian Islands are home to an array of native plant species that has attracted the attention of botanists, naturalists, horticulturists and world travelers ever since Europeans first visited the islands near the end of the 18th century. Read more »
Welcome to our New Site!
All of our articles and resource pages can be accessed from the Articles and Resources link is in the Site Menu at the upper right hand corner of each page. Some of the pages in our archive will be temporarily unavailable until they are reformatted and re-posted here on the new site. Sorry for the inconvenience.