December 7, 2016
We're Back!
In early October we found ourselves unable to update Floridata. Google, our web service provider, encountered some (unknown, to me at least) major problems with the new technology that we use to host Floridata. It's been a very trying time for us but the silver lining is that Google has provided us with (free!) technical support to help us design and build the next version of the site! We have a backlog of new plant profiles that I'll be posting in the coming weeks so please tell your friends about us, visit often and be good and grow! Jack
Hollies
Holly is my favorite holiday plant and American holly (Ilex opaca) is my favorite member of the genus. They're native to my yard (and to much of the eastern half of the United States) and whenever I discover a seedling I nurture it. Now after all of these years, there are several large beautifully shaped hollies here. Click for more on this wonderful evergreen that is drought tolerant and a favorite wintertime food source for birds and wildlife.
There are dozens of holly species (members of the genus Ilex), here are a few evergreen species: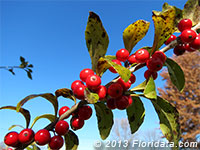 Possomhaw (Ilex decidua) is one of the deciduous holly species. These drop their leaves in winter but the berries remain beautifully on the bush throughout the winter until birds or something eat them.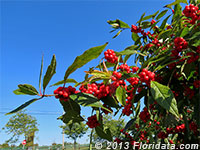 Winterberry (Ilex verticillata) is another deciduous holly and a native of eastern North America. Plant cultivars 'Winter Red' and 'Winter Gold' for best and most bountiful berries. Berry-laden branches make beautiful additions to holiday arrangements and wreaths.
Chayote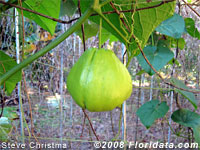 Steve has chayote squash (Sechium edule) vines that grow way up into the branches of nearby trees. He sent this pictures of an especially attractive and easy-to-peal individual from last year's chayote crop. Click here to download a large version of this stunning squash.
Holiday Plants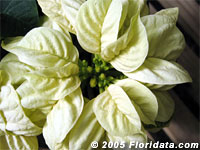 Here are a two more pretty poinsettia (Euphorbia pulcherrima) varieties that you may encounter. They have colorful bracts that are formed into a roughly spherical shape that (kind of) resembles a rose blossom. Download a large version (800x600) of this the 'White Winter Rose' for your computer desktop.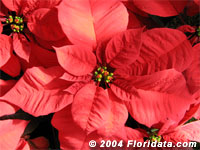 This is the more traditionally colored version of the 'White Winter Rose' poinsettia. Click here to download a large version of the 'Winter Rose' poinsettia.
See more varieties in the poinsettia profile's Image Gallery: Euphorbia pulcherrima and in Ginny's article Poinsettias are Not Poisonous.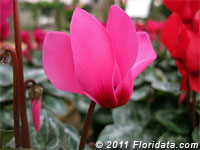 If you are tired of poinsettias or you can't find a color that matches your stuff, consider using showy cyclamens (Cyclamen persicum) to decorate your home for the holidays. Another advantage is that you can keep them as houseplants throughout the year with looking stupid and they are available in a range of colors, sizes and flower forms.
Flowering Plants of Hawaii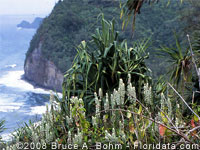 The Hawaiian Islands are home to an array of native plant species that has attracted the attention of botanists, naturalists, horticulturists and world travelers ever since Europeans first visited the islands near the end of the 18th century. Read more »
Welcome to our New Site!
All of our articles and resource pages can be accessed from the Articles and Resources link is in the Site Menu at the upper right hand corner of each page. Some of the pages in our archive will be temporarily unavailable until they are reformatted and re-posted here on the new site. Sorry for the inconvenience.