May 29, 2017
I will be working on Floridata over the holiday weekend. There shouldn't be any problems but if you encounter any weirdness just try again - any disruptions should be very short-lived. Have a happy Memorial Day holiday weekend, visit Floridata often and be good and grow! Jack
New Plant Profile
American smoketree (Cotinus obovatus) is a small, multi-stemmed tree (sometimes shrub-sized) with very attractive foliage that becomes brilliantly colored in autumn. Some say American smoke tree produces the best fall color of any American native tree or shrub. American smoketree is rare in the wild with a limited range. Since it requires little maintenance, grows in poor soils, and is drought tolerant we hope to see more American smoketrees in our landscapes. Read more about this handsome species that grows in USDA Zones 4-8.
More Smoke
This smoketree, also called Venetian sumac, (Cotinus coggygria), a Eurasian species, has a long history as a landscape plant and a number of cultivars are available. Read more about this showy shrub for Zones 5-8.
Woodies in Bloom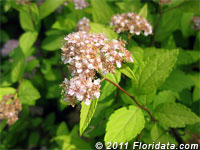 Unlike the other familiar spirea species that bloom in early spring, the Japanese spirea (Spiraea japonica) blooms in late spring and early summer. The 'Goldmound' cultivar is especially appreciated for its compact habit and beautiful yellowish green foliage. Click to download a large version (800x600).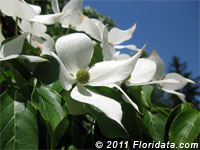 Unlike its American cousin, the flowering dogwood (Cornus florida), the Chinese dogwood (Cornus kousa) blooms later in the season after the leaves have appeared. This variety is called 'Milky Way' and it is especially floriferous. Click to download a large of version (800x600) of this spring beauty for your desktop. Read the Chinese dogwood profile and browse this list of more ornamental woody species that bloom at this time of year: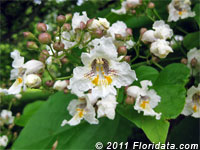 Our southern catalpa (Catalpa bignonioides) trees finished blooming a month ago here in Florida's Big Bend but the northern catalpa (Catalpa speciosa) trees were in full bloom last week back home in Kentucky. The flowers of the two species are similar but with the northern blossoms being more elongated. Click to download a large version (800x600) of the northern catalpa flowers for a closer look. Download a southern catalpa flower for comparison.
Trumpets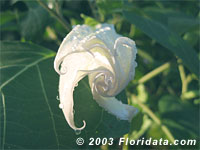 This rugged sprawling plant produces huge fragrant blossoms from long tubular buds that begin to open in early evening only to last a single day. The devil's trumpet Datura inoxia var. quinquecuspida blossoms were favorite subjects of American painter Georgia O'Keeffe - and they're fun photograph as well. Click here to download a large version (800x600). Here are links to some of this devil's trumpet relatives:
Late Spring Bloomers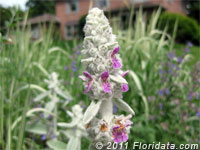 Also known as woolly betony (Stachys byzantina), this fuzzily foliaged low growing perennial is used as a groundcover and in container plantings. In the late spring and early summer, fuzzy stalks appear that support small purple or pink flowers. Click here to download the lamb's ear for a closer look.
This large mounding perennial is attractive even when not in bloom. At this time of year the bleeding heart Dicentra spectabilis is simply spectacular (spectabilis!) produces long graceful stems from which the bleeding heartish-looking flowers dangle in single file. Read more about the bleeding heart, a shade tolerate perennial for gardens in USDA Zones 3-8.
Flowering Plants of Hawaii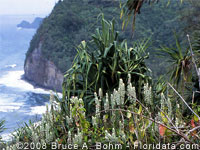 The Hawaiian Islands are home to an array of native plant species that has attracted the attention of botanists, naturalists, horticulturists and world travelers ever since Europeans first visited the islands near the end of the 18th century. Read more »
You'll find more links on our Articles and Resources page.
Blue-eyed Grass
Native blue-eyed grass (Sisyrinchium angustifolium) grows at my place in North Florida. The pretty little species is a native of the eastern United States so I shouldn't have been surprised to find it growing along a road in my Northern Kentucky condo complex. Luckily I had my camera with me and grabbed a picture of these little blue beauties because I returned the next day to find my blue-eyed grass had been mowed over by the maintenance company. I should have moved it to my garden. Blue flies (Aristea ecklonii) is a very similar species, also in the Iris Family, from South Africa that is also grown as a garden plant.
Welcome to our New Site!
All of our articles and resource pages can be accessed from the Articles and Resources link is in the Site Menu at the upper right hand corner of each page. Some of the pages in our archive will be temporarily unavailable until they are reformatted and re-posted here on the new site. Sorry for the inconvenience.
Summer Vine Time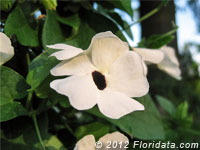 The black-eyed Susan vine (Thunbergia alata) is a tender tropical species often grown as a garden perennial in warm winter climates. In colder climates this fast growing vine is enjoyed as an annual. Black-eyed Susan vine typically has bright yellow flowers but I found a white-flowered variety that I planted by the lamppost at my brothers house in Kentucky. Download this and other images from the Black-eyed Susan Vine Profile Gallery. Here are a few more tropical vines that can be grown in colder climates as annuals and that will bloom all summer long: