February 25, 2017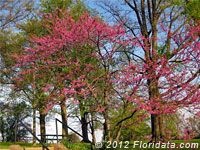 I took a trip to North Florida this week where the weather was spectacular and spring in well under way. South of Montgomery, Alabama I saw redbud Cercis canadensis and Chickasaw plum trees (Prunus angustifolia) blooming in the woods and Japanese (Magnolia x soulangeana) and star magnolias (Magnolia stellata) were bursting out in people's yards. Even the 'Purple Formosa' azaleas were breaking into bloom. It won't be too long and spring will be here for all of us. Please tell your friends about Floridata and be good and grow. Jack
Early Blooming Magnolias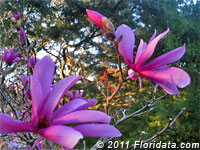 The 'Susan' magnolia in my yard in North Florida (Zone 8) blooms at this time of year. 'Susan' is is hybrid cross between Magnolia stellata rosea and Magnolia liliiflora 'Nigra'. Click here to download a large version (800x600) to display on your computer desktop.
These Magnolia species also bloom in spring before, or at the same time, the leaves appear:
New Plant Profile
Our newest plant profile is of a the hoptree (Ptelea trifoliata), a small deciduous tree that is native to the forests of eastern North America where it grows in the shade of the forest understory. The hoptree is a host plant of the beautiful giant swallowtail so plant it in butterfly, wildlife and woodland gardens in USDA Zones 4 - 9. Read the profile now »
Spring Flowering Vines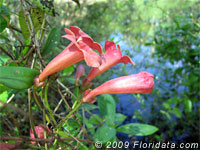 Native cross vine (Bignonia capreolata) grows all over my North Florida neighborhood. They bloom in April, the vines becoming garlands of bright blossoms draped over, up and through the pines and baldcypress trees around my pond. This vine and nearby trumpet creeper vines (Campsis radicans) are two of the main reasons that my place is a favorite hummingbird hangout. Here are links to some of my favorite spring-flowering vine profiles:
Shrubs for Shade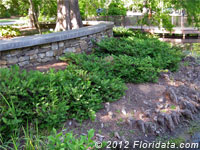 The Japanese plum yew (Cephalotaxus harringtonia) is an interesting evergreen shrub with several distinct forms. I saw this low-growing cultivar called 'Prostrata' planted as a shade-tolerant ground cover at the edge of a small pond where it helped keep things neat by "swallowing" litter and small pieces of debris. Here's a sample list of links to other shade-tolerant shrubs that might look good in your landscape:
Hollies (Ilex)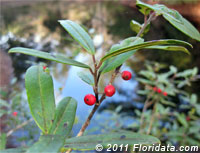 I found a tiny myrtleleaf holly (Ilex myrtifolia) seedling at the edge of my pond a few years ago. I cleared away the competing vegetation and its grown into a nice little tree that bore its first berries last year! I like all of the holly species because they're easy to grow, durable and many are drought tolerant. More holly species to know or grow:
Flowering Plants of Hawaii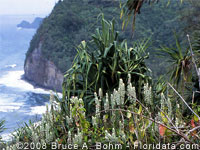 The Hawaiian Islands are home to an array of native plant species that has attracted the attention of botanists, naturalists, horticulturists and world travelers ever since Europeans first visited the islands near the end of the 18th century. Read more »
You'll find more links on our Articles and Resources page.
Welcome to our New Site!
All of our articles and resource pages can be accessed from the Articles and Resources link is in the Site Menu at the upper right hand corner of each page. Some of the pages in our archive will be temporarily unavailable until they are reformatted and re-posted here on the new site. Sorry for the inconvenience.