June 25, 2016
I'm happy to see that the hummingbirds have discovered my yard. I've seen them sipping nectar from the coneflowers, wood sage and sundrops in the front, the hibiscus, lantana and seashore petunia in the container gardens on the back patio and especially from the masses of Japanese honeysuckle smothering the hillside below. There seems to be more butterflies around too, despite all of the lawn chemicals that are used in this neighborhood. :( Thanks for visiting Floridata! Please visit us often this summer and be good and grow. Jack
New Plant Profile
Chinese forget-me-not (Cynoglossum amabile) is bushy little plant with coarse leaves and sky-blue flowers that blooms at this time of year. Use it in mixed borders, annual flower beds and along garden paths. It is frequently planted in wildflower meadows where it can self-seed and sometime naturalize under preferred conditions. Read more about this biennial (that blooms in its first year) that grows sun to part shade in USDA Zones 5-8.
Speedwell
This beautiful perennial doesn't like hot humid weather so spike speedwell (Veronica spicata) is not often grown in Florida and The Deep South but farther North the many cultivars of this species are garden favorites. Speedwell blooms over a long season in summer with flowers in vivid shades of blue, purple or pink, on plants of various sizes depending on cultivar. Gardeners in USDA Zones 3-8 use speedwell in sunny containers, beds and borders. Click to read more about spike speedwell.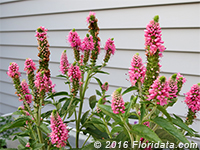 This pink-flowered speedwell (Veronica spicata) cultivar is called 'First Love'. It's a taller growing selection, to about 20 inches in my garden. I like to "test drive" new perennials by planting them in large container gardens on my Mom's condo balcony. When autumn arrives, I move the plants I like to permanent homes in the backyard flower bed where my 'First Love' occupies a prominent spot. Click to download a large version of this speedwell.
Flowering Woodies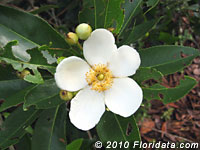 One of the many things I miss about back home in North Florida is seeing the statuesque loblolly bay (Gordonia lasianthus) trees back in the swamps and wetlands in bloom at this time of year. This American native tree produces white waxy blossoms that are easy to see, held against the tree's handsome evergreen leaves. Take a look at a few more of summer's fragrant-flowered woody species:
Bird Bombs
White mulberry (Morus alba) is a deciduous tree from China that has been important to humankind for millennia. The tree produces edible fruits that resemble blackberries. The leaves are feed to the caterpillars from which silk is obtained. Birds love to distribute quantities of semi-digested fruits on automobile surfaces. The seed-laden bird poo has caused the white mulberry to become a pest species in some areas. Click to read about mulberries.
Birds love the fruits of these species too (but avoid planting near where cars are parked):
Butterflies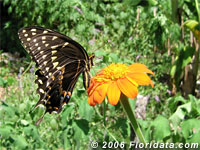 The Mexican sunflower (Tithonia rotundiflora) is an easy to grow annual butterfly magnet, attracting beauties like this Palamedes Swallowtail. I found a package of seeds last weekend and planted few in the back. I hope it's not too late in the season for them to bloom but I'm pretty sure the local butterflies will be able to enjoy them for at least a few weeks in early fall. In this photo is a handsome palamedes swallowtail stopping by for a snack on plants in my North Florida garden. Click to download a large version (800x600). Here's a list of a few butterfly-attracting plants in bloom at this time of year: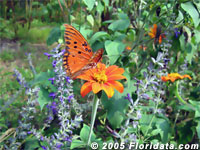 The gulf fritillary is another frequent visitor to Mexican sunflowers (Tithonia rotundiflora). Click to download a large version (800x600) of this digitally manipulated image.
For the Hummers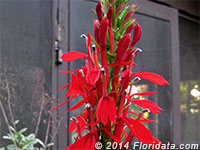 Steve grows a beautiful patch of cardinal flower (Lobelia cardinalis) in his garden. This showy native of eastern North America has showy flowers that will attract hummingbirds from all over the neighborhood! Here are a few more Profiles of Plants that attract hummingbirds: