March 29, 2017
After weeks of delay due to freezing temps and rain, I finally was able to get out and garden on Saturday. I even planted a little container garden of nasturtium and calendula for Mom's condo balcony. Spring at last! Please visit Floridata often, tell your friends about us and be good and grow. Jack
New Plant Profile
Our newest plant profile is on false indigo (Amorpha fruticosa), a large fast-growing shrub that is found growing over much of North America from southern Canada to the Mexican border. False indigo likes moist soils and is found growing in open wetlands and on the margins of lakes and streams. Showy flowers attractive to butterflies, handsome foliage and fast rate of growth make false indigo and excellent choice in informal mixed shrub borders or for naturalizing in wildflower/shrub gardens. Read the profile now » for more on this showy American native that is hardy in Zones 4 to 9.
Flowering Woodies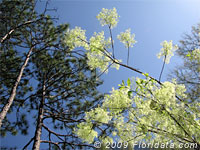 The fringetree (Chionanthus virginicus) is a native American deciduous shrub that blooms at this time of year. Compared to when I lived here decades ago, fringetrees are being planted all over the Cincinnati area, from commercial and municipal landscapes to home gardens and it is easy to understand why! Birds and butterflies love the Grancy Greybeard (as we call it down South), its flowers are fragrant and it is low maintenance as well as drought tolerant.
Here are some other spring-blooming shrubs: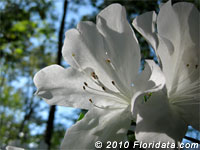 'Mrs. G.G. Gerbing' is one of the Southern Indica azaleas (Rhododendron spp.) has huge flowers against handsome evergreen foliage. It is a robust grower and was obtained from a stem mutation (called a "sport") of a 'George L. Taber' azalea (below). Click here to download a large version (800x600).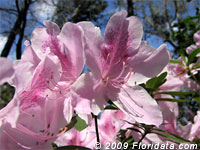 'George L. Taber' Azalea (Rhododendron spp.) Click here to download a large version (800x600) of the gorgeous 'George L. Taber' azalea.
Maples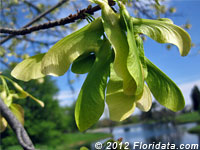 The helicoptering seeds produced by the silver maple (Acer saccharinum) are maturing now here in Kentucky. Spinning to earth, the heavy seed end causes the samara to dive head first into the turf grass or other vegetation ensuring that it comes in contact with the soil (or as close as possible). Download a large version of this image - visit the sugar maple Image Gallery for others.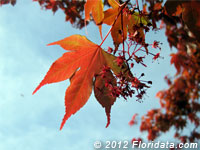 These are the foliage and flowers of the 'Bloodgood' cultivar of the Japanese maple (Acer palmatum). This very popular small tree has beautiful burgundy leaves that turn even more colorful in autumn.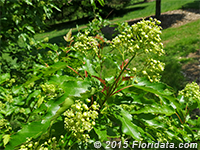 Amur maple (Acer ginnala) is a bushy shrub or small deciduous tree with long, slender arching branches that is blooms at this time of year just as the leaves are emerging. Amur maple is a popular landscaping plant in very cold climates. In Canada, Amur maple finds use as a durable shrub and hedge plant. In some regions like New England (among others), Amur maple is an invasive weed. Always check locally to insure that you're not planting a potential problem. Read more » about the Amur maple.
More maple species to read about at Floridata:
Spring Flowering Bulbs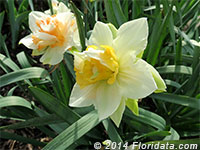 There are a lot of the double flowered 'Cheerfulness' daffodil (Narcissus spp.) growing around my neighborhood. This beauty has golden yellow centers that darken to a peach color as the flower matures. For more on spring flowering bulbs, read Ray's articles about The Daffodils and history of The Tulips then check out Floridata's profiles of these and other spring-blooming favorites:
Flowering Plants of Hawaii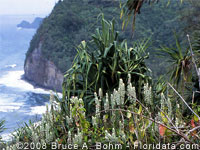 The Hawaiian Islands are home to an array of native plant species that has attracted the attention of botanists, naturalists, horticulturists and world travelers ever since Europeans first visited the islands near the end of the 18th century. Read more »
You'll find more links on our Articles and Resources page.
Welcome to our New Site!
All of our articles and resource pages can be accessed from the Articles and Resources link is in the Site Menu at the upper right hand corner of each page. Some of the pages in our archive will be temporarily unavailable until they are reformatted and re-posted here on the new site. Sorry for the inconvenience.